This post may contain affiliate links. This means that if you click a link, we may make a small commission off any subsequent purchase, at no extra cost to you. For more information, please check our privacy policy.
I grew up in Izmir. As I grew older, I understood the beauty of Izmir more. With its beautiful cityscape and most importantly with its kind-hearted people, Izmir has become more and more popular especially in recent years.
These days, I see many of my friends moving from Istanbul to Izmir, who don't want to get far away from the sea yet still look for a vibrant city like Istanbul.
If you have plans to travel to Turkey in the near future, take a look at the below things to do in Izmir before organizing your trip to Turkey's beautiful west coast.
The Best Things to Do in Izmir
Hang out in Kordon
I can't imagine Izmir without Kordon, meaning "promenade", the seafront stretching from Cumhuriyet Meydanı to Alsancak and from Konak Pier to Konak Meydanı.
Locals go to Kordon every day to relax on the grass, to meet with friends, and of course, watch the epic sunset.
You can hire a bicycle and ride by the seaside as long as you want to. There are a lot of places to hang out like bars, local restaurants, and cafes.
The iconic symbol of Izmir, Kordon also is home to several attractions like Ataturk Museum, Zubeyde Hanım Museum Ship, and Arkas Art Centre.
Take a boat ride from Konak to Karsıyaka
Locals cross the sea everyday from Konak to Karsıyaka either to get to work, meet with family members, or just to enjoy themselves in the sun.
Ferries leave from Konak's Pier to Karsıyaka from the waterfront. It lasts only about 20 minutes and the views are beautiful!
Get cultured at Izmir's top museums
If you a museum enthusiast, make sure that you visit Izmir Museum of History & Art for its collection of sensational ancient artifacts. Pergamon, Miletos, Teos, and Smyrna attract thousands of tourists every year.
The museum is scattered across an area of 13,320 square meters, leaving you tons to explore. There are areas dedicated to different times; namely the Precious Pieces Area, the Ceramic Pieces Area and the Stone Pieces
Area. Izmir Archeology Museum is another strong player in the city. You can visit the Works of Stone Hall where there are portraits, large statues, masks, and busts. Do not miss the marble "Androklos Statue" which dates back to Roman times.
If you have additional time, head to Izmir Atatürk Museum. The museum that is on the 1st Kordon – Atatürk Street and you can see the bedroom, barber room, library, bathroom, study room, and the aide room which Atatürk used to use when he stayed there.
Shop 'til you drop at the Kızlaragası Han Bazaar
If you are into Turkish carpets and jewelry, you should definitely visit Kızlaragası Han Bazaar, the best-hidden market in town located in Kemeraltı Market.
"Bedesten" means bazaar in Turkish, and there are different bedesten to visit inside like, Bakır, Cevahir, and Cuha Bedesten.
The copper bazaar is the most well-preserved area, hosting the city's best copper workshops. If you like something, do not forget to bargain before buying, a custom appreciated by the locals (it is not seen as rude, unlike in much of the world, if you barter with a friendly attitude).
Kızlaragası dates back to the 18th-century and it is a historic caravanserai that makes you feel like you have traveled back in time. Now 200 meters from the shore, it was previously located by the seaside. Natural disasters like earthquakes and fires damaged the Han throughout the centuries, but it has been renovated several times.
The historic caravanserai scatters around 4000 square meters and its courtyard is 600 square meters. The historic courtyard has coffee and tea houses, my favorite "Şükrü Bey'in Yeri" being one of them where Turkish coffee is brewed on top of coals.
Both tourists and locals like to come to Kızlaragası Han Bazaar to breathe in the historic atmosphere and enjoy themselves on a sunny day.
Have dinner at Aysa with the locals
If you can find a seat at Aysa, make sure that you order Bosnian borek, a traditional pastry of Turkish cuisine.
Located in Abacıoglu Han, this local lokanta (similar to a Greek taverna) has variety of meze small plate options as well as meat and vegetable food in the menu. If you cannot find a place for dinner, try a tasty Turkish breakfast there!
Visit Zübeyde Hanım Museum Ship
Izmir is the symbol of Turkish Independence War. Therefore, the city is famous for its love for Atatürk and everything he represents.
Located in Kordon, the ferry weighs 307 tons and is 50 meters long, attracting hundreds of tourists everyday for its historical and engineering importance.
Locals especially bring their children so that they can learn about Atatürk's mother who died in Izmir. In fact, my mother took me there too when I was just 9 years old.
Snack on sweets at Meşhur Hisarönü Şambalicisi
Made from almond, semolina, sugar, and yoghurt, "şambali" is a local must-try.
The bakery Meşhur Hisarönü Şambalicisi has been serving its customers since 1942 behind Hisar Mosque, and it's a local favorite.
Shop at Kemeraltı Market
Many locals visit Kemeraltı Bazaar to buy a traditional Turkish wedding costume. Young women wander around trying hard to find the perfect wedding dress.
The atmosphere can be a bit buzzy; there are shopkeepers who smile and shout in order to attract potential customers all the time.
Meanwhile, if you're not planning a wedding but you are a curious foodie, there is plenty of local food options to sample!
Nothing can beat Izmir's Agora
Most tourists start their tour of Izmir from the Agora, the city center's ancient monument.
Imagine walking around market streets, residential neighborhoods, and tall commercial buildings, discovering the best of Izmir at your own pace.
In the 2000-year-old marketplace, visit the archways on the lower floor, drink water from the fountains, and have a glass of tea in this magical setting once an important stop of the Silk Road.
There is even a local song dedicated to the Agora called "Agora Meyhanesi." Meyhane means an inn where people gather to drink.
Enjoy the green spaces in the city
Izmir has many beautiful gardens and theme parks to enjoy during the day and at night.
One of these parks, Kulturpark is a large entertainment complex and it has play areas for children, a zoo, a park for picnics, and local cafes.
On the other hand, Olof Palme Park is equipped with sports facilities for more active outdoor enthusiasts.
One final option, Adnan Saygun Park, hosts concerts during national holidays and it is very popular with locals and curious tourists. Just enjoy the sun by laying down on the grass and enjoy your drink!
Check the time in İzmir Clock Tower
This was always the perfect spot to meet my friends when I went out on Saturdays. I guess it still is!
In order to celebrate the Ottoman Sultan Abdülhamit II's 25th anniversary of his coronation, the tower was built by Raymond Pere, a French architect.
The order was given by Grand Vizier Küçük Sait Paşa. German Emperor Wilhelm II gave the clock as a present in 1900 to Sultan Abdülhamit II.
Today, it's a popular meeting spot and point of interest for tourists, and you'll find a small mosque around the tower, too!
Get a haircut in Alsancak
I know this is not a very traditional way of writing about Alsancak, but it is true!
Get a haircut in one of the barbershops where they use very unique techniques to get rid of facial hair such as wax and burning cotton.
Alsancak is the heart of Izmir and it is home to many bars, shops, and restaurants.
It is home to the Kibris Sehitleri Street, the longest shopping street in town. In fact, you can think of it as Izmit's answer to Istiklal Street in Istanbul. If you don't want to leave town without a Turkish souvenir, you should definitely shop here!
Take the elevator and enjoy Izmir's cityscape
Get on the "Asansör" and enjoy the views on the hill where you can see the entire city and the Aegean Coast.
It is a popular spot for tourists who would like to enjoy their Turkish coffee with a view. Karatas, Izmir's Jewish quarter is also located near Asansör, and makes a great place to visit after the Asansör.
Home to several synagogues, Karatas attracts Jewish people on a daily basis. Nesim Levi is known to have built the elevator back in 1907, which is located in Dario Moreno Street.
Soak up the history in Kadifekale
Built by General Lysimachos, Kadifekale is an ancient castle and fortress, where you can see the magical panoramic views of the Gulf of İzmir from the hill.
When twilight falls, the views get more and more beautiful and you can even see people working on carpets from where you stand.
Incredible Day Trips from Izmir
Check out Ephesus & Pergamon Acropolis
There are a lot of things to do in Izmir, but there's plenty to do outside of the city limits, too. And of them all, Ephesus is undoubtedly the most famous.
Welcoming two million visitors a year, this ancient city was once a very popular stop on the Silk Road. There are 12,000 scrolls preserved within the double walls of Ephesus, an amazing reminder of the port that people visited once to buy textiles, exotic spices and fruits.
It is also home to the Temple of Artemis, one of the Seven Wonders of the Ancient World, as well as to the Library of Celsus … not to mention temples, marble roads, antique theatre, and tombs to boot!
If you want to visit Ephesus from Izmir, there are guided tours making it super-simple for an affordable price. We recommend this guided tour (which you can book online easily here).
The Pergamon Acropolis is a must-see as well in the town of Bergama dating back to the 2nd-century BC. Don't forget to get lost in the back streets of this town and discover hidden gems while talking to locals. For this, I recommend you hire a guide — it is worth it! You can get a reputable guide easily on the Get Your Guide tour platform; check here for details.
Go windsurfing in Alacatı
If you like windsurfing, Alacatı is a must-see destination for you. Just two hours away from Izmir by car, it is the ultimate escape from the hustle of nearby cities.
Surrounded by windmills and vineyards, Alacatı is the most popular vacationing spot for windsurfing enthusiasts. There is wind all the time and the hot sun seems to leave you with a tan instantly!
For beginners and advanced windsurfers alike, check out Alacati Surf Paradise Club, Alacati Windsurf-Kiteboard School, and Active Surf for windsurfing classes.
At night, people dress up and walk on the streets of the old town. Make sure that you have had a reservation for the restaurants as the area is extremely popular with local cuisine!
Drink local Turkish wine in Sirince
They say Sirince is the perfect combination of a traditional Turkish village and a traditional Greek village. To me, it reminds me a bit of Berat in Albania!
The village is 12 kilometers away from the ancient city of Ephesus and 85 kilometers away from Izmir, so it makes a logical stop en route to Ephesus.
Sirince is famous for its wine, crumbling but beautiful old houses, artisanal products, and friendly shopkeepers. A photographer's dream destination, Sirince attracts thousands of tourists every year who want to soak up the afternoon sun while drinking sweet wine.
Using cars in the center of the town is strictly prohibited, therefore the loveliness of the narrow streets are preserved. Horses are allowed, though.
The Sirince Bazaar is one of a kind. Feel free to try a piece of things before you buy, as this is a custom local behavior and is not considered to be rude. Shop for traditional items like dried fruit, soaps, handmade clothing, jewelry, amazing trinkets, and souvenirs.
There is a fun fact I'd like to share with you. There were people who believed that the apocalypse would begin on December 21st, 2012 in the town of Sirince! Believers came to the town to spend the night and wait for the end of the world… which, clearly, never came. This fun fact has only made Sirince more popular throughout the years!
Swim your heart out in Cesme
Of course, the most popular activity during the hot summer months is swimming. Izmir doesn't have any beach to speak of, but an hour's car drive can take you to many sandy spots on the Aegean Sea.
Cesme is home to the best beaches, these are Ilıca Beach (white sand), Altınkum Beach (golden sand), and Pırlanta Beach (wind and waves).
"Cesme" means "fountain" in Persian and it is one of the most vibrant towns of the Turkey's coast. Make sure you visit the 500-year-old castle in city center, the old town which is home to houses built in Ottoman and Greek style, fountains, and traditional cafes and shops.
Either rent a car and enjoy the roadtrip or take the metro to Uckuyular Bus Station and head west!
Visit the charming sites of Sardis and Seferihisar
Just 45 miles east of Izmir City, Sardis is a remarkable archaeological site. Around 334 B.C, it was the capital city of Lydia. The city then fell to Alexander the Great, but then rose from its ashes during Byzantine era.
While you walk around Sardis, you will explore a bathhouse, a gymnasium, and a synagogue. It is basically an open-air museum, to be honest.
Seferihisar, on the other hand, is full of citrus and olives trees and vineyards. It is Turkey's first "slow city", which officially recognized Cittaslow movement.
28 miles from Izmir Province, Seferihisar has also a 16th-century castle and a harbor where you can eat fish and drink rakı, the Turkish favorite spirit flavored with anise! Dilute it with some water and watch it turn milky-white!
Where to Stay in Izmir
Budget: Who knew that a 5-star Hilton Hotel in Izmir could be budget? For as little as $80 a night for a double room [in high season, I should add], you can enjoy a 5-star hotel in style. Located in the heart of Konak, Izmir's coolest neighborhood along the seafront, you'll love the excellent amenities that you'd expect from a 5-star price! Oh, and some of the lower-end rooms even have literal castle views. You're welcome!
➤ Check prices, reviews, and availability here.
Of course, while $80 USD a night for a 5-star hotel is undoubtedly a steal, there are even more budget friendly options. The Park Inn by Radisson has doubles under $60 USD a night, and the Wyndham has hotels under $70 USD a night for a double, also in peak season!
Boutique: For a chic and luxurious place to stay without the 'big-name' recognition of many of the world's top hotel brands, there are plenty of choices in happening Izmir. Met Boutique Hotel offers modern and sleek design with an eye towards the new and trendy, a fantastic location, and personalized attention to detail.
➤ Check prices, reviews, and availability here.
Luxury: For ultra 5-star luxury, look to the inimitable Swissotel Grand in Izmir. This gorgeous luxury hotel costs less than $150 USD a night in much of the peak season, though executive suites and other premium rooms can soar in cost. With spas, indoor/outdoor pools, yoga classes, fitness centers, massage centers, saunas and hammams, nail salons, fine dining, tennis courts… it's basically all you'll ever want to have, at prices you won't believe are possible.
➤ Check prices, reviews, and availability here.
What to Pack for Izmir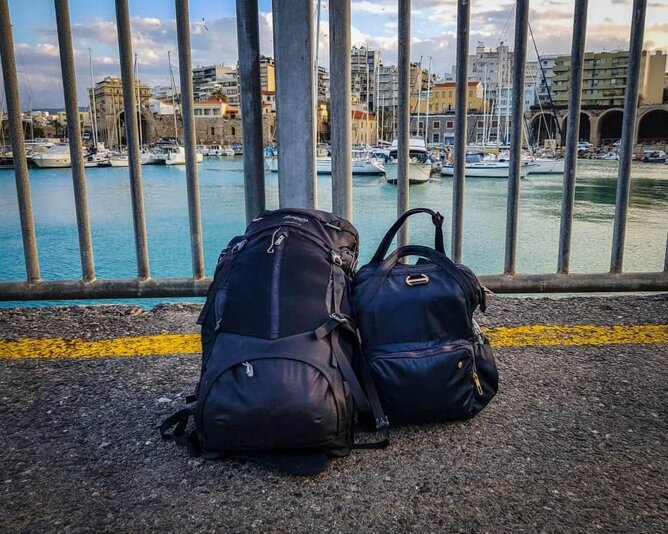 We have a guide of what to pack for Turkey, but here are five things you definitely want to bring with you!
The Lonely Planet Turkey: a good guidebook can help you with the kinds of safety tips you need if you're out in the city and feel a bit lost, especially if you don't have internet or a cell signal. These also have specific neighborhood information that will help you in different parts of the city, and it's a great supplement to blog posts like this one!
Unlocked Cell Phone: Stephanie and I both have unlocked cell phones that we bought in Europe (Stephanie uses a Samsung and I use an iPhone). This allows up to get sim cards when we travel so that we always have the internet. This has gotten us out of so many jams! If you don't have an unlocked cell phone that can use a Turkish sim card, you can buy a cheaper unlocked phone online and bring it with you!
Pacsafe Citysafe or Other Anti-Theft Bag: This is the bag both Stephanie and I use for all our travels. It has a pouch with RFID technology so our credit cards can't get scanned from afar, interlocking zippers to make it harder to pickpocket, and it's roomy enough to be a perfect sightseeing day bag, yet it's still quite stylish for all of its security features. If you'd rather bring something smaller, you can pack a money belt instead.
Grayl Water Filter: While the water is *technically* safe to drink in much of Turkey, I would still avoid it. If you don't want to be buying millions of plastic water bottles, you can get a reusable water bottle that comes with a water filter so that you can stick to the tap water and reduce your plastic waste. If you'll be traveling outside of the major tourist centers, check if the water is potable locally.
Seabands: If you get seasick easily, pack some Seabands or seasickness pills so you don't miss out on the best parts of Turkey – being on the water! A trip to Turkey isn't complete without a cruise or at least a quick boat trip, so make sure you're prepared to enjoy it to the fullest!
More Turkey Travel Resources
We have a ton of resources to help you plan your trip to Turkey!
If this will be your first time traveling to Turkey, check out this guide to planning a trip to Turkey (including visa information) and this guide beautiful places to visit in Turkey. You can also check out our Balkan currency guide, which explains how the Turkish lira works and guidelines for tipping in Istanbul.
If you're heading to Istanbul as well as Izmir, we have you covered. Start with our essential Istanbul Travel Tips and guide to staying safe in Istanbul
We're working on our massive things to do in Istanbul post, plus you can check out our guide to the best Instagram spots around Istanbul, tips for shopping in Istanbul, the best Turkish food to eat, how to plan an Istanbul honeymoon, and what to do in Istanbul at night.
If you will be visiting in winter, we have a special winter in Istanbul guide plus an overview of Istanbul weather in January.
If you want to be in the city for just a few days (four or less), check out our Istanbul city break guide, which breaks down the best of the city so you won't miss anything!
Headed to Cappadocia? If you're curious about the most Instagrammable places in Cappadocia, we've got you covered. We also have posts on the best things to do in Cappadocia, and how to plan a perfect 3 day Cappadocia itinerary, plus how to get to Cappadocia from Istanbul.
We have tons more Turkey and Balkans resources, and we publish new content nearly daily. Bookmark our Turkey and Balkans travel pages so you can find any new resources that come out before your trip!
Don't Forget About Travel Insurance!
If you're planning a trip to Turkey, make sure to travel with a valid travel insurance policy. While we feel safe in Turkey, it's a good idea to be covered in case of an emergency. Travel insurance covers you in case of theft or an accident, which can save your trip if there's an incident.
For travel insurance, Stephanie and I use World Nomads. I've been a happy customer of theirs for almost three years, and I've never had an issue when making a claim. I'm happy to refer them to anyone I meet.
>> Get your free quote from World Nomads here <<
Pin this Guide to Things to Do in Izmir (+ Day Trips from Izmir) Here!)
After studying literature, Dize started to work as a freelance blog writer. She is the mother of a baby girl and 2 dogs. She lives in Istanbul with her family.