This post may contain affiliate links. This means that if you click a link, we may make a small commission off any subsequent purchase, at no extra cost to you. For more information, please check our privacy policy.
Having me write a blog post about Ios can be a tricky case, as it is my number one favorite destination in Greece. I love this island to the point that it could be considered propaganda!
While this could lead to a strictly one-sided approach, I've aimed for a fabulous list of tips for the best things to do in Ios from a Greek perspective.
And who are we kidding? Ios is the best party-on-a-budget option someone can have, if not in the world, at least in the Mediterranean.
So, since I've visited the island more than three times already, let me guide you step by step on the places you should visit and the best things to do in Ios to have an unforgettable time.
Can't read now? Pin for later!
Where to Stay in Ios
Budget | Far Out Camping
If you're on a budget, our local writer Ioanna recommends you stay at Far Out Camping! Right on Mylopotas Beach, you have access to a swimming pool and free sunbeds during your stay.
You can choose from simple canvas tents or more upscale bungalows with a patio and private bathroom (the tents have shared bathrooms with showers).
There is a restaurant on-site which serves meals, plus a pizzeria, sushi bar, mini market, and even BBQ facilities! This is a bit of a party destination: there are 3 bars on-site, perfect for socializing with other travelers and getting your night off to a good start!
>> Check prices, reviews, and availability here
Boutique | Levantes Ios Boutique Hotel
This charming boutique hotel features a lovely sun terrace area with plenty of loungers and a gorgeous infinity pool, perfect for sunning yourself and getting some wonderful vacation photos.
The rooms at Levantes Ios Boutique Hotel are minimalist and white-washed, with 'cave suite' style elements like exposed stacked rocks brushed with white paint. Soft elements like gauzy curtains and cozy textiles add a lovely textural interest.
The hotel has a spa center with massages available, as well as a pool bar, soundproofing, free parking, and several other wonderful perks to make your stay as comfortable as possible. There's no on-site restaurant, but several restaurants are just down the street, giving you ample opportunity to try the Ios dining scene!
>> Check out prices, reviews, and availability here
Luxury | Liostasi Hotel & Suites
A member of the exclusive Small Luxury Hotels of the World group, this exquisite 5-star hotel is perfect for a more luxurious stay in Ios.
With a gorgeous pool (with infinity hot tub!) with sun loungers, a spa center providing therapies with all-natural products, and rooms with sweeping sea views, it's hard not to fall in love with Liostasi Hotel.
The rooms are designed with an elegant loft style, each with its private patio or balcony area. The style is minimalist, with white with black and blue accents. It has an overall bohemian feel with artistic pieces selected for added personality.
A tasty Greek breakfast is served daily, and the lovely on-site restaurant, Grandma's Restaurant, serves unfussy and delicious Greek food with a Mediterranean view. There's also a phenomenal cocktail bar by the pool for poolside drinks.
>> Check prices, reviews, and availability here
The Best Things to Do in Ios
These are some of the most exhilarating things to do on the Greek island of Ios, in no particular order…
Visit or even book your stay in Far Out Beach Camping
It's not a secret to anyone who has visited – or at least searched a bit about Ios – that Far Out is the most famous and visit-worthy destination on the island.
Far Out's story begins way back, when it started as a regular camping spot. Today, it has evolved into the best location to party in Ios on a budget.
While it started as a campsite, it offers stays for all kinds of travelers. Whether you are aiming at the cheapest spot to rent for your tent or at a luxurious villa with a panoramic view of Mylopotas Beach, you can book it at Far Out. And you won't be disappointed!
Far Out Beach Camping has an everyday schedule with afternoon DJ parties and even wet T-shirt contests (we'll assume you already know what that's about!). Last but not least, you should, by all means, try its special icy cocktails. And if you want an insider's tip, don't forget to ask for the cocktail "Purple Rain"!
Take a dive at Mylopotas Beach
When you have finished settling in your room/tent or when the party's over, step outside Far Out and dive into Mylopotas. Mylopotas is the main sandy party beach on Ios, but it's not only that.
Sure, you may stumble upon a huge party or a surprise game event on this beach, but it can also surprise you by being a calm and quiet place to relax after the hustle and bustle of the parties.
Usually, Mylopotas is full of people in the late afternoon hours with various events going on, such as team games with prizes, organized by Meltemi Watersports. However, in the early morning hours and late afternoon, it's an idyllic refuge, perfect for those who have had a bit too much partying.
Read also: 13 Fairytale Destinations for Your Honeymoon in Greece
Visit the island's center, Chora
Chora, being the capital town of Ios, is the main center where everything happens. It hosts a really big number of small bars/clubs, souvenir shops, accommodation rentals and all kinds of different restaurants.
Here you can find some of the most iconic bars of the island, such as the Slammer Bar, which is famous for the Slammer shot. Hold on, I'm going to explain later what that means!
Other bars worth mentioning are Sweet Irish Dream, Traffic Bar, Baru Bar, and a bunch more, which you will discover by yourselves, just by taking a stroll around the town's alleys.
Try the most iconic shots on the island
Ios has a reputation for shots. And that's easy to understand, as, on many bar doors, you will see signs advertising "SHOTS FOR 1€" or "7 SHOTS AND A SINGLET". It's easy to get lost and not know where to start. So here are my tips, as an Ios veteran.
My first shot was the "Bounty" in Orange Bar and I will never regret it. There you can have a nice start with unique handcrafted shots, which I'm sure cannot be found in many other places.
And of course, it's time to explain what the famous Slammer shot is. I'm just going to quote a Tripadvisor review of a visitor:
"You order it, the bartender will prepare it, place a helmet on your head, slam the drink on the bar so it gets frizzy, ask you to drink it, and then kaboom! They slam either a skateboard, a hammer, or a fire extinguisher on your helmet. That's how you get literally hammered!"
Yep, in case you didn't realize it so far, Ios is a pretty crazy place!
Get your adrenaline pumping
As if the Slammer shot wasn't enough, the most exciting thing to do on this island is coming… Hold your breath! No, I meant that, hold it… because it's time for scuba diving!
Mylopotas Beach wouldn't be a party beach without its share of watersports. So get prepared, because you and your friends can start with some peaceful kayaking till you jump on the "Flyfish" in Mylopotas Watersports.
Then again, if you're not that much into action, you can choose to rent a boat for the whole day and visit the hidden bays of the island. Of course, there are also boat tours for those of you not ready to "drive" yourselves around.
Last but not least, you can pay a visit to Bikini Bottom and check if Ios is as pretty underneath the water as it is on the surface. Scuba diving courses for all levels of divers are being offered on the beach.
And if you're wondering how you're going to know if someone's a scuba instructor on Mylopotas? As a joke says, don't worry, they'll tell you within the first few minutes!
Dedicate a day to Pathos
Pathos translates in Greek into "Passion" and is one of the highlights of the island. It's both a lounge bar and a restaurant and offers one of the most impressive Aegean views I've ever seen.
As a sunset spot, it can also be considered equivalent to the magnificent Oia sunset in Santorini, one of the most famous attractions in Greece.
With its two infinity pools, be sure that you're going to make some followers seriously jealous on Instagram with your #vacation posts!
So if you're planning a day lounging in Pathos, visit Koumpara Beach earlier in the morning, where there are plenty of beach bars and later in the afternoon you can start heading uphill for an amazing experience in this resort.
Take an excursion to Manganari Beach
Manganari Beach is considered to be the best beach on Ios. You can reach it either by public or private bus, with a small fee in both cases. Alternatively, you can check this boat tour to the best beaches in Ios to visit several different shores in just one day!
You should arrange to go to Manganari when you feel that it's time for that "lazy day", where you need peace, crystal-clear waters, and the sun. That's all. If you want to make it more active, you can kayak.
Don't forget your sunscreen and make sure you book your return, as the transport is limited. On the beach, you can find some tavernas, which provide sunbeds and umbrellas as well.
Make sure you've brought your umbrella in case you don't plan to use these, as we're talking about some serious Greek sun!
Read also: Your Super Useful Guide to Visiting Elafonisi Beach, Crete
Taste some authentic Greek flavors
We don't expect you to trust us for financial decisions, but there's one thing you cannot deny: we Greeks sure know how to eat.
I can guarantee genuine Greek cuisine on the island and some local, not-known-by-many specialties, which will thrill your tastebuds. So please, pay attention to the following tips and make sure you've noted them down before entering any Greek tavern.
1. Always order a Greek salad and make sure you've specified to the waiter that you want it to be served with Xino (Ksino or Xinotiri) cheese instead of feta. It might be hard to pronounce it but it's worth it, trust me on that.

2. You should also not leave Ios until you've tasted Tsimetia, Matsi, Mermitzeli, and at least one type of traditional pie. You can ask kindly any waiter to suggest and explain what all of these hidden specialties consist of.

3. As far as where you should start discovering the culinary masterpieces of the island, we can suggest the following: Polydoros tavern near Koumpara Beach for the authentic Greek experience, Drakos restaurant on Mylopotas Beach for higher quality seafood, The Nest in Chora for a dose of warmness and Greek hospitality, and of course any tavern which offers a quick and tasty Souvlaki, for those of you who are trying to stay on a budget.
Read also: 30 Insanely delicious Greek street foods that you need to try!
Watch the sunset from the highest point of the island
Panagia Gremniotissa is a Greek Orthodox church in Ios. The church is located almost on the top of Chora's cliff and it's dedicated to the Virgin Mary.
The name Gremniotissa means 'of the cliff', so altogether "Panagia Gremniotissa" can be roughly translated into "Virgin Mary of the Cliff".
You should grab a bottle of water, your camera (a partner is also recommended if you have one available) and start hiking up the hill of Chora, preferably a bit earlier before sunrise.
The Aegean view will compensate for the extra cardio you're going to do!
Add some mystery to your trip by visiting the Tomb of Homer
As weird as it might sound, there's an international superstar originating from Ios. More specifically, Homer is allegedly buried in Ios, the place of origin of his mother, Klymeni.
If the name "Homer" doesn't ring a bell, let me remind you of Brad Pitt in the movie Troy (2004), portraying Achilles.
Well, Homer is the one who wrote the "Iliad", which is an epic poem, on which Troy was based. The "Odyssey" is the second epic poem attributed to Homer, which focuses on Odysseus's ten-year journey home. As you can understand, Hollywood would be a much poorer place without Homer!
You can enrich your trip to Ios with a cultural aspect by visiting the mysterious location of Homer's tomb in Plakoto.
Read also: 7 Steps to Cancel or Postpone Your Trip to Greece
Learn about windmills and see some in real life
A windmill is a small white cylindrical building that converts wind power into rotational energy using vanes. While today's windmills generate electrical power, these windmills were used specifically to mill grain.
Windmills exist almost on every Greek island, and they are no longer used for their initial purpose (milling grain), but rather as ornaments of each place.
Some are even rented as Airbnb rooms and I'm sure it would be a great experience to stay in one of those!
But surely, you cannot leave the island without some selfies in front of Ios's windmills.
Have some quiet fun in a silent disco
Some of you might have heard before what a silent disco is. For me and my friends, it was the first time we encountered something like that while being on this island. And of course, it is an unforgettable experience!
Shush Bar is somewhere hidden in the little alleys of the island, so look out for it, because, well… it cannot be heard!
The entry fee includes a drink and a pair of wireless headphones. There are 3 different channels playing R&B, house, and techno and you can see which channel your friend is listening to, by the color their headphones are showing.
The neon colors and Alice in Wonderland-inspired decorations set up the mood. But what you will love is tuning to the same station as the rest of the bar and singing your lungs out to "Fresh Prince of Bel-Aira"!
Say a proper goodbye to the island
After a bunch of crazy days on the island that never sleeps, it will be unfortunately time to say your goodbyes.
How the drill usually goes is that you go to the port 1-2 hours before your ship arrives and have a coffee right across the departure spot. On the port, you can find many souvenir shops, in case you need a last-minute emergency gift for someone you forgot back home.
It is also recommended to arrive at the port 3-4 hours earlier and have a last dive on the beach right next to it, called Yalos. That way you'll make the most of your last day on the island!
How I personally say farewell to the island though is a bit different. Usually the night before, after partying in the city center, I refuse to take a cab and start walking back to Mylopotas Beach.
At this time, usually, everyone is asleep and I get to enjoy the view of the moon shining right above the bay in total silence. As I reach the beach, I take some time either alone or with my company, to reflect on the awesome memories we gained. Of course, a night dive too never hurt anyone!
---
What to Pack for Ios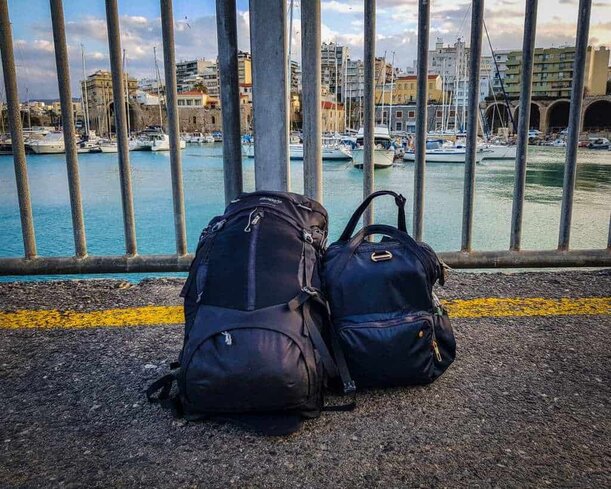 Mosquito repellent: Mosquitos in the summer can be nasty! You can bring ones with DEET or without DEET, or I love having some of these mosquito repellent wipes that I can keep in my bag in case I suddenly start to get swarmed and don't have my regular repellent with me.
Sunscreen: You can buy sunscreen in Greece, but it's likely cheaper at home or bought online in advance. I love this solid Neutrogena sunscreen. Who doesn't love a good solid for liquid swap? Great to keep in your bag without worrying about sunscreen explosions.
Water shoes: Ios has both sandy and pebble beaches. The thing is that pebble and rocky beaches in Greece are a double-edged sword. On the one hand, the pebble seafloor is what creates that gorgeous deep turquoise-colored water that is hard to beat, as the lack of sand means you have incredibly clear water. However, on the other hand, pebble beaches and rocky shores can be downright painful!
Our friend recently cut his foot on a rocky beach in Croatia; had he been wearing water shoes, he'd have avoided such unpleasantness! We suggest these unisex water shoes. They're not sexy, but they will make your trips to the beach far more pleasant!
A secure backpack: We both carry the CitySafe backpack by PacSafe not only on our travels but in our day-to-day lives. It's cute, it's functional, it's comfortable, and it's secure. We're talking about interlocking zippers (which you can then put through a second clasp for two layers of security), slash-proof wire mesh construction, and RFID blockers to keep your personal data safe.
It's neutral enough to be unisex, it's roomy enough to fit a small laptop, large camera, and tons of odds & ends, and it fits under the plane seat in front of you. We're obsessed. Check it out for yourself!
Grayl Water Filter: Tap water is not always safe to drink in Greece. On the islands, many taps provide water from desalination plants, but quality varies and therefore it's safer to drink filtered or bottled water. To both be safe and not buy dozens of plastic water bottles, you can get a reusable water bottle that comes with a water filter so that you can reduce your plastic waste.
Seabands: If you get seasick easily, pack some Seabands or seasickness pills so you don't miss out on the best parts of Greece – being on the water! A trip to Greece isn't complete without a quick boat trip, so make sure you're prepared to enjoy it to the fullest!
More Greece Resources
Headed to Greece? We have some great travel resources to help you with your trip. First read our guide to planning a trip to Greece, which covers visas, budgets, vaccines, and much more. Next, you'll want to read our all-season Greece packing list.
If you are still trying to figure out your Greece itinerary, check out our guides on where to go in Greece, the best places for island hopping in Greece, and when is the best time to visit.
Many people combine a trip to Ios with a trip to Santorini. We're still working on our Santorini resources, but for now, you can check out where to stay in Santorini and our guide to Akrotiri in Santorini.
We publish new content about the Balkans almost every day! For more information about traveling to Greece and the Balkans, bookmark our Greece and Balkan travel pages so you can find out what's new before your trip.
Headed to Greece? Don't Forget Travel Insurance
If you're planning a trip to Greece, make sure to travel with a valid travel insurance policy. If you'll be spending time in the city or doing any outdoor activities like hiking or swimming, you need to be covered in case of an emergency. Travel insurance covers you in case of theft or an accident, which can save your trip if there's an incident.
For travel insurance, I use World Nomads. I've been a happy customer of theirs for almost three years, and I've never had an issue when making a claim. I'm happy to refer them to anyone I meet.
Pin This Guide to Things to Do in Ios for Your Trip!
Ioanna is a Greek Medicine Student and a Professional Karaoke Singer. When she's not slaving over really big books, she's at the airport 4 hours before take-off, so she can drink a cup of coffee across from her gate and worry about missing her flight from there.