This post may contain affiliate links. This means that if you click a link, we may make a small commission off any subsequent purchase, at no extra cost to you. For more information, please check our privacy policy.
Fethiye is most famous for its strikingly beautiful Ölüdeniz beach, which attracts thousands of tourists every year both locally and internationally. However, this charming coastal city located in the southwest of Turkey is full of other gems to discover.
Let's first take a look at the city center of this once-ancient city of Telmessos, one of the most significant cities of Lycian civilization, and then focus on the other sightseeing activities in Fethiye region with a section on the best day trips from Fethiye.
Things to Do in Fethiye: Inside the City Center
Fethiye is home to several structures that still stand today showing the city's cultural and flourishing background.
Shop at the Old Orient Carpet and Kilim Bazaar
If you are into Turkish carpets and kilims, you should definitely check out this shop.
Celal Coşkun, the owner of Old Orient Carpet & Kilim Bazaar, offers classes and workshops to teach the art of carpet making and repairing, a dying tradition day by day.
Address: Çarşı Caddesi 45 Sokak No: 5, Paspatur, Fethiye
Get cultured at the Fethiye Museum
If you are a history enthusiast, you should visit Fethiye Museum that displays Trilingual Stele dating back to 338 BC.
There are exhibits of statuary and votive stones like Stelae of Promise and Grave Stelae as well as pottery and jewelry. There is a mosaic featuring a floral center, a bow and arrow, and a lyre from Letoön's Temple of Apollo.
This small museum has also a garden where you can see Roman tombstones and Lycian sarcophagi. Get your museum pass card ready! The museum can be visited between 9 AM and 5 PM.
Address: Kesikkapı, 505. Sk. No:4
Grab a bite at Yeşil Asma Yapraği
Tired of walking around? You can try Yeşil Asma Yaprağı restaurant, a "lokanta" favorite of locals. The menu concentrates on Turkish cuisine like roasted chicken, "sarma," spinach "börek," and meat casseroles.
The restaurant has air conditioning so that you can escape the hot weather for a while, especially important if you are visiting during summer. The restaurant is open between 8:00 AM and 10:00 PM
Address: Cumhuriyet, Dispanser Cd. No 15/A
Shop with locals at the Weekly Market
If you really want to get to know the culture of a city, you should definitely visit local weekly markets, and Fethiye is no exception.
Taking place along the canal next to the stadium every Tuesday, this enormous market offers vegetables, fruits, clothes, house equipment, food…everything you can think of. It is the cheapest way to shop, as well as the richest in its diversity of offerings.
Address: Between Atatürk Street and Pürşabey Street
Sun yourself like James Bond at Çalış Beach
Are you a Daniel Craig fan? Remember the scene James Bond was waking up in a cozy place by the sea in "Skyfall" with actress Berenice Marlohe? Well, the scene was shot in Çalış Beach!
The props were taken from Güven's Bar and Restaurant while Daniel Craig stayed at the Yacht Classic Hotel on the beach – which, incidentally, is a fantastic place to stay when in Fethiye.
The Best Things to Do Around Fethiye
Visit the marvelous Ölüdeniz beach
Meaning "dead sea" in Turkish, Ölüdeniz is far away from being dead! Rather, it is full of life thanks to thousands of tourists coming to visit this heavenly blue sea.
Being one of the most famous beaches of Turkey, 15 kilometers of white soft sand lays rimmed by dense trees. The sea does not get deep quickly, therefore you can walk a lot till you can dive in the water completely.
That's why families with kids also prefer the lagoon, which gives them a safe environment to play. The sand is so fine and thin — great for walking on the beach, but it also means that you take a lot of it home!
Jump from the peak of Baba Dağ
Ölüdeniz is also famous for paragliding! If you head to Baba Dağ, you can find paragliding facilities. Be careful to go with a reputable tour company! We recommend this paragliding company as they are the best-rated in Fethiye.
You might change your mind when you encounter the heights… so you can have a few drinks at Zirve Bar & Restaurant next to the takeoff area if you chicken out. You can watch people taking off every 5 minutes, and maybe you pluck up your courage to paraglide yourself (just don't let it be liquid courage – it's definitely not safe to fly while intoxicated!)
At this altitude, the air can get cold pretty quickly, especially as it gets closer to sunset. Don't forget to take your coat with you in case you decide to hang out at the peak for more drinks to watch the stars sparkle overhead.
Walk around the abandoned village of Kayaköy
Once ancient Karmylassos, today's Kayaköy is an eerie, mostly abandoned stone village located just 8 kilometers from Fethiye.
Until the 1923 Population Exchange was signed, this was a village full of Greeks and Turks living together. The law changed everything, making the people depart from the village to Greek islands and other parts of Turkey.
Today, this abandoned village attracts tourists who would like to see the ruins from that time, Katapongagia Church and Taxiarchis Church (two Greek churches) being some of them.
Visit the majestic ancient city of Kaunos
Dating back 3,000 years, the Ancient City of Kaunos has made to UNESCO's World Heritage Tentative List with its rock tombs, temples, and theater. The ancient city is located in Dalyan, a one-hour car drive away from Fethiye city center.
If you are interested in the history of the region, Kaunos is a must-see, where merchant ships once departed to the Mediterranean and the Aegean Seas. To best experience Kaunos, take a boat ride by the Dalyan River in order to see the tombs with temple facades.
Take a mud bath
By the way, do not forget to take a mud bath on Iztuzu Beach! The mud is famous for healing skin ailments, and locals often come to the area to relax.
The gray mud dries on the skin, quickly working like a body mask to heal the irritated areas. It doesn't smell that nice, just saying! The smell comes from the sulfur in the mud, which is part of what makes it so healing.
There are plenty of boat operators that work in Dalyan, therefore you don't have to book in advance. Just be spontaneous!
Visit sea turtles
Iztuzu Beach is also home to the Sea Turtle Rescue Center (DEKAMER), a facility that helps injured turtles, as well as newborn sea turtles, reach the sea. You don't have to pay anything to see the sea turtles in the conservation. Note that feeding and touching them are strictly forbidden.
Be careful with the season! Iztuzu Beach is a nesting site and closed from 8 PM to 8 AM during nesting months. If you're visiting in the non nesting months (which vary by year), you can visit in the evening freely. The 5 kilometer-long beach is also fantastic during sunset time.
Take a safari tour at Saklıkent Gorge
The ravine is located in the mountains of Akdaglar and 30 kilometers away from the city center. The area is famous for trekking on the wooden boardwalks built above the river. The water is extremely cold, therefore do not consider swimming… unless you are from Russia or Sweden! You can go rafting, however, along the river.
There are safari tours starting from Saklıkent, a full-day activity diving into the deep forest areas, hiking through the gorge, having lunch by the river, and then heading to Patara to relax on the beach. The final destination of the safari tours is the ruins of Tlos. The tours include transfers from and to the hotel you are staying.
Check out the longest beach in all of Turkey
Being Turkey's longest beach, Patara is the idyllic spot for a sunbathing break. Once a significant city of Lycia, you can also see several ruins by the beach in Patara, a perfect combination of history and seaside. Legend says that St. Nicholas of Myra who is "Santa Claus" as we call it today, was born in Patara in the 4th century!
The nearby archaeological site Pinara is less populated with tourists, compared to other Lycian sites in the region. There are more than 900 monolithic house tombs and rock tombs in the ruins of the Lycian city of Pinara. The area around the antique theater is fantastic, as you enjoy the mountain peaks and dense forest that surrounds you.
Visit the historic cities of Letoön and Xanthos
Letoön is another UNESCO protected city in the Fethiye region. The legend says that it was dedicated to the God Leto, who had an affair with Zeus. Leto was sent to exile to Lycia by Hera, Zeus's wife. There are three temples in the religious center dedicated to Apollo, Artemis, and Leto.
You should also check out Apollo Temple in Xanthos, once the capital of Lycia, supposedly the oldest republic of the world. The city walls by the Hellenistic city gate date back to the 3rd century.
While under UNESCO heritage listing, unfortunately, the city's most stunning monuments were sent to England in the 19th century. What remains are acropolis, the theater, and the agora.
Get some peace and quiet in the Butterfly Valley
Do you want to break free from all humanity? Then we have good news for you. Butterfly Valley is only reachable by boats that take off from Ölüdeniz or hiking from the cliffs of Faralya. Either way, it requires effort to get there… meaning tourists often don't go there.
Going by boat from Ölüdeniz is the safer choice. We encourage you not to choose the trekking option unless you are an expert. There have been fatal incidents reported in the area due to losing concentration during hiking because of hot weather and the steep cliffs. Don't forget to check out the schedule of the buses that will take you to the boats, as they are limited in number.
Once you are in the valley, you will find yourself surrounded by lush forest and spectacular beaches to discover. There are tree houses and humble accommodations here and there. Local and international visitors to Butterfly Valley make it a tradition to come here for the campfires at night, and the community spirit resembles the 60s hippie movement.
There are more than 85 different species of butterfly live in the valley, hence the name. The best time to see the butterflies is in June. If you really want to see the butterflies at rest, be careful not to be noisy and avoid crowded groups.
There is also a waterfall at the end of the valley. The road to the waterfall involves climbing, so get your water-resistant, well-tractioned shoes ready because you might slip with your flip-flops!
If you are planning to spare only a day for the valley, we recommend this day trip.
Spend the night in lovely Faralya
I have saved the best gem at the end of this article. A hidden hilltop village, Faralya is home to spectacular boutique hotels. Locals prefer these hotels for their honeymoon. Other people come to visit them for their yoga lessons that take place either by the Mediterranean or in the depths of the forest. You can only imagine how fresh the air is here!
Kabak Bay is a beautiful body of water that is under state protection is located just beneath Faralya. This is a valley of clean beaches and lavish nature with campsites. There are different kinds of animals and plants in the region. If you like camping, there is not a better camping atmosphere around! You don't have to come ready with your own tent; there is equipment available for camping if you have a change of heart!
The locals of Faralya are really into bees and making organic honey. The honey here is a premium quality, so be sure to buy a few jars on the way back home!. If you are into cooking, you should also buy some sage. If you get a cold, you can consume in in the form of tea in winter, as well – it's very good for you!
Since you are into the heart of the Aegean region, don't leave before you have breakfast or dinner. The ingredients used are all organic and hence healthy. You can also buy olive oil produced from the local olive trees!
If you hike all the way up to Faralya, you have earned watching the sunset from the cliffs. Just take your time to relax, enjoy the views, and think about your life as you gaze into the hypnotic view of the Mediterranean!
Where to Stay in Fethiye
Budget | Infinity Exclusive City Hotel
For a budget-friendly place to stay that doesn't sacrifice location, comfort, or quality, check out Infinity Exclusive City Hotel. It's only a short walk from the sea, but it's also surrounded by lively restaurants and bars that offer a buzzing atmosphere to have the best of both worlds, with the marina right at your fingertips.
The rooms are decorated elegantly yet simply, offering personalized charm beyond your standard hotel. The bathrooms are bright, spacious, and clean, great for a longer stay in Fethiye. There's an on-site breakfast which you can also have delivered to your room if you feel like breakfast in bed.
>> Check prices, reviews, and availability here
Boutique | Orka Boutique Hotel
In the heart of Fethiye, Orka Boutique Hotel offers impeccable sea views, an unbeatable location, and classic style. Many of the rooms offer terraces and balconies to better appreciate the gorgeous sea views.
Located right on the harbor with a stunning view of boats bobbing in the waves, you can dine in their ground floor restaurant while marveling at the sea in front of you.
The rooms are minimalist and classic, with streamlined decor and modern elements. Some rooms, like their Large Room with Terrace or their Deluxe Room with Spa Bath, have interesting architectural elements and amenities that take the design a step above – perfect for a special occasion.
>> Check prices, reviews, and availability here
Luxury | Yacht Classic Hotel
Just outside the main town of Fethiye, a short walk from all the city's restaurants and bars, you'll find the lovely boutique hotel, Yacht Classic Hotel, located right on the seafront.
In addition to its gorgeous rooms with hot tubs in the bathrooms — many with seafront balconies, and some even with private pools! — the hotel offers several phenomenal 5-star amenities, including a swimming pool, Turkish bath, and a sauna. It even has free parking – perfect if you're renting a car to explore the Fethiye region.
On-site dining includes Mori Restaurant, which serves fine Mediterannean cuisine, as well as Skyfall Bar (I mean, it was a James Bond filming location!) which serves Turkish wines… which are delicious [Chamlija is a personal favorite]. There's also the Blue Pool Bar for poolside cocktails!
>> Check prices, reviews, and availability here
What to Pack for Fethiye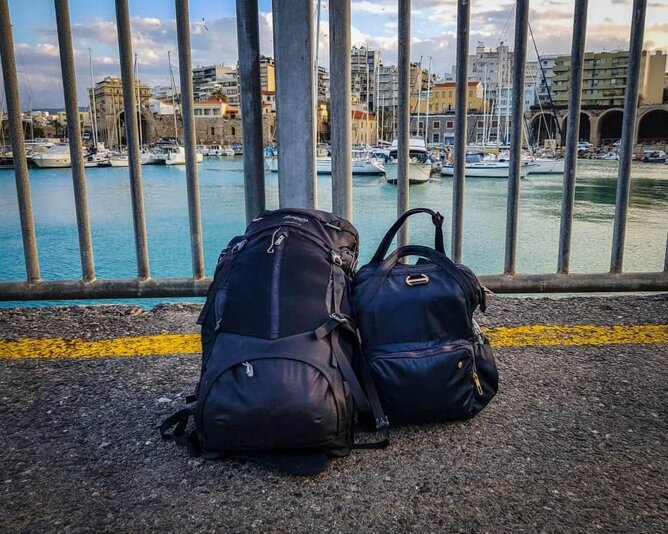 We have a guide of what to pack for Turkey, but here are five things you definitely want to bring with you!
The Lonely Planet Turkey: a good guidebook can help you with the kinds of safety tips you need if you're out in the city and feel a bit lost, especially if you don't have internet or a cell signal. These also have specific neighborhood information that will help you in different parts of the city, and it's a great supplement to blog posts like this one!
Unlocked Cell Phone: Stephanie and I both have unlocked cell phones that we bought in Europe (Stephanie uses a Samsung and I use an iPhone). This allows up to get sim cards when we travel so that we always have the internet. This has gotten us out of so many jams! If you don't have an unlocked cell phone that can use a Turkish sim card, you can buy a cheaper unlocked phone online and bring it with you!
Pacsafe Citysafe or Other Anti-Theft Bag: This is the bag both Stephanie and I use for all our travels. It has a pouch with RFID technology so our credit cards can't get scanned from afar, interlocking zippers to make it harder to pickpocket, and it's roomy enough to be a perfect sightseeing day bag, yet it's still quite stylish for all of its security features. If you'd rather bring something smaller, you can pack a money belt instead.
Grayl Water Filter: While the water is *technically* safe to drink in much of Turkey, I would still avoid it. If you don't want to be buying millions of plastic water bottles, you can get a reusable water bottle that comes with a water filter so that you can stick to the tap water and reduce your plastic waste. If you'll be traveling outside of the major tourist centers, check if the water is potable locally.
Seabands: If you get seasick easily, pack some Seabands or seasickness pills so you don't miss out on the best parts of Turkey – being on the water! A trip to Turkey isn't complete without a cruise or at least a quick boat trip, so make sure you're prepared to enjoy it to the fullest!
More Turkey Travel Resources
We have a ton of resources to help you plan your trip to Turkey!
If this will be your first time traveling to Turkey, check out this guide to planning a trip to Turkey (including visa information) and this guide beautiful places to visit in Turkey. You can also check out our Balkan currency guide, which explains how the Turkish lira works and guidelines for tipping in Istanbul.
If you're spending time on the coast, we have guides to Antalya, Bodrum, Alanya, and more on the way.
If you're heading to Istanbul as well as Fethiye, we have you covered. Start with our essential Istanbul Travel Tips and guide to staying safe in Istanbul
We're working on our massive things to do in Istanbul post, plus you can check out our guide to the best Instagram spots around Istanbul, tips for shopping in Istanbul, the best Turkish food to eat, how to plan an Istanbul honeymoon, and what to do in Istanbul at night.
If you want to be in the city for just a few days (four or less), check out our Istanbul city break guide, which breaks down the best of the city so you won't miss anything!
Headed to Cappadocia? If you're curious about the most Instagrammable places in Cappadocia, we've got you covered. We also have posts on the best things to do in Cappadocia, and how to plan a perfect 3 day Cappadocia itinerary, plus how to get to Cappadocia from Istanbul.
We have tons more Turkey and Balkans resources, and we publish new content nearly daily. Bookmark our Turkey and Balkans travel pages so you can find any new resources that come out before your trip!
Don't Forget About Travel Insurance!
If you're planning a trip to Turkey, make sure to travel with a valid travel insurance policy. While we feel safe in Turkey, it's a good idea to be covered in case of an emergency. Travel insurance covers you in case of theft or an accident, which can save your trip if there's an incident.
For travel insurance, we both use World Nomads. I've been a happy customer of theirs for almost three years, and I'm happy to refer them to anyone I meet.
>> Get your free quote from World Nomads here <<
Pin this Guide to Things to Do in Fethiye Here!
After studying literature, Dize started to work as a freelance blog writer. She is the mother of a baby girl and 2 dogs. She lives in Istanbul with her family.