This post may contain affiliate links. This means that if you click a link, we may make a small commission off any subsequent purchase, at no extra cost to you. For more information, please check our privacy policy.
Thinking of heading to beautiful Borovets, Bulgaria? Whether you want to visit Borovets in winter for a delightful ski vacation (or just a beautiful snowy escape if you don't ski) or you're looking for what to do in Borovets in the summer and non-snowy months, this post had you covered!
We adore Borovets! Just two hours from Sofia, it's an easy way for us to get out of town. Full of beautiful ski resorts, delicious restaurants, gorgeous hiking in the summer, and fun nightlife, we know you'll have a great time! Here are our top picks for things to do at any time of year, plus our favorite Borovets tours.
Can't read now? Pin for later!
Where to Stay in Borovets
Accommodations in Borovets offer a great value compared to other ski resorts in Europe. Here is a general range of what we mean by each budget category:
Budget: A room in a hostel, usually $5-12 USD per night for a dorm bed or under $40 for a double.
Mid-range: Around $40-80
Luxury: Around $100 per night or more
Budget: While there aren't any traditional hostels in Borovets, you can enjoy budget accommodations by staying a bit further away from the ski resort. The SDL Apartments Borovets Gardens are a great value since the taxis back and forth to the resort are still less than staying at the next level of accommodations. These are self-catering apartments, so you can also eat some meals in. Check rates, reviews, photos, and availability here
Mid-Range: I stayed at the Hotel Flora during my trip, and I loved it! We had a welcome bottle of wine waiting for us, and it was a self-catering apartment with comfortable furniture and a great location within a few minute's walk from the Yastrebetz Gondola. If you are traveling during peak season, book early since this is one of the more popular mid-range options in town and can sell out in advance. Check rates, reviews, photos, and availability here
Luxury: The Rila Hotel is known for its stunning views, and amenities. It's also located right at the bottom of the ski lifts, so it boasts a location that can't be beaten in all of Borovets. It has several restaurants and a luxury spa so guests can enjoy complete convenience during their stay. Check rates, reviews, photos, and availability here.
Didn't find what you're looking for? Check out our full guide to the best Borovets ski resorts.
The Best Things to Do in Borovets in Winter
Of course, if you're headed to Borovets in wintertime, you already know that this is a winter wonderland. But there's a lot more to do here than you might expect! Here are our picks for the top things to do in Borovets in winter!
Go Skiing…Duh!
This one might be cheating. If you are coming to Borovets for winter, you probably already know exactly how much skiing you plan on doing! But yes, I would be entirely remiss to leave skiing off the list!
Try Out Snowboarding
If you want to hit the slopes but you are more interested in snowboarding than skiing, you can take lessons and easily rent a board here. Seasoned snowboarders are free to hit the slopes on their own.
Get an Adrenaline Rush on a Ski Mobile
If skiing and snowboarding don't get your blood pumping, why not try your hand at snowmobiling? You can go on an adventure-packed snowmobile tour!
>>Check here for Snowmobile tour reviews, prices, and schedules.<<
Ride Horses in the Snow
A relaxing horseback ride through the snow? No, it's not a dream, you can actually book a horseback riding winter tour here. It's like you're living inside a Christmas carol.
Tour the Mosque in Samokov
The little town of Samokov actually has two reasons to visit this list. My favorite is the delightful Ottoman mosque and fountain that you can see near the bus station. We visited when we changed buses from Sofia to Borovets, but if you get to Borovets a different way I would still come over to see them yourself. The ride between the two towns is just a few minutes.
Many Bulgarians choose to stay in Samokov because the prices are much lower than in the resort town of Borovets. Something to keep in mind if you're skiing holiday has a strict budget!
Enjoy a Spa Day or a Morning in the Steam Room!
Every hotel will have a spa and steam room, but some are considerably nicer and more relaxed than others. However, if you don't spend some time in a steam room on a ski vacation, what was the point of even going?
Go Skiing…at Night
Yes, you knew you could ski in Borovets, but did you know that you can ski at night? If you want a little extra James Bond-iness in your ski adventure, get a night pass! (I think I remember James Bond skiing at night or am I making that up)?
Take a Dip in the Local Hot Springs
While I've personally tried the hot springs closer to home in Sofia, I've been to enough Bulgarian water centers and parks to know they're always a good (and..uniquely Bulgarian) time. Head to Aqua Club Kotava to experience this for yourself!
Experience Borovet's Apres Ski
My personal favorite Borovets activity is Apres Ski…but does it count as Apres Ski if you didn't actually ski? I say yes! You can read about some of my favorite places to eat and drink in Borovets here. Make sure not to miss getting some shots at Bulgaria's only Jamaican Restaurant with a Cool Runnings theme!
Go Paragliding
A tandem paragliding date might not be the most romantic thing you can do in Borovets, but if you're part of an adrenaline junkie couple then buckle up!
The Best Things to Do in Borovets in Spring, Summer, and Fall
Since Borovets is a ski resort town, you may think there's not much to do there during the rest of the year. Well, I'm happy to report that this is not the case! Borovets, while less crowded during the summer, is still a great destination for nature enthusiasts!
You can do many of the winter activities year-round (think steam rooms, horseback riding, and visiting Kotvata), but here are some activities best (or ONLY) enjoyed in the warmer months of the year.
Hike Musala Peak
Affectionately referred to as the "Everest of the Balkans," Musala Peak is the highest mountain on the Balkan Peninsula. In summer, it's a popular hiking spot for the countries more seasoned and intrepid hikers.
See the Palace & Waterfalls at Tsarska Bistritsa
You can technically visit the palace in Samokov year-round, but if you want to walk through to the waterfall it would be a better summer activity. Here's a little background on the palace:
"Tsarska Bistritsa" is the former palace of the rulers of the Third Bulgarian Kingdom. Located above the resort of Borovets in Rila. Built between 1898 and 1914 it is performing the functions of a hunting lodge for kings Ferdinand I and Boris III. Architectural appearance is influenced by the traditional Bulgarian Renaissance style, but it can be seen also European architectural influences.
In 1898 was built the first wing of the palace, known as the "Old Palace", which consists of several rooms, offices, and bedrooms. Later they were built two wings with a spacious living room, dining room and second floor with bedroom, dressing room and another cabinet. So upon completion in 1914, it has formed a whole complex of royal buildings and a beautiful park crossed by a river Bistrica Musalenska.
The palace and park are open from Thursdays through Sundays from 9 are until 5 pm.
Go Mountain Biking
Borovets mountain bike park has twenty kilometers of track available for your enjoyment, or you can join an organized cross-country mountain biking tour. Of course, if you're an experienced rider you can always choose to do some solo or group adventuring on your own.
Tour Tsari Mali Grad Medieval Fortress
You know we love a good Bulgarian castle or fortress, so we highly encourage you to take the time to visit Tsari Mali Grad while you're in Borovets. Just fifteen minutes from Borovets in the town of Belchin, you'll find this fifteenth-century historic site nicknamed "the little King's city."
Try Out Rock Climbing
A relatively new activity in Borovets, two of the most famous Bulgarian rock climbers has started a rock climbing and mountaineering school in Borovets. You can learn from some of the best, as this team has climbed some of the most famous peaks anywhere in the world!
5 Things to Pack for Borovets
We have an entire Bulgaria packing list with a winter clothing section (and a separate skiing packing list is coming soon!), but here are five things you definitely want to bring with you to Bulgaria!
Lonely Planet Bulgaria & Romania is a great guidebook for your visit to Bulgaria. It can be really hard (sometimes impossible) to buy a physical guidebook in English once you're in Bulgaria, so if you like having your guidebook in your hands you will need to bring it with you from home.
Reusable water bottle with filter: While you can drink the tap water in most of Bulgaria, if you'll be visiting a lot of small villages or doing some hiking, I recommend a filter water bottle like the GRAYL. If you're sticking to big cities, a regular reusable bottle will do just fine. This one is cool because it's collapsible!
Touchscreen gloves (winter travel): You'll want to cover your fingers and still be able to use your favorite touchscreen devices, so we recommend gloves like these that are compatible with your smartphone.
Hiking boots (non-winter travel): If you plan to come to Bulgaria to hike, you'll definitely want your hiking boots! I recommend these Ahnu hiking boots for women and these Keen boots for men.
Moisturizer: Travel will beat your skin up. If you use a moisturizer at home, bring it. If you've never used a moisturizer before, you really should start. You'll be happy to give your face a boost before heading outside all day.
More Bulgaria Travel Resources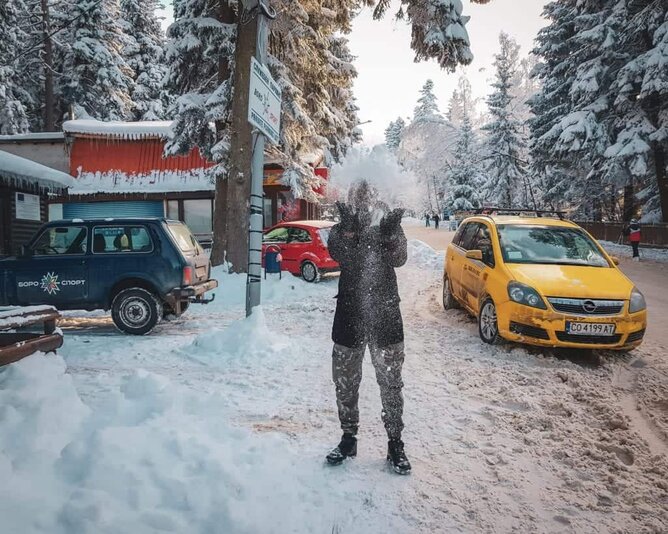 Headed to Borovets? Check out our guides to the best Borovets restaurants and how to get to Borovets from Sofia and back!
We want you to have the best trip to Bulgaria possible! If this will be your first time in Bulgaria, check out our Bulgaria trip planning guide as well as our packing list for Bulgaria (which includes a winter section).
To help you, we've created a number of resources that will be helpful. If you're visiting Sofia, these 101 things to do in Sofia should be a nice start! Also, read our Sofia travel tips post and where to stay in Sofia.
For transportation, check out our guide to avoiding taxi scams in the city. If you'll be flying into Sofia, you can read our tips for flying in and out of Sofia Airport.
We also have Sofia restaurant and bar recommendations. We also have articles for popular day trips from Sofia like Plovdiv, the Rila Lakes, and Buzludzha.
For more winter travel inspiration, check out what to do in Bulgaria in winter! We also have posted on ski resorts in Borovets and Bansko, if you are considering multiple ski resorts in the country.
For more resources for your trip, check out our pages on traveling in Bulgaria and the Balkans.
Planning a Trip to Bulgaria? Don't Forget Travel Insurance!
We strongly suggest that you travel to Bulgaria with a valid travel insurance policy. While the country is safe, accidents can happen anywhere. If you experience an accident or theft, travel insurance will help you recover your costs and enjoy the rest of your trip.
This is especially important in winter since winter activities carry a certain amount of risk with them. We recommend the Explorer upgraded insurance plan if you plan to do any skiing or snowboarding so that you can be fully covered.
For travel insurance, I use World Nomads. I've been a happy customer of theirs for almost three years, and I've never had an issue when making a claim. I'm happy to refer them to anyone I meet.
>>Get a travel insurance quote for your trip here.<<
Pin this Guide to the Best Things to Do in Borovets for Your Trip!
Stephanie has been living in and traveling around the Balkans for the past three years. She's written for National Geographic Online, appeared on CNN Arabic and in the New York Times, and ridden more Balkan buses than is good for a person.