This post may contain affiliate links. This means that if you click a link, we may make a small commission off any subsequent purchase, at no extra cost to you. For more information, please check our privacy policy.
Turkey's Turquoise Coast is a stunning place to travel, and if you're lucky enough to get to plan a trip here, you can use Antalya as a great base from which to explore the region. Here are my recommendations for the best things to do in Antalya (including Antalya day trips).
Can't read now? Pin for later!
The Best Things to Do in Antalya
I still remember the road trip to the south coast I took with my family when I was 14 years old: the hot weather, the calmness I felt when I finally got to swim after a long uninterrupted car drive that my father refused to take a break, the sandwiches we ate in the picnic areas in the forest, and the friends I made on the road who became my pen pals.
I had the chance to see almost all the south coast of Turkey back then; Antalya, Kas, Fethiye, Kalkan, Alanya… These are all beautiful places that I still remember dearly. However, there is something extra special about Antalya!
So here are my picks for the best things to do in Antalya, including some places that you can do as day trips!
Old Town (Kaleiçi)
You can think of Kaleiçi like a maze, a neighborhood where you can easily get lost among restaurants, souvenir shops, boutique hotels, and art galleries.
Kale Kapisi, which is the main square, has a clock tower and a fortress gate. Tekeli Mehmet Pasa Mosque a few meters away is the 18th-century mosque with a stunning interior tile. Kesik Minare is also nearby which was once a Roman temple, then converted into a church but destroyed by fire in the 19th century. The remaining building is now a mosque.
Stroll through Kaleiçi before it gets too hot, enjoy your tea early in the morning among the Ottoman styled mansions, and breath in the air before locals come to the square.
Old Harbor
Nowadays people come to Old Harbor to watch the sunset while drinking a glass of white wine or to come to decide which excursion boat to take that will sail to the Mediterranean. It is hard to imagine that the port was once a major economic hub bringing prosperity and trade to the city as well as to nearby cities from the 2nd century to the 20th.
Antalya's old harbor has cliffs looking over the Mediterranean and home to several bazaars, boutiques, and cafes. Sunset time is the best time to visit the harbor to see the spectacular sky and rest at the end of a long day while drinking your favorite drink.
Antalya Museum
The Antalya Museum is considered one of the most organized museums in Turkey as well as being one of the most visited. The collections are displayed very professionally, helping the visitor to understand the complexity of the region's history.
You can see all the best finds from the Bronze Age to Byzantium's excavation areas. There is also an ongoing excavation site inside the museum, too. Budding archeologists will find this part of the museum fascinating!
If you don't have a lot of time, focus on the galleries displaying mosaics from Seleukeia, Perge's statues, and silver hoard from Aspendos.
Yivli Minare
Built by the famous Seljuk Sultan Aladdin Keykubad who ruled between 1219 and 1236, Yivli Minare is a must-see, a landmark of Antalya. It is a representation of Seljuk architecture. People still pray inside the 14th Century mosque.
Hadrian's Gate
Built in honor of Emperor Hadrian, Hadrian's Gate welcomes provides a dramatic way for visitors to enter the Kaleici. It is one of the few preserved remains of Roman and Hellenistic town halls on the eastern side of the old town. Look towards the ceiling to see the best sculptural carvings.
Aspendos
Aspendos is a world-famous archaeological site about 47 kilometers east of Antalya. It is one of the most popular tourist attractions in the country.
Locals call Aspendos by the name: "Belkis" or "Belkiz." It is believed that Greek colonists first founded Aspoendos after the Trojan War. However, there is another legend that the Hittites founded the city.
The roman amphitheater here was built during the 2nd and 3rd centuries during the reign of Emperor Marcus Aurelius., It has been restored and holds up to 15.000 people. If you are lucky and come across a concert or festival being held at the amphitheater during your trip, you should definitely attend!
Termessos
Another ancient city worth seeing is Termessos. Located just 34 kilometers away from Antalya, it really is a can't-miss for travelers coming to the area.
Make sure to see the amphitheater as well as the ancient streets and upper agora. As you will be climbing to see the views of the Taurus Mountains, make sure that you wear hiking shoes and have plenty of water with you in order to explore the area fully!
Perge
Only about 17 kilometers away from Antalya, Perge was the ancient capital city of Pamphylia under the rule of Rome and Greece. There are some temples, a stadium, and huge agoras that survive to today.
Compared to other ancient sites, Perge is less popular and attracts fewer visitors, which makes it a great place to visit if you're looking to escape the crowds and enjoy Perge's more tranquil atmosphere.
Do not forget to see Acropolis, the Roman baths, and Hellenistic Gate!
Olympos
There is a reason why all backpackers head to Olympos. With its bohemian atmosphere, you can chill out at the beach during the day and set up a fire at night. This ancient Lycian city is just 84 kilometers away from Antalya, making it a perfect choice for those looking for a beach holiday away from the crowds.
Animal lovers especially enjoy a visit to Olympos where you can watch the Caretta Caretta sea turtles' youngsters trying to reach the Mediterranean.
For accommodation, try one of the camps that have tree house bungalows to feel the bohemian sanctuary atmosphere to the fullest, but have insect repellent with you if you'd like to have a good night's sleep!
You are not allowed to use your car in Olympos and the parking is available at the entrance of the beach. Also be aware that there aren't any showers or changing rooms on the beach. But the crystal clear water is worth the hassle.
Eternal Flames of Chimera
Do not miss seeing the Eternal Flames of Chimera while in Olympos. It is a constantly burning flame resulting from a natural gas leak. However, the legend says the flame is there because of the fight between Bellerophontes and Chimera.
In order to make the best of the scenery, visit Yanartas around sunset. At night, you will be sitting under a thousand stars with no one around, just the fire and you.
Be aware that there might be scorpions around which love rocky places like Yanartas, so be careful out there!
Raft through the Green Forest
If you are a rafting fan who has an adventurous spirit, make sure that you visit Koprulu Canyon National Park, one of Turkey's best rafting spots. It is 90 kilometers away from the city and home to the longest canyon in Turkey.
As you raft through the forest, you can even get a glimpse of wolves, foxes, and bears.
Hike the Famous Lycian Way
The Lycian way begins outside of Antalya and goes for 540 kilometers until it reaches Fethiye. It is known to be one of the longest hiking destinations in the world, with many people finishing it in about 29 days.
There are amazing views of mountains and sea as well as ancient relics that accompany you as you walk along the Mediterranean coast. There is a short hiking route option, too if you prefer, just make sure you follow the route in white and red stripes.
Do not rent a mountain bike, as the road is hard and full of stones. However there are plenty of public transportation options along the trail and you can set aside time to enjoy local paragliding, canoeing, and swimming.
The best time of the year is autumn or spring, as it gets extremely hot in the summer.
Every night you can find a place to stay in small hotels, village houses, and pensions.
Have Dinner at 7 Mehmet
A favorite of locals, get a table at 7 Mehmet to have a romantic dinner. The menu has both fish and meat options, pumpkin dessert, duck and lamb tandoori, and rice with almonds. The fish menu changes by the season.
The address: Meltem Mahallesi, Atatürk Cultural Park, Dumlupınar Bulvarı No: 201, 07030, Muratpaşa
Eat Serpme Borek
It is a tradition to eat serpme börek in the morning and Börekçi Tevfik is one of the locals favorite breakfast spots. You can order börek with cheese or with meat inside along with a glass of Turkish tea.
Do not take it away because börek loses its appeal after a while and it is best eaten wrapped while still hot.
The address: Sinan Mah, Peker Cad, 1255 Sok. Ay İşhanı, 07050, Muratpaşa
The Roman Fortress (Hidirlik Kalesi)
The Roman Fortress is situated on the edge of Karaalioglu Park. It is 14 meters high and is assumed to be a lighthouse or a watchtower built in the 2nd century.
Locals come here to enjoy the views during sunset and have a glass of tea. The park itself attracts locals as well who want to relax and enjoy the cafes that are situated nearby.
Konyaalti Beach
Konyaalti Beach is very close to the town center and one of the two main beaches in the city. The beach is pebbly therefore do not expect soft sands under your toes.
Locals head to the beach after work during weekdays or on weekends with their umbrellas and sunbeds. If you are staying close to the city center, you can enjoy the warm sea here. Facilities are available like public toilets and showers. You can also rent umbrellas and sun loungers.
Karst Springs
If you want to take a break from historic attractions, you can go outside the city and visit the countryside full of waterfalls, karst springs, and sinkholes. Düdenbaşı, Pınarbaşı, and Kırkgoz are the most popular ones. You can swim in the safe zones of the springs, but keep in mind that the water is way too cold for swimming, even in the summer.
Karain Cave
The Karain Cave is near Döşemalti, 27 kilometers far away from Antalya. You can combine the trip to the karst springs with a visit to the caves. If you can come, try to visit the cave on a weekday to avoid crowds. The cave has findings from Middle and Lower Paleolithic eras, which also include teeth, and bones from prehistoric times.
Enjoy some Burnt Ice Cream
Although most people find it weird, burnt ice cream is one of the city's famous flavors. When you go to Kas or Demre, you can see a lot of ice cream shops selling burnt ice cream made from goat's milk. It is intentionally burnt while cooking. In the center, you can try Akdeniz Dondurma or Dondurma Dükkanı, try it alongside with profiterole if you like.
Lara Beach
Lara Beach is situated in the south of the city and famous for its soft white sand. A lot of beach resorts are also located here, therefore, it can get very crowded during peak season.
You can rent jet-skis or paddleboards if you like or just lay down to get a tan.
Phaselis
Phaselis is another nearby ancient city and is situated just 60 kilometers away from Antalya. It's famous as the spot where Alexander the Great wintered around 334 BC.
You can visit Hadrian's Arch Gate, temples, a theater, and ancient streets. There is also a museum you can shop in. Take the Olympos Cable Car, which goes up to the summit at 2275 meters of Tahtalı Mountain if you have extra time.
Kocain Magarası
The cave is 45 kilometers away from the city center of Antalya. Its interior is pretty deep; therefore wear shoes with some traction in order not to slip. The cave is 600 meters long.
You will see a Roman cistern at the entrance, prehistoric carvings on the walls, and stalagmites inside.
Where to Stay in Antalya
We're in the process of creating comprehensive guides on where to stay in various Turkish cities, but for now, we recommend checking out Booking.com as early as possible since many of the best hotels in Antalya sell-out early (especially in the summer).
What to Pack for Antalya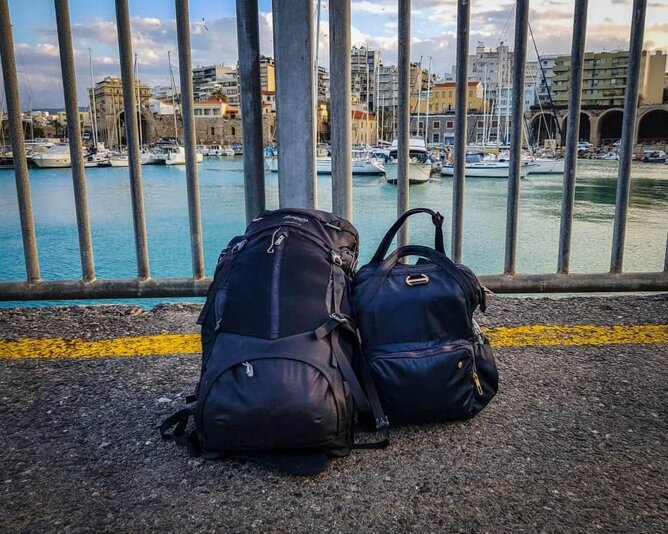 We have a guide of what to pack for Turkey, but here are five things you definitely want to bring with you!
The Lonely Planet Turkey: a good guidebook can help you with the kinds of safety tips you need if you're out in the city and feel a bit lost, especially if you don't have internet or a cell signal. These also have specific neighborhood information that will help you in different parts of the city, and it's a great supplement to blog posts like this one!
Unlocked Cell Phone: Stephanie and I both have unlocked cell phones that we bought in Europe (Stephanie uses a Samsung and I use an iPhone). This allows up to get sim cards when we travel so that we always have the internet. This has gotten us out of so many jams! If you don't have an unlocked cell phone that can use a Turkish sim card, you can buy a cheaper unlocked phone online and bring it with you!
Pacsafe Citysafe or Other Anti-Theft Bag: This is the bag both Stephanie and I use for all our travels. It has a pouch with RFID technology so our credit cards can't get scanned from afar, interlocking zippers to make it harder to pickpocket, and it's roomy enough to be a perfect sightseeing day bag, yet it's still quite stylish for all of its security features. If you'd rather bring something smaller, you can pack a money belt instead.
Grayl Water Filter: While the water is *technically* safe to drink in much of Turkey, I would still avoid it. If you don't want to be buying millions of plastic water bottles, you can get a reusable water bottle that comes with a water filter so that you can stick to the tap water and reduce your plastic waste. If you'll be traveling outside of the major tourist centers, check if the water is potable locally.
Seabands: If you get seasick easily, pack some Sea bands or seasickness pills so you don't miss out on the best parts of Turkey – being on the water! A trip to Turkey isn't complete without a cruise or at least a quick boat trip, so make sure you're prepared to enjoy it to the fullest!
Read More: Essential Turkey Packing List: What to Wear & Pack for Turkey
More Turkey Travel Resources
We have a ton of resources to help you plan your trip to Turkey!
If this will be your first time traveling to Turkey, check out this guide to planning a trip to Turkey (including visa information) and this guide beautiful places to visit in Turkey. You can also check out our Balkan currency guide, which explains how the Turkish lira works and guidelines for tipping in Istanbul.
If you're heading to Istanbul as well as Antalya, we have you covered. Start with our essential Istanbul Travel Tips and guide to staying safe in Istanbul
We're working on our massive things to do in Istanbul post, plus you can check out our guide to the best Instagram spots around Istanbul, tips for shopping in Istanbul, the best Turkish food to eat, how to plan an Istanbul honeymoon, and what to do in Istanbul at night.
If you will be visiting in winter, we have a special winter in Istanbul guide plus an overview of Istanbul weather in January.
If you want to be in the city for just a few days (four or less), check out our Istanbul city break guide, which breaks down the best of the city so you won't miss anything!
Headed to Cappadocia? If you're curious about the most Instagrammable places in Cappadocia, we've got you covered. We also have posts on the best things to do in Cappadocia, and how to plan a perfect 3 day Cappadocia itinerary, plus how to get to Cappadocia from Istanbul.
We have tons more Turkey and Balkans resources, and we publish new content nearly daily. Bookmark our Turkey and Balkans travel pages so you can find any new resources that come out before your trip!
Don't Forget About Travel Insurance!
If you're planning a trip to Turkey, make sure to travel with a valid travel insurance policy. While we feel safe in Turkey, it's a good idea to be covered in case of an emergency. Travel insurance covers you in case of theft or an accident, which can save your trip if there's an incident.
For travel insurance, Allison and I use World Nomads. I've been a happy customer of theirs for almost three years, and I've never had an issue when making a claim. I'm happy to refer them to anyone I meet.
>> Get your free quote from World Nomads here <<
Pin this Guide to Things to Do in Antalya (+ Day Trips from Antalya) Here!
After studying literature, Dize started to work as a freelance blog writer. She is the mother of a baby girl and 2 dogs. She lives in Istanbul with her family.