This post may contain affiliate links. This means that if you click a link, we may make a small commission off any subsequent purchase, at no extra cost to you. For more information, please check our privacy policy.
Alanya was one of the stops of our long road trip on the south coast of Turkey – the so-called Turquoise Coast – when I was a teenager.
I still remember the dazzling Mediterranean Sea and all the salt left on our bodies when we came back to our hotel from the seaside. That's how salty the sea was and still is! Having the best tan I have ever had… well, it simply summarizes that summer!
A spectacular mixture of tranquility, adventure, nightlife, and history, there are things to do in Alanya for every type of traveler.
Located between the Taurus Mountains and the Mediterranean, Alanya is set on a peninsula made of rocks, and the city dates back to almost the 13th century. With sweeping beaches and stunning sights, this lovely seaside town has several gems to discover.
The Best Things to Do in Alanya
Visit Alanya Castle and the Red Tower
On the tentative list for UNESCO World Heritage Site designation, legend says that the fortifications of Alanya Castle have been there since the 3rd century BC.
Giving 360-degree panoramic views of the city, this castle is a must-see in Alanya when you are in the city center.
After you have completed your visit to Alanya Castle, continue walking to the harbor. The Red Tower is a hexagonal structure that was once built to protect Alanya Castle as well as the Old Shipyard nearby against the cities' enemies, and it's well worth visiting this icon of Alanya when you travel to Turkey.
Check out the Alanya Archaeological Museum
The small but well-curated museum that was renovated in 2012 is worth a visit if you are into local history.
One of the exhibits includes a bronze statue of Hercules dating back to the 2nd century AD. There are also jewelry, coins, letters, jugs, and tools.
The museum is open everyday between 8:30 AM and 5:30 PM.
Address: Saray, İsmet Hilmi Balcı Cd. No:2, 07400, 07400 Alanya/Antalya
Try stand up paddleboarding
Even if you have never done stand up paddleboarding before, you should give it a try in the clear waters on Alanya — all the better with Red Tower views behind you!
It's an amazingly relaxing activity once you find your balance on the board. It's best to enjoy the sea when it is calm, before all the boats take off, so therefore I recommend to start paddling in the morning. It's also good to get out there before it gets too hot! Stand up paddling is also a great and fun way to get a tan.
Take a jeep tour by day or night night
With illuminated 4 x 4 Land Rover Safari Jeeps, you can enjoy the mountain wilderness and feed your adventurous soul on the 1200 meter peaks of the Taurus Mountains.
If you like group excursions, going on a jeep safari especially by night can be a great idea!
Of course, there are tours during the day, as well, so if you want to go during the day, take sunscreen and plenty of water with you as the vehicles are open top. It becomes a challenge to take pictures on the bumpy off roads, but it is where the fun is!
Relax on the göbektaşı
Alanya has great hammams, a must-have traditional Turkish culture bathing experience.
Here's some hammam 101. First, get into the sauna and then into the steam room to get your body ready to handle the hammam's hot temperature. By doing so, the pores on your skin will open, and you will be able to clean your skin more easily.
When you get accustomed to the heating, lay down on the göbektaşı, the marble heated central platform in the hammam to relax.
If you have made an arrangement with one of the ladies who work there, she will come and scrub your body with fluffy soap and then give you a back massage. (Men, don't feel left out – there are hammams for men as well, as they are separated by gender)
Once you are done, relax in the lounge and enjoy your herbal tea, feeling brand new.
Paraglide over Cleopatra Beach
If you are into adrenaline-pumping sports, paragliding is another great thing to do in Alanya. I can't think of a better way to enjoy the photogenic scenery of the city and the sea!
After reaching the mountains, you can take off on a flight of 20 minutes. Be careful while choosing the company; some of them lack licenses!
Be sure to pack a proper, sturdy selfie stick if you want a good photo. Having the right photo equipment is also very important in order to take good pictures during your flight!
Take a pirate boat trip
If you are traveling with your kids, and if your kids love Pirates of the Caribbean… this activity is perfect for you!
You will depart from the harbor by a ship almost identical to Jack Sparrow's pirate ship and sail away. I am sure your kids also love the entertainment activities in the ship, which includes dancing and some games led by an actor who impersonates Johnny Depp's Pirates character!
The boats generally stay close to Alanya, as there are no islands or bays to discover nearby. There are some caves, though, which I will mention below!
Make a wish at the Phosphorus and Lovers' Cave
If you sail away from Alanya harbor, you will probably pay a visit to Phosphorus Cave. The area near the cave is a favorite swimming pit stop for the boats carrying tourists out on excursions.
It is a tradition to make a wish in the caves in Turkey by throwing a coin into the water; this cave is not an exception!
Another popular cave near Alanya is the Lovers' Cave. Supposedly, the legend says that Lovers' Cave was the lair of old pirates. The entrance of the cave is 8 meters high and if you are brave enough, you can dive right into the water from up there!
Take a bath like Cleopatra
There are several beaches in Alanya with the European flag, meaning these beaches are in the standards of the international control administration, a very high rank to earn.
One of the most popular of these white sand paradises is obviously Cleopatra Beach, taking its name from the famous Egyptian Princess Cleopatra, who allegedly took a bath with the Roman Emperor Mark Anthony (Marcus Antonius) here!
Spanning two kilometers west of the city, the entrance to the beach is free. There are sunbeds and umbrellas to hire in case you cannot bring your own.
Cleopatra Beach is extremely popular, so do expect crowds especially in the high season!
Visit the wooden houses in Ehmedek
Ehmedek was once a neighborhood where the Turkish lived during the rule of Seljuk and Ottoman empires. After a short walk from Alanya Castle, old wooden houses start to appear in the streets where you can also visit Ehmedek Castle and Süleymaniye Mosque.
There is also a bedesten, a market place, you can shop traditional souvenirs as well as 13th-century mausoleum called Akşebe Türbesi where you can pray or make a wish.
Visit the Alanya Shipyard (Tersane)
The tersane (shipyard) is another thing you should not miss, simply because it is the only shipyard to remain in Turkey that was built by Seljuk civilization.
Last time I checked, the tersane was under renovation, therefore it might still continue, as these things are taken seriously and take time in Turkey.
Bargain in Cuma Pazarı
The local market takes place every Friday (hence the name Cuma Pazarı, which means Friday Market in Turkish!) where you can stroll among various fruits and vegetables that look and smell so fresh!
The area is especially famous for its citrus trees, so definitely buy a jar of orange jam. You can also have a pomegranate juice during your stroll.
These markets have also textiles sections you should check out. There are 100% organic white T-shirts and dresses made from şile bezi (gauze), a perfect clothing choice for the extremely hot summer months of Alanya.
Another tip, please do not forget to bargain. Locals love it and expect it from shoppers, whether foreign or local!
Day Trips from Alanya
Have lunch at Dimçayı River
Located 22 kilometers from Alanya, Dimçayı River is a great escape from the sun with its cooling waters.
The river runs in a valley surrounded by cliffs where you can shelter under the shadows and breathe in the fresh air.
Lunching here is also a good idea, and there are restaurants located above the river which have traditional Turkish pergolas to relax.
Swim in the cold waters of Sapadere Canyon
Cutting through the mountains, Sapadere is a true gem with its cascading waterfalls and green forests. There are walls made of limestone on each side of the canyon, as well as wooden roads through the canyon.
You will see some stairways that lead to some swimming spots. However, like I said in the title, the water is freezing cold regardless of the season! If you are courageous enough, though, take a dip!
I still remember the winding road that leads to Sapadere. I had gotten sick because of turning all the time (so bring your motion sickness pills!). It's a 40-minute drive from Alanya, and you can reach the destination by jeep or motorbike. There are also tours available if you don't want to drive.
Breathe easily in Damlataş Cave
One of the first caves to be opened for tourism in the country, Damlataş Cave was accidentally found in 1948 while construction workers were taking stones for Alanya harbor. Inside the cave, you can see stalagmites and stalactites dating back 15,000 years.
For years, thousands of visitors come to Damlataş Cave to find a cure for their asthma, thanks to the unique atmosphere of the cave. The percentage of carbon dioxide is quite high, 12 times more than the air we breathe outside, and the humidity is 95%: ideal conditions for breathing easily!
Whatever the season, the temperature of the air in the cave is 22–23 °C (72–73 °F). You can visit Damlataş Cave everyday between 9:00 AM and 5:00 PM.
Alanya Restaurants to Try
Eat girit ezmesi at İskele Sofrası
A short walk away from Alanya harbor, there is a restaurant run by three generations of the same family who are into slow food.
Book your table in advance to have a taste of meze menu, one of which is girit ezmesi – a mash made from feta-like cheese, olive oil, and walnuts.
Kuzu güveç, their delicious lamb hot pot, is also to die for. Do not forget to order your rakı, the local favorite alcohol. The restaurant is open until 1 A.M.
Address: Çarşı, Tophane Cd., 07400 Alanya/Antalya
Have fresh fish at Kaleiçi Meyhanesi
The restaurant presents an impressive selection of shellfish and fish dishes as well as 30 types of meze plates just above the harbor.
The restaurant is on the waterfront and has a traditional Turkish meyhane (taverna) concept with a cozy decoration. It opens after 4 PM.
Address: Çarşı, İskele Cd. No:80, 07400 Alanya/Antalya
Have a rosé at Bistro Floyd
Once belonging to an Ottoman Empire-era family, the house has been renovated and turned into one of the hippest hangout spots in the city center.
The menu presents dishes from both Turkish and European cuisines. Order a glass of rosé to cool off after a day under the Alanya sun.
Address: Çarşı, Damlataş Cd. No:19, 07400 Alanya/Antalya
Alanya Nightlife & Bars
Dance to live music at the Sky Lounge Bar
This is a multi-story venue both locals and foreigners prefer, where you can listen to soft chill-out music in the early hours of the night.
Sky Lounge Bar turns into a mix of house and club after midnight. On some nights, you can dance to live music on the 6th floor after 10 PM.
Do not forget to check out the program before you hit the venue! Just a kind reminder, most clubs in Turkey do not accept single men without company.
Address: Çarşı, İskele Cd. no: 80, 07400 Alanya/Antalya
Club Summer Garden
If you want to dance until the first light of the sun, this is THE place.
The best open-air disco in the country, Club Summer Garden is extremely popular. There are spectacular music and stage performances to enjoy!
Address: Konaklı, Gazi Mustafa Kemal Blv. No:24, 07560 Alanya/Antalya
Havana Club
Young Turks come to party until morning in Havana Club, a venue capable of accommodating up to 1,000 partiers!
The DJ programs differ but mainly play a mixture of R&B, Turkish pop hits, techno, and club. Again, most clubs do not accept solo men, so keep this in mind if you're a man traveling Turkey alone.
Address: Çarşı, Müftüler Sk, 07400 Alanya/Antalya
Crazy Horse
If you feel like eating sushi, this is the place! The menu also has Latin cuisine options.
After dinner is served, the place turns into a real party venue full of young people. You can hit the bar until 3 AM!
Address: Şekerhane, Hükümet Cd., 07400 Alanya/Antalya
Queen's Garden
If you would like to dance with your family, you can head to Queen's Garden. Just follow the music from the city center, and you will reach there.
Address: Müftüler Caddesi Demirciler Sk. No 99 07400, 07400 Alanya, Antalya
Where to Stay in Alanya
We're in the process of creating comprehensive guides on where to stay in various Turkish cities, but for now, here are our recommendations for Alanya!
Budget | Miray Hotel Kleopatra
This budget-friendly hotel offers a stunning (almost) beachfront location at a low price, a brief walk from the stunning Cleopatra Beach.
The rooms are spacious for the price, with en-suite bathrooms and balconies with partial sea views.
Other amenities include an outdoor swimming pool, sun loungers, a children's area, ping pong tables, and breakfast AND dinner included in your room rate! Now that's budget-friendly!
>> Check prices, reviews, and availability here!
Boutique | Ozgur Bey Spa Hotel
In the hip Oba part of Alanya, at Ozgur Bey Spa Hotel, you're just 100 meters away from the pristine 'Orange Beach' with its own private beach.
The rooms are decorated in modern colors, with white walls, warm wood accents, and turquoise pops of color. Rooms feature modern amenities – A/C, TVs, electronic safes, minibar, workdesk, wardrobe – that make you feel instantly at home.
There's also an outdoor pool, an on-site restaurant, and a Turkish spa center that offers hammams, saunas, steam room, massages, and other wellness treatments.
>> Check prices, reviews, and availability here
Luxury | Alaaddin Beach Hotel (Adults Only)
This chic luxury hotel is perfect for couples and groups of friends looking for an upscale escape from the more family-friendly nature of the rest of the resort city of Alanya.
Right on Cleopatra Beach, rooms have balconies offer a sweeping view of the sea, with beautifully tended gardens, an outdoor swimming pool that's lit up beautifully at night, and air conditioned rooms.
It's a mere 15 minutes from the center of Alanya, so it's easy to walk into town to enjoy meals and nightlife in the city center. But if you just want to relax at the hotel, the restaurant at the hotel offers Mediterranean and international cuisine as well as live music on certain nights!
>> Check prices, reviews, and availability here!
What to Pack for Alanya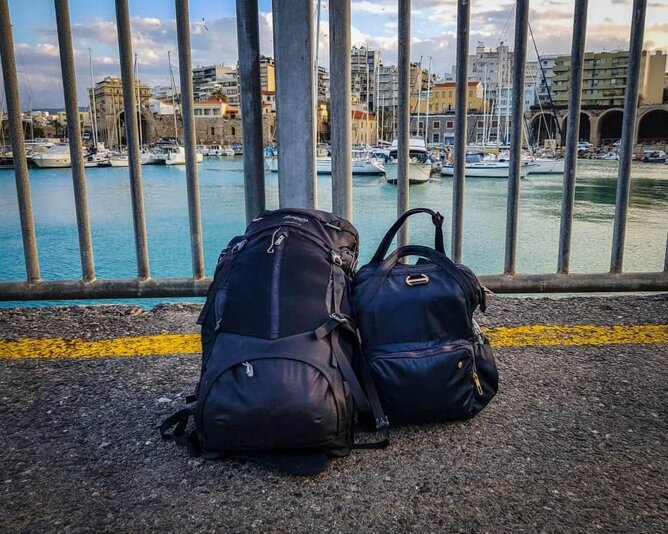 We have a guide of what to pack for Turkey, but here are five things you definitely want to bring with you!
The Lonely Planet Turkey: a good guidebook can help you with the kinds of safety tips you need if you're out in the city and feel a bit lost, especially if you don't have internet or a cell signal. These also have specific neighborhood information that will help you in different parts of the city, and it's a great supplement to blog posts like this one!
Unlocked Cell Phone: Stephanie and I both have unlocked cell phones that we bought in Europe (Stephanie uses a Samsung and I use an iPhone). This allows up to get sim cards when we travel so that we always have the internet. This has gotten us out of so many jams! If you don't have an unlocked cell phone that can use a Turkish sim card, you can buy a cheaper unlocked phone online and bring it with you!
Pacsafe Citysafe or Other Anti-Theft Bag: This is the bag both Stephanie and I use for all our travels. It has a pouch with RFID technology so our credit cards can't get scanned from afar, interlocking zippers to make it harder to pickpocket, and it's roomy enough to be a perfect sightseeing day bag, yet it's still quite stylish for all of its security features. If you'd rather bring something smaller, you can pack a money belt instead.
Grayl Water Filter: While the water is *technically* safe to drink in much of Turkey, I would still avoid it. If you don't want to be buying millions of plastic water bottles, you can get a reusable water bottle that comes with a water filter so that you can stick to the tap water and reduce your plastic waste. If you'll be traveling outside of the major tourist centers, check if the water is potable locally.
Seabands: If you get seasick easily, pack some Seabands or seasickness pills so you don't miss out on the best parts of Turkey – being on the water! A trip to Turkey isn't complete without a cruise or at least a quick boat trip, so make sure you're prepared to enjoy it to the fullest!
More Turkey Travel Resources
We have a ton of resources to help you plan your trip to Turkey!
If this will be your first time traveling to Turkey, check out this guide to planning a trip to Turkey (including visa information) and this guide beautiful places to visit in Turkey. You can also check out our Balkan currency guide, which explains how the Turkish lira works and guidelines for tipping in Istanbul.
If you're spending time on the coast, we have guides to Antalya and Fethiye, and Bodrum, Marmaris & more are on the way.
If you're heading to Istanbul, we have you covered. Start with our essential Istanbul Travel Tips and guide to staying safe in Istanbul
We're working on our massive things to do in Istanbul post, plus you can check out our guide to the best Instagram spots around Istanbul, tips for shopping in Istanbul, the best Turkish food to eat, how to plan an Istanbul honeymoon, and what to do in Istanbul at night.
If you want to be in the city for just a few days (four or less), check out our Istanbul city break guide, which breaks down the best of the city so you won't miss anything!
Headed to Cappadocia? If you're curious about the most Instagrammable places in Cappadocia, we've got you covered. We also have posts on the best things to do in Cappadocia, and how to plan a perfect 3 day Cappadocia itinerary, plus how to get to Cappadocia from Istanbul.
We have tons more Turkey and Balkans resources, and we publish new content nearly daily. Bookmark our Turkey and Balkans travel pages so you can find any new resources that come out before your trip!
Don't Forget About Travel Insurance!
If you're planning a trip to Turkey, make sure to travel with a valid travel insurance policy. While we feel safe in Turkey, it's a good idea to be covered in case of an emergency. Travel insurance covers you in case of theft or an accident, which can save your trip if there's an incident.
For travel insurance, we both use World Nomads. I've been a happy customer of theirs for almost three years, and I'm happy to refer them to anyone I meet.
>> Get your free quote from World Nomads here <<
Pin This Guide to Things to Do in Alanya Here!
After studying literature, Dize started to work as a freelance blog writer. She is the mother of a baby girl and 2 dogs. She lives in Istanbul with her family.