This post may contain affiliate links. This means that if you click a link, we may make a small commission off any subsequent purchase, at no extra cost to you. For more information, please check our privacy policy.
According to legend, the Serbian mountain Tara was a haunt of the Illyrian gods.
Because of the unique charm of this place, the supreme god Tar chose (and named) Tara as the place where he would build his throne. And if this place is worthy of a god, what can ordinary mortals see and experience there?
Locals proclaim Tara as the most beautiful mountain in Serbia. The competition is great, so this claim must be personally verified!
In addition to the (currently) more famous Zlatibor and Kopaonik mountains, Tara mountain has always been that modest beauty from the shadow. The one that doesn't stand out too much, but shines at the right time. The one that has so much to offer, but does not brag about that.
That's why Tara National Park is one of the most stunning places to visit in Serbia, and one that you should prioritize on your Serbia itinerary.
Tara National Park Has It All
If you're coming to western Serbia, even if you are just passing through, it is worth taking a day to see (at least) part of what Tara National Park has to offer.
Honestly, one day is not enough time because Tara National Park has everything – from the magnificent viewpoints to the hidden recesses rich in flora and fauna, fairy-tale lakes, religious buildings, and many wonders of nature. However, it's better than nothing at all!
If you think that visiting Tara National Park involves only admiring its beauty, you are wrong. Sure, you can do that, if that's your thing. Tourists are free to go wherever they want until they don't break the rules and behave according to where they are.
But if you are a fan of outdoor activities and adventure, the rafting on the Tara River or the Drina Regatta will be something that will exceed your expectations.
The History of Tara National Park
The point of national parks is to preserve the beauty and uniqueness of the site and its wildlife, and not allow the disturbance of the natural balance.
The aim is to eliminate the influence of modern society and maintain the purity of nature, but also to preserve the cultural and historical heritage of those areas for tourists to come and experience for themselves.
Tara National Park is one of the five national parks in Serbia, and it got that status four decades ago. The initiatives to declare this mountain a national park appeared way before that, but it seems that the government at that time didn't have time to deal with this topic.
After the war years, Serbia's priority was the restoration of industry and reinstatement of social order, and thus tourism was neglected. But when this country was experiencing a significant economic upswing after the end of World War II, Tara National Park got its deserved status.
What is particularly important about Tara National Park is the conservation and diversity of forests. That is why this mountain is one of the wealthiest in terms of forest areas in Europe (with over 2,000 species of plants and trees).
Some species, such as the famous Serbian Spruce (Panciceva Omorika), live only on this location. The relief of the Tara Mountain is also what makes it unique. Since some areas are inaccessible, it helps in preserving plant and animal biodiversity to a great extent.
The Natural Sights of Tara National Park
The beauty of a place like Tara National Park is impossible to describe in one text.
That is why locals, as well as travelers, left many written traces in the form of prose and poetry. Fortunately, the Serbs were not selfish, so they gladly shared Tara's wealth and beauty with the world so some future generations could enjoy it too.
Due to its richness and diversity of tourist offerings, Tara is currently one of the most potential-rich destinations in Serbia. The ecologically preserved natural environment, the variety of mountain relief, vibrant and varied flora and fauna, and favorable climate are the advantages of this location, which makes it competitive to the nearby Zlatibor and other mountains of Serbia.
Places to Visit in Tara National Park
Perućac Lake – the 'Commercial' Part of Tara National Park
What tourists should see in Tara National Park is most dependent on what time of year they visit. For example, the Drina with the lakes of Zaovine and Perućac is an ideal destination for summertime, when you can refresh yourself on the shores of these artificial lakes.
By the Perućac Lake, right next to the Drina River, there's an arranged tourist complex, with accommodation, swimming pools, pontoon beaches, restaurants, and entertainment – all organized as if you were at a seaside resort, perfect for a landlocked country like Serbia!
The raft-houses are my recommendation for a stay in this part of Tara National Park. On the Internet, you can easily find more information about this accommodation. These facilities are suitable for several people and have everything you need for a comfortable holiday in nature – barbecue, private boat, fishing equipment (don't worry, they have electricity and Wi-Fi connection too).
However, if you are looking for a more typical hotel in the heart of this part of Tara National Park, you can't go wrong with Garni Hotel Vila Drina, which has rave reviews at an affordable price.
Right next to the beach is the raft restaurant Sidro. There you can dine but also book a ride on a large tourist boat along the canyon of the Drina. If you're enough of swimming, water sports, and Sun, find your piece of shadow in the restaurant Vrelo. Its location will amaze you – it's right on the waterfall of small Vrelo River. Most of the tables are placed on the terrace above the waterfall or on some of the wooden bridges across the river, which makes this environment unique.
Zaovine Lake – A Gem of Wild Beauty
If you are lucky, you can see the Zaovine Lake in its full glory.
However, note that due to the discharge of water used to generate electricity, the Zaovine Lake on the Tara often runs dry. The water level drops, and it's not quite as much of a sight to see. But when the lake is full, it's quite clear why this place is one of the gems of Tara National Park.
Zaovine is at a higher position than Perućac Lake, and in fact, many would say this place is more beautiful than Perućac. But as always, there are 'different strokes for different folks!'
If you want to feel the charm of swimming in the wild beaches and lying down in the shade of pines, you are in the right place. However, depending on the water level, entering the water is not always allowed.
Red Stream Reserve – Untouched Nature and Quiet
In the central part of the Tara National Park, on the plateau called Mitrovac, is the Red Stream Nature Reserve. After heavy rainfall, this small stream of water spills over the clay deposits and becomes a stunning red. color
The Carpet Meadows site also contributes to the beauty of this area. It is moorland, a mixture of forest and vast space covered with deposits of peat. It's kind of like a jungle,with absolutely no human influence.
It got the name 'Carpet' because of the softness of the surface. It bends when you step on it, just like a real carpet. There are well-defined and marked walking paths so that visitors won't endanger this unique part of Tara National Park — be sure to stay on the paths and don't disrupt the natural environment, especially for photos!
Rača Monastery – The Cultural Heart of Tara National Park
Tara National Park has a favorable position close to tourist destinations in the immediate vicinity: Zlatibor Mountain, Užice, Mokra Gora, and Višegrad.
These sights often call to tourists basing themselves in Tara National Park usually for one-day trips. If one thinks that Tara has nothing to offer than just beautiful landscapes, the locations listed prove otherwise, and are fantastic to liven up your trip with some cultural experiences!
But don't give up on Tara National Park itself if you're looking for a cultural experience. The area of ​​the National Park abounds in numerous archeological sites and cultural monuments dating from the Neolithic to modern times. Many of these digs have been researched, but some remains of the Bronze Age settlements that are still untouched.
All over the National Park, there are numerous settlements and necropolises, which found their places on the UNESCO World Heritage List. For those who prefer some more traditional values, a visit to traditional villages and shacks that are several hundred years old and learning about life before technology and the benefits of the modern world will be a real deal. A place that cultural savants should visit is the Rača Monastery, which is one of the most important centers of Serbian medieval literacy.
Active Tourism at Tara National Park
Mountain and active holidays are a great combination. And if you choose a destination like Tara, be sure you'll spend an unforgettable vacation, whatever age you are.
But hold your horses with the outdoor activities – camping at the Park is not allowed due to the potential impact on its wildlife.
Winter Joy and Skiing
Tara is a place for all winter lovers and fans of winter sports. Although winter this year in Serbia goes without snow and with high temperatures, the ski slopes on this mountain beauty have a system of artificial snow, so keep that in mind in case future winters also lack snow!
Most beginner-friendly trails are located near the well-known Omorika Hotel. It's quite decent accommodation at the center of National Park, but note to book in advance, as it hosts several huge seminars and retreats, so be sure to grab your spot early!
Bike and Hike
Winter passes quickly, and spring and summer are the best times to tour Tara National Park by bike. Choose among any of the 15 designated routes in the national park Tara network. And if you're in really good shape, and want to experience this beauty in full, over 60 miles of hiking trails await you.
These traces connect Tara with other tourist destinations of western Serbia, and adventurers can choose the route according to their physical abilities, sights, and tourist attractions that they want to visit. All cycling and hiking trails have proper signaling and a large number of side canopies and benches for cyclists, walkers, and hikers to take a break.
Lookouts
Whichever path you take, some of them will inevitably lead you to one of the five viewpoints, which are a unique and attractive content of the National Park Tara. The view from above on the unprecedented and immaculately preserved nature is breathtaking.
Believe that there is no better view in Serbia than from Banjska Stena, from where one looks at neighboring Bosnia, Lake Perućac, which is the natural border of the two countries, and the Drina Canyon. Use the opportunity to take stunning photos from this lookout!
How to Get to Tara National Park from Belgrade
The Tara Nature Park is located in the westernmost part of Serbia. The distance from Belgrade is about 200km / 130 miles. However, the mileage is the not the problem, as the roads themselves are complicated (and in poor condition, to be truthful).
So, if you are traveling by car to Tara, the trip itself will be an adventure. From the direction of Belgrade, the easiest way is to take the highway to the exclusion of the city of Valjevo and follow the motorway to Bajina Bašta. That is also the main bus route, should you opt for this means of transport.
However, a personal recommendation is the way via Šabac and Loznica. It's longer by almost a third of the main route, but you will enjoy the trip so that time will quickly pass by. From Loznica to the very entrance to the Tara National Park, you go along the Drina River. So, in short about this route – much more to see, many places to rest, and a much more comfortable trip.
If you're not comfortable driving in Serbia, we recommend booking a guided day trip from Belgrade to Tara National Park. If you only have one day, you'll be a bit rushed, but you can see the highlights of Tara National Park, including the House on the Drina and the main lookout point, on this well-reviewed day trip from Belgrade.
Here's the fun fact – there is no official entrance to Tara National Park. The park management has not yet built it, so the entrance is open. The best things in life are free, right? The only entry ticket you will have to pay is if you want to visit the Red Stream – Carpet Meadows. Believe it or not, it only costs 100 dinar, or about $1 USD.
Extra Tip for Tara First-Timers: If you decide to explore the beauty of Tara National Park on your own, it would be a good idea to have a map with you. You can buy it at any info center in the park. The forests' density and lack of orientation increase the chances of getting lost somewhere. An official map that has all necessary topographic elements can help rid you of these troubles!
Where to Stay in Tara National Park
If you want to stay in a larger hotel in the heart of Tara National Park, we strongly recommend the 4-star Omorika Hotel, located in the Crikvenica part of the park near the lake, which is optimal for ski breaks and 'beach' vacations!
Another popular option in this area, though a bit more expensive and more upscale with gorgeous palace-like architecture and an enormous pool, is Hotel Kvarner Palace, perfect for travelers who want a bit of affordable luxury with their nature escape.
Meanwhile, travelers on a budget who want to be near Lake Perućac should opt for the affordable boutique Garni Hotel Vila Drina, which has incredible reviews and a rock-bottom price for its gorgeous settings.
And of course, you could always stay in a picturesque houseboat accommodation for something totally unique!
What to Pack for Serbia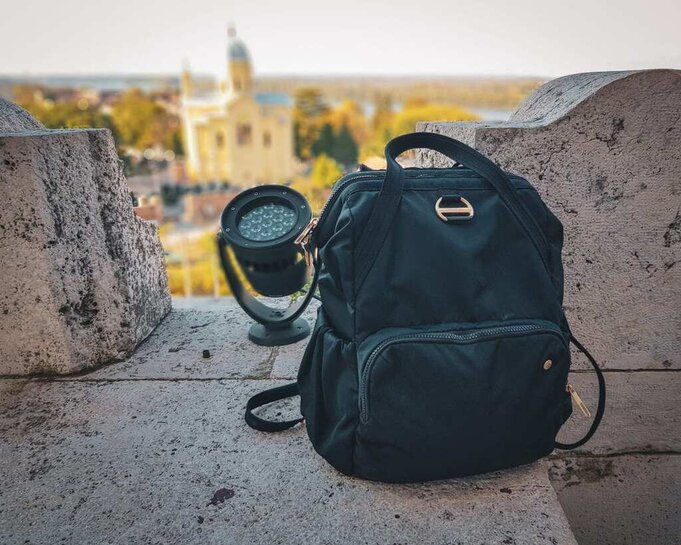 We have a full Serbia packing list, but in case you just want the quick version, here are a few essentials you shouldn't forget to pack!
A good guidebook: While travel blogs are great, we still think a good guidebook is always handy. Lonely Planet Western Balkans is the main guidebook we recommend for Serbia, as it covers the country well plus others in the region.
Pacsafe Citysafe or Other Anti-Theft Bag: This is the bag both Stephanie and I use. It has a pouch with RFID technology so our credit cards can't get scanned from afar, interlocking zippers to make it harder to pickpocket, and it's roomy enough to be a perfect sightseeing day bag. If you'd rather bring something smaller, you can pack a money belt instead.
We feel quite safe in Belgrade, which is not overly touristic and full of pickpockets, but we wear it and suggest it all the same.
Unlocked Cell Phone: Stephanie and I both have unlocked cell phones that we bought in Europe (She uses a Samsung and I use an iPhone). This allows up to get sim cards when we travel so that we always have the internet. We wrote a guide to picking up SIM cards in Serbia, as it's really quite simple!
Being able to pick up a Serbian SIM card is a great way to stay in touch while on the road. If you don't have an unlocked cell phone that can use a Serbian SIM card, you can buy a cheaper unlocked phone online and bring it with you!
Travel Insurance: We recommend it for everywhere we go! We suggest World Nomads and go into more detail about why at the end of the post.
More Serbia Travel Resources
If this is your first trip to Serbia, check out our guide to planning a trip to Serbia and Serbia travel advice.
Most people also allocate some time for Belgrade – where we have tons of resources. We have this mega-guide to 101 things to do in Belgrade, the most Instagrammable spots in Belgrade, what to do in Belgrade in winter, and the best Belgrade street art. We also have a Serbian souvenir guide and Serbian wine guide if you want to do some shopping.
Headed to nearby Novi Sad? Start with our guide to the best things to do in Novi Sad and our 2-day Novi Sad itinerary. We also have a guide of the best Instagram spots in Novi Sad as well as what to do in Novi Sad in winter and how to visit the Novi Sad Christmas Market.
If you love guided tours, here are eleven great Belgrade tours to pick from. If you want to get out of the city for a day, here are our guide to Belgrade day trips and what you should know before renting a car in Serbia. We also have lists of our favorite places to visit in Serbia and the best Serbian towns and cities if you need more day trip inspiration.
We have tons more Serbia and Balkans resources, and we publish new content nearly daily. Bookmark our Serbia and Balkans travel pages so you can find any new resources that come out before your trip!
Don't Forget About Travel Insurance!
If you're planning a trip to Serbia, it's a good idea to travel with a valid travel insurance policy, so that you will be covered in case of an emergency. Travel insurance covers you in case of theft or an accident, which can save your trip if there's an incident, or cancellation or trip interruption.
For travel insurance, I use World Nomads. I've been a happy customer of theirs for almost three years, and I've never had an issue when making a claim. I'm happy to refer them to anyone I meet.
>>Get a travel insurance quote for your trip here.<<
Pin This Post!
A full-time mom and part-time freelance writer from Serbia, passionate about traveling and learning about new cultures, customs, and all the beautiful destinations that the third rock from the Sun offers. By doing what she loved, she gained valuable working experience and was able to keep her travel memories in written form.