This post may contain affiliate links. This means that if you click a link, we may make a small commission off any subsequent purchase, at no extra cost to you. For more information, please check our privacy policy.
If Santorini was a drink, it would be Coca-Cola. Something about this island is so special that it literally made Thailand and the Philipines create a real-life replica of it!
However, as it happened with all the attempts to copy the famous beverage, no one ever managed to get even close to the secret recipe of success.
So many things are written about the island's unique sunset. And of course, no one can deny that such a view will be a once-in-a-lifetime experience.
But life-after-sunset exists too and is without a doubt equally impressive!
So here's a comprehensive guide with the best tavernas, bars, and clubs, where you can enjoy Santorini nightlife on the so-called Island of Love!

Santorini Nightlife Guide
The Best Tavernas in Santorini
The tavern (called "taverna" in greek) is not just a place for lunch for the Greek people.
It is considered essential to Greek culture, and its roots can be traced back to the Ancient Agora of Athens — back in the 6th century BC.
So, a taverna is not just a place where we, the Greeks, enjoy an abundance of delicious food and alcohol (while being very loud!)
On the contrary, tavernas are places where we enjoy life, socialize, and exchange ideas. Political conversations are the hottest topic usually, leading often to well-meaning… disagreements (which results in us being loud as stated before)!
While most tavernas are labeled as "restaurants", the traditional way of visiting a night taverna (also called "krasadiko" or "wine place"), is to sit down, order a lot of alcohol and only some "mezedes".
"Mezes" (the plural is mezedes) is a small dish or appetizer and is common in the Balkan regions, as well as Turkey. For my Western European friends out there, who are usually thrilled by the act, I want to remind you that "meze" means a plate you put in the middle of the table and share!
By that, I want to make clear that night tavernas are predominantly places where you drink. Mezedes function just as snacks!
Here's a list of tavernas where you can get the authentic Greek experience in Santorini!
Asterias
Asterias is a well-reviewed tavern on TripAdvisor, by locals and definitely by me!
Its location can easily be described as idyllic for an unforgettable dinner. With tables exactly next to the seaside, the music of the waves will add an unforgettable note to your seafood.
I suggest you visit this tavern right after you have a dive in the Red Beach. It's a pretty long way to there from most accommodation hotspots, so you can combine those two perfectly.
Address: Red Beach, Akrotiri, Santorini, 84700
Rakadiko MeRaki
With virtually all of the tavernas created just to attract tourists, the authentic Greek personality of tavernas is often indistinguishable. That's something that frustrated and motivated some locals to make their own traditional Greek taverna.
And it worked! Rakadiko MeRaki turned out to be an original taverna, which a local would recommend and prefer for himself.
Don't overlook the double "raki" reference in the name of the tavern. Raki is a local alcoholic beverage, which you will have to order along with your seafood!
Just a friendly reminder: go easy on it! Greeks are aware that most people are not used to drinks with 40–50% alcohol… but they don't really care!

Address: Agiou Athanasiou, Thira 84700
The Cave of Nikolas
The Cave of Nikolas is another unique place on a unique island.
As the story claims, in this cave, Captain Nikolas used to store his nets, fishing equipment, and a little boat. He would also often invite his friends over, for whom his wife prepared some snacks and drinks.
Gradually, the couple turned the place into a taverna for hungry workers and passers-by. And it is currently one of the must-visit tavernas in Santorini!
Address: Akrotiri, Santorini, 84700
Kapari Taverna
There needs to be a little caution with this one, as there are some other places with the same name. That's why I'm gonna add its website right here, for you to easily find it.
This is another authentic Greek taverna. You shouldn't expect a caldera view, or anything fancy, but you get low prices and delicious options for dinner and local wine.
And that's what a local would prefer!
Address: 5is Martiou 401, Thira, 84700
The Best Clubs in Santorini
Santorini may not have the reputation of Mykonos for wild nightlife. However, I happened to be there with a group of friends for the first time and it really was a fortunate surprise that it's not just a place for couples and honeymooners.
Clubbing in Santorini exists and it is far from disappointing!
Fira is the center of nightclubs in Santorini. Walking through the millions of white alleys, you will bump into many small clubs and bars.
In order not to let fate choose your club choice, here are some suggestions!
KOO Club
KOO Club is the most well-known mainstream club in Santorini. I bet all my money that if you ask someone on the street for recommendations, that's where everyone will suggest that you go. (Yes, that's how I went there for the first time).
KOO has a well-decorated garden with a two-story lounge space, which offers an upper-level cocktail bar and table seating that overlooks the more active lower-level bar area. There are also numerous options for cocktails and drinks.
In general, KOO Club is the place that all singles that chose this island will visit. So there are good chances that you as well won't stay single after a night spent there!
Address: 25is Martiou 404, Thira 84700

Murphy's Bar
Moving on with the rest of the club options, you have every right to be tired of the mainstream places and want something different finally.
That's where Murphy's Bar shows up. It's an Irish bar that looks like a pirate ship from the inside.
Of course, at this point, I need to remind you that you're on one of the most famous Greek islands, so expect the prices to be high. I've heard a lot of people complaining about this, however, I had an amazing time in this place so for me, it was worth it!
Address: Erithrou Stavrou, Thira 84700
2 Brothers
For those of you that read about the high prices in Santorini and Murphy's Bar and immediately went grumpy, no hard feelings! It's time to explore a less pricey option.
2 Brothers Bar is famous for its happy hours, where you can get cocktails for just €5 as well as "Head Shots". Just to make clear what a "Head Shot" in this place means: the barman will hit your head (protected by a helmet) with a bat, while you're drinking your shot!
I am against violence and pro having a good time, so I skipped the Head Shots and went on with the rest of the menu. But I got a great dose of craziness in this bar, so I totally recommend it!
Address: Dekigala, Thira 84700
Enigma Club
They say you don't go old, but classic. That's probably the case with Enigma Club, one of the oldest clubs on Santorini.
Enigma is the right choice for dancing 'til the first morning hours with both foreign and Greek music.
Enigma is also one of the few clubs which stays open throughout almost the whole year, so it's a great choice for those who visit Santorini during the off-season months.
Address: 25is Martiou 103, Thira 84700
Mamounia Club
In my opinion, when you visit a foreign country, you should always try to find out how the locals actually define entertainment.
If you ask me personally, I am more of a Black Eyed Peas-generation and hardly value Greek music. But it doesn't matter. When we travel to Greece, we should at least pay one visit to an "ellinadiko", meaning a club that plays only Greek songs.
Mamounia will offer you the cult, Greek experience, also known as "Live your myth in Greece" and so on.
Not many more things need to be said about this club, just that!
Address: 25is Martiou 303, Thira 84700
JOJO Beach Bar
You already have read about five different clubs in Santorini and still, there's something missing there, right?
Of course, you didn't plan a whole visit to an island in order to see only the city side! There's got to be a beach around here, of course. Santorini is an island, after all.
JOJO is one of the bars that organizes beach parties and is located in Perivolos Beach. Many of you might be staying close to that, so it's perfect!
If you are lucky enough, you might catch an event with a Greek or foreign DJ, as they are often and very successful. (I still cannot believe I missed Claydee!)
Address: Perivolos, Thira 84700

The Best Bars in Santorini
Let's face it. Santorini is considered the number one destination for couples. And it's completely understandable.
When I arrange a trip with my friends, we are more interested in the vivid nightlife and exciting activities of place, rather than idyllic sunsets and dreamy settings, so we tend to look for clubs.
But couples tend to prefer more chilled out atmospheres, and you can find those aplenty in Santorini. That's why there are many more options for bars than clubs, where you can chill and enjoy the company of your other half, in front of an amazing view and refreshing drinks.
And don't forget, you can just enjoy the company of your drink in case your "other half" is missing!
Tropical Bar
Tropical Bar is located in Fira, among the rest of the island's bars. It offers a balcony with an amazing view of the caldera and a variety of music selections.
Many visitors choose to visit the bar every day during their stay before their night outings.
I cannot blame them, as there are "Happy hour" offers 'til 11 at night and you cannot really enjoy Santorini's view in the center of Fira in a better way!
Address: Marinatou, Thira 847 00
Franco's Bar
Franco's bar is another hidden gem in Fira. The setting is as romantic as it can get and the view equally marvelous as that of Tropical Bar.
It's more on the pricey side, but still not the most expensive it can get. Expect cocktails to be around €15 and bottled beers around €7. (Fair warning to the ones – like me – who would prefer not to spend €7 on a beer).
A visit is worth it in my opinion and I would guess it is a great stop for couples on their honeymoon.
Address: Agiou Mina, Thira 84700
MoMix Bar
If you're not aware of the "MoMix" philosophy, let me introduce you to that. MoMix stands for "Molecular Mixology," and it is a concept that started in Athens.
Its inspirers envisioned cocktails that would change color when you shake them, mojitos that can be eaten, and many more!
A visit is a must, whether you're in Athens or in Santorini. This is your chance to impress your travel partner with the bar gem that you dig up on the Internet!
Go ahead! And of course, I expect your grateful messages later.
Address: Marinatou, Thira 847 00
Kira Thira Jazz Bar
Kira Thira is a place for those of you with a "good ear". If music is completely unimportant to you, you may skip this one. But for the rest, keep reading!
This jazz bar is one of the oldest bars in Santorini and is decorated with a long wooden bar, wall paintings, and musical instruments.
The drinks are proper, meaning they are as strong as they should be. If you're aiming for value, you know what I mean. The music, though, is what this bar is about.
Expect a wide selection of jazz sounds and occasionally live performances. Enjoy the music, as well the vibes of the staff and the tourists that choose to visit.
Address: Erithrou Stavrou, Thira, 84700
The Wine Bar
The Wine Bar is another chance for you to enjoy the sunset in a more relaxing and private way.
This funky Santorini bar used to be a stable, which was turned into a wine cellar, and after that into a bar – finally! It's a natural cave, and that's what everyone is going for in Santorini anyway – that natural and wild beauty.
It's mostly on the pricey side, but it's worth every penny spent.

Address: Heliotopos Hotel, Imerovigli, 84700
Where to Stay in Santorini
Not sure where to stay in Santorini? If you want to be around the best nightlife, your first choice should be Fira, followed by Imerovigli.
Where to Stay in Fira: Aura Cave
This is probably one of the most authentic cave suites in Fira. Most of their caves were just renovated, and they used to be inhabited in the late 18th century. They only used local and traditional building materials to refurbish it into a hotel.
The property is run by a family, and past guests have loved how they were extremely hospitable and attentive to their needs. Almost all guests have given them excellent feedback for their services. They can also give you recommendations for places and attractions if you haven't really planned your Santorini itinerary down to a T.
They have two types of cave rooms – the Passion Cave and Winery Cave. The first one is bigger and has its own private tub with 6 seats – perfect for a bigger family or group. It also has a kitchen, two double beds, and two sofas. The latter (Winery Cave) is a bit smaller but has two rooms perfect for a family of 4 or two couples. The walls and floors are covered with lava plaster, which is a hard-wearing and waterproof material.
>> Check prices, availability, reviews, and photos here
Where to Stay in Imerovigli: Caldera Premium Villas
If you are looking for a budget-friendly accommodation and the typical dug-out-looking cave studios and suites that Santorini is famous for, then Caldera Premium Villas is a wonderful place to stay.
It has all the basic features you need for your stay, and some even more so — some rooms even have private tubs for a more romantic feel. Most of the furniture used is wood and wicker, full of natural texture, and the rooms are painted in white to complement some modern pieces of décor. Each room has a working desk and a coffee table, so there's plenty of space to spread out. Couples celebrating a memorable anniversary or honeymoon can even get their special honeymoon cave suite!
The private bathrooms are really unique. It is almost like the walls are melting, and you are walking inside a mosaic-tiled shower area. The showerheads are also on the ceiling – the closest thing to a true 'rain shower' you can imagine!
Other amenities they have include an outdoor pool with sun loungers and a terrace where you can just sit and be mesmerized by the dreamy views. Another convenient feature of the property is its mini-market on-site, which is a lot less hassle than looking around for shops to buy something you need at the moment.
>> Check prices, availability, reviews, and photos here
Essential Things to Bring with You to Santorini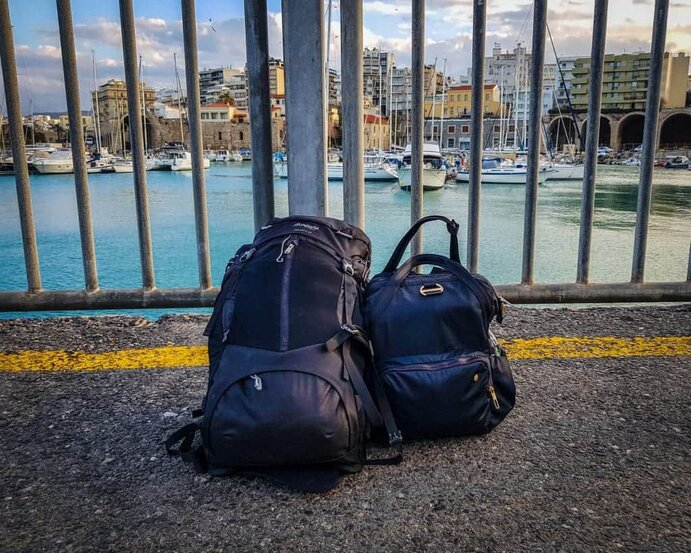 If you're planning a trip to Greece, you'll want to pack all the normal essentials, but here are a few things we strongly recommend bringing that may not have crossed your mind. For more packing tips, check out our complete Greece packing list.
– A physical guidebook, in paper or on Kindle. We love Lonely Planet Greece for this region and strongly recommend it to supplement blogs. Blogs are great, but a combination of a blog and a guidebook is key to having the best access to information easily at your fingertips.
– A water bottle with a filter. We generally recommend using a water bottle with a purifying filter to reduce your plastic consumption and ensure you won't drink any funny-tasting water on your stomach that could make your trip unpleasant! We recommend the GRAYL water bottle – it filters water perfectly in an instant so that you can even drink from lakes, bad taps, etc.
– Motion sickness pills. Santorini roads are winding, especially around the coast and hills! If you have a weak stomach like we both do, save yourself and bring some non-drowsy motion sickness pills. This will also come in handy on Greek ferries and other Santorini must-dos like a catamaran cruise!
– Travel safety items. We think Santorini is safe to travel, but at the same time, it never hurts to be prepared! Some people like to carry money belts, but neither Stephanie or I use these. Instead, we both carry the same PacSafe anti-theft backpack.
It has locking zippers, slash-proof construction with metal mesh hidden in the fabric, and tons of other smart security features — all while being cute and stylish enough to be our everyday bag. We recommend it highly for both male and female travelers, as it's neutral enough to be unisex. We also strongly recommend travel insurance! Our recommendation is at the bottom of the post.
Read More: Essential Greece Packing List: What to Wear & Pack for Greece
More Greece & Santorini Resources
First read our guide to planning a trip to Greece, which covers visas, budgets, vaccines, and much more.
Next, you'll want to read our all-season Greece packing list.
We're still working on the rest of our Santorini content, but to get you started, we have a guide to the best Santorini cave hotels for all budgets as well as how to visit the Akrotiri archaeological site.
If you are still trying to figure out your Greece itinerary, check out our guides on where to go in Greece, the best places for island hopping in Greece, and when is the best time to visit.
We publish new content about the Balkans almost every day! For more information about traveling to Greece and the Balkans, bookmark our Greece and Balkan travel pages so you can find out what's new before your trip.
Don't Forget About Travel Insurance!
I'm sure you're aware that it's a good idea to have travel insurance for traveling in Santorini, Greece in general, or anywhere in the world!
Stephanie and I have both been paying customers of World Nomads for the last three years. We love the peace of mind it gives us in case of emergencies, accidents, illnesses, theft, or trip cancellation or disruption.
While Santorini is safe, there's always a risk inherent in everyday travel like pickpockets or injury, so it's better to play it safe.
>> Get a travel insurance quote for your trip here <<
Pin This Guide to Santorini Nightlife Below!
Ioanna is a Greek Medicine Student and a Professional Karaoke Singer. When she's not slaving over really big books, she's at the airport 4 hours before take-off, so she can drink a cup of coffee across from her gate and worry about missing her flight from there.