This post may contain affiliate links. This means that if you click a link, we may make a small commission off any subsequent purchase, at no extra cost to you. For more information, please check our privacy policy.
Istanbul is a popular and crowded city that can seem very busy with both tourists and locals. You may be wondering if visiting Istanbul with kids is a good idea — will there be enough to keep kids entertained?
With many of its attractions, like the Grand Bazaar and Blue Mosque, are not particularly kid-centered, there are several wonderful things to do in Istanbul with kids in case you are visiting Istanbul as a family. As a mother living in Istanbul, here are my suggestions for the best things to do as a family in Istanbul.
Best Things to Do with Kids in Istanbul
Toy Museum
Turkish author and poet Sunay Akın opened Toy Museum on the 23rd of April in 2015. He chose this opening date particularly, as on every 23rd of April, National Sovereignty and Children's Day is celebrated in Turkey.
The museum displays 4,000 toys collected from different parts of the world. The oldest of the toys is a violin made in France dating back to 1817.
Once belonging to his family, the museum has a very cozy atmosphere and each room is decorated like a theater stage. Sunay Akın has been collecting toys all over the world for over 15 years now.
Opening Times: The museum is closed on Mondays, but other days, it can be visited between 09:30 – 18:00.
Website: Check it out here for more detail.
Miniatürk
The museum showcasing miniature structures from Ottoman, Rome, Seljuk, and Byzantine Empire, has been welcoming visitors since 2003.
There are 135 models displayed and they are 1/25 of their real size. 62 models are from Istanbul, 13 models are from Ottoman Empire, and 60 are from Anatolia.
Opening Times: The museum is open every day and can be visited from 09:00 – 18:00.
Website: Check it out here for more detail.
LEGOLAND Discovery Center Istanbul
One of the most famous kid-friendly activities in Istanbul, LEGOLAND features İstanbul's iconic places built from LEGO bricks such as Hagia Sophia, Galata Tower, and Blue Mosque.
There are 12 different areas inside the center. Therefore, you can spend a day here quite easily. LEGOLAND is designed for kids between 3 and 10 years of age particularly; however, it continues to attract visitors from all different ages.
In order to visit the center, you have to have a kid younger than 14 with you; otherwise, you are not allowed into LEGOLAND. Just keep that in mind.
Opening Times: LEGOLAND is open Monday to Sunday between 10:00 – 20:00 and the last admission 18:00.
Website: Check out their website for more detail.
Madame Tussauds Museum
Located on the famous Istiklal Caddesi, Madame Tussauds Museum is the place if you want to teach your kid about history, cinema, music, and science and pop culture.
As soon as you enter the museum, you are welcome by Barış Manço, Bruce Willis, and Lady Gaga as you approach the ticket booths. There are five sections inside the exhibition: Music, VIP Party, Culture, Film, and History & Leaders. It will take you an hour and a half to complete the whole museum.
The museum attracts many children because there are quizzes about the stars, accessories, and gaming consoles to make it more interactive. If you want to make your own wax hand, there is also a workshop area!
Opening Times: The wax museum is open every day and can be visited from 10:00 – 22:00.
Website: Check out their website for details.
Barış Manço Museum
If you grew up in the '90s in Turkey, it means that you grew up with Barış Manço: great artist, singer, songwriter, and traveler. He was incredibly famous for the songs he wrote for children at the time.
When his house in Moda was converted into a museum after his death, it became, so-to-say, a temple to pay respects to him and remember his unique personality.
The museum is located in Moda, one of the hippest neighborhoods of Istanbul. At the entrance of the house, there is the Steinway B2010 piano that Barış Manço loved to play. There is also a dining room and a dressing room apart from the entrance. His children's room can be visited also.
Opening Hours: The Barış Manço Museum is open between 09:00 and 17:00 every day except Mondays.
Website: Check out their website for details.
KidZania
KidZania is one of the most unique activity complexes for kids in Istanbul. Inside Akasya Shopping Mall, KidZania provides gaming activities for kids from different professions such as aviation, medicine, culinary school, crime scene investigation, hospital, theater, radio, vet, etc.
If your kids are between 1-14 years old, this is the place you should be taking your kids in Istanbul!. The kids are informed about the professions and depending on their interests, they can wear the appropriate uniform and go into the area to experience the daily life of the profession.
Location: KidZania is open between 10.00-16.00 during weekdays and 10.00-20.00 during weekends.
Website: Check out their website for details.
Atatürk Arboretum
If you want to get some fresh air without going too far away from the city center, try Atatürk Arboretum.
The arboretum has about 2,000 different kinds of trees and plants as well as lakes to discover.
You can easily plan a day here but just keep in mind that food and drinks are not allowed inside the arboretum. However, there are options nearby.
Opening Times: You can visit Atatürk Arboretum from Tuesday to Sunday between 08:30 – 18:00.
Kite Museum
Mehmet Naci Aköz, the founder of the Kite Museum, has been collecting kites from all over the world since 1986.
The museum is one-of-a-kind in this respect and features over 2,500 kites from different countries. You can take your kid to the museum for kite workshops where she can learn how to make and fly a kite.
Located in Uskudar, you can reach the museum via ferry easily, even if you are staying on the European side of Istanbul.
Opening Times: You can visit the museum from Monday to Friday between 09.30-17.00.
Website: For information in detail, please visit their website
Pelit Chocolate Museum
Thanks to this museum, chocolate and art lovers come together! If your child is a fan of chocolate (and probably he or she is!), you should definitely visit this unique museum.
There are 6 halls in the museum. The main hall welcomes you first, where you can learn about the history of chocolate from the explanatory paintings. You can also see Noah's Ark, chocolate waterfalls, and a chocolate house made in real sizes.
In Istanbul Hall, you can see the landmarks of the city made from chocolate, such as Galata Tower and Maiden's Tower! In the next hall, which is dedicated to Turkish leaders, you will see the busts of Ataturk, Osman Gazi, and many more.
In the Artists Hall, the artworks of Pablo Picasso and Osman Hamdi can be seen – made of chocolate, of course! The last hall is called Civilization where you get to see the chocolate paintings of past civilizations such as Ancient Greece, Hittite, and the Ottoman Empire.
Opening Times: The museum is open every day from 10:00 – 17:00.
Website: For information in detail, please visit their site.
İstanbul Aquarium
When you start your tour in Istanbul Aquarium, you follow a geographical route. On this route, there are 16 themes and 1 rainforest starting from the Black Sea to the Pacific.
The aquarium has a variety of fish species and are proud to provide the latest habitat standards for them, so they live happily and as naturally as possible.
You can see 17,000 land and sea animals and over 1,500 species. Each space is decorated with interactive games, visual graphics, and movies that are specific to the particular part of the world it is representing, making it perfect for spending time with kids in Istanbul.
You can dive with sharks, feed the fish, and have a professional photoshoot inside the tanks. In the South Pole Area of the aquarium, you can visit Gentoo penguins – the most popular animal amongst visitors!
Opening Hours: The aquarium is open every day and can be visited from 10:00 – 20:00.
Website: Check out the website here for more detail.
Forestanbul
Located in Kemerburgaz, Forestanbul is the right place to go if your kid is into adventure. With a 65,000-meter square area, it's the largest facility for kid-friendly adventure activities in Turkey.
Your beloved kids can experience rope sliding, climbing walls, rope trails on trees, paintball, and a giant swing if they want to. There is also a park called Adventure Park inside Forestanbul, so if you want to play paintball or do orienteering, you need to make a reservation on their website.
Opening Times: You can visit Forestanbul every day between 10.00-19.00.
Located in Beyoglu, Akbank Sanat organizes many workshops for kids for all ages.
Toy, sculpture, painting, watercolor, creative drama, printing, and creative dance workshops are only some of them! People who are experts their areas organize all workshops.
Opening Times: You can visit Akbank Sanat between 10:30 – 19:30 except Sunday and Monday.
Website: Check out their website to see the available programs and enquire about English-language availability
Istanbul Air Force Museum
The museum covers Turkish Air Force history, so if your kid loves planes, this will be a very memorable visit for him!
Located in Yesilkoy, the museum has an outdoor and an indoor area. In the entrance, General Dynamics F-16 and a Northrop F-5 fighter jets welcome you. There are busts of soldiers who work for the Turkish Air Force in this area as well.
You should definitely check out Havilland Dragon Rapide, a one of a kind airliner. There are also aircraft engines exhibited in the hangar area as well as plane models and uniforms.
Opening Times: The museum can be visited on Tuesday, Wednesday, Thursday, Friday between 09:00 – 17:00 and between 10:00 – 18:00 on Saturday and Sunday.
Website: Please visit their website for more detail.
Imagineer Kids
This unique kids' activity in Istanbul brings a new and progressive concept to the city, which brings the digital and the analog worlds together. The name comes from the combination of "imagine" and "engineer."
Imagineer Kids organizes workshops for kids between ages 4 and 12 about science, technology, engineering, art, and mathematics. There are also special modules designed for kids between 0 to 3 years old. There are also puppet theatres organized occasionally!
Opening Times: Imagineer Kids is open between 10:00 – 19:00 from Tuesday to Friday and 10:00 – 20:00 on weekends.
Website: Please visit their website for details.
Happy Nest
Happy Nest is an amazing bookstore-cafe with the branches in Etiler and Kalamis, both on the Anatolian and the European side.
There are several books in English, therefore, you can often bump into foreign mothers and their kids here: great if you want your kid to make English-speaking friends!. There are workshops also for both parents and children to participate together.
Website: Check out their site for details.
Le Petit 100

This is another example of café/shop/playground located in Arnavutkoy, one of the loveliest districts of the European side.
While parents can enjoy teatime, children can hang out in the playground safely with other kids. There are different workshops being organized for different ages on different days of the week.
Website: You can both check out the Instagram page as well as the web site here for information in detail.
Located in Akatlar on the European side, Kids Nook is a very unique place where storytelling meets a bookstore.
It has a fairytale-like atmosphere, especially with the treehouse in the garden. Sensory storytime is one of its most famous activities, for which parents look out closely!
Website: For details, please check it out here
Located in Emirgan, one of the loveliest places of the European where locals prefer breakfast by the sea on weekends, Bee is the ultimate place to take your kid to experience unique workshops for all kids from different ages. Bee is also famous for its healthy lunch and breakfast menu.
Website: Please check out its Instagram account for more detail:
İyi Cüceler
Many parents enjoy the bookstore İyi Cüceler, which means "little people" in English.
Located in Caddebostan, one of the busiest streets of the Anatolian side, this bookshop/café/kids' area has great workshops, rhythm games, playgroups, and writing workshops for all children for different ages.
Website: Check out their website here for more detail.
Where to Stay in Istanbul
Budget
For a no-frills stay in a cool neighborhood, we recommend Cheers Porthouse. Taking inspiration from the Bosphorus, which is just a few minutes away, this slightly nautically-themed guesthouse offers seriously affordable private rooms with shared bathrooms or en-suite bathroom options. The location is fantastic, close to all the best bars and nightlife of Karakoy.
Despite the low price, the rooms have the basic amenities you'd expect and want from a hotel, such as a flatscreen TV, air conditioning, modern bathrooms, and free toiletries. The décor of the rooms is modern and fun, so you don't feel like you're staying in a dated guesthouse, which is always nice when you're looking for where to stay in Istanbul in this price range.
»» Check out reviews, prices, and availability here ««
Mid-Range
Want to feel like Turkish royalty without paying a price to match? Check out Saba Sultan Hotel just 200 meters from the Blue Mosque. With a Turkish-inspired décor, a gorgeous terrace with views over Istanbul's Blue Mosque and its minarets (perfect for Instagram photos!), large windows, and stunning antique furniture, this is a fantastic yet affordable place to stay in Sultanahmet.
The breakfast spread is lush, with olives, freshly baked Turkish bread, and other classic Turkish breakfast items on offer. The staff is helpful and friendly, ready to direct you to any of Istanbul's main sights which are just within a stone's throw of the hotel!
»» Check out reviews, prices, and availability here ««
Luxury
Perhaps the last word in Istanbul luxury, the Four Seasons has a history of turning confinement to refinement, as the site it inhabits was once a three-story prison building which was remodeled to house voluntary instead of state-compelled guests.
Its entire decor follows the neo-classical patterning, and all its rooms feature fully-equipped entertainment systems, espresso machines, free wifi, and a marble bathroom with a deep soaking tub.
The Four Seasons also offers a world-class spa and fitness center, and bot the Seasons Restaurant in the courtyard and A'YA Lounge on the rooftop offer delicious meals and drinks.
»» Click to see guest reviews, photos, prices, and availability ««
5 Things to Bring to Turkey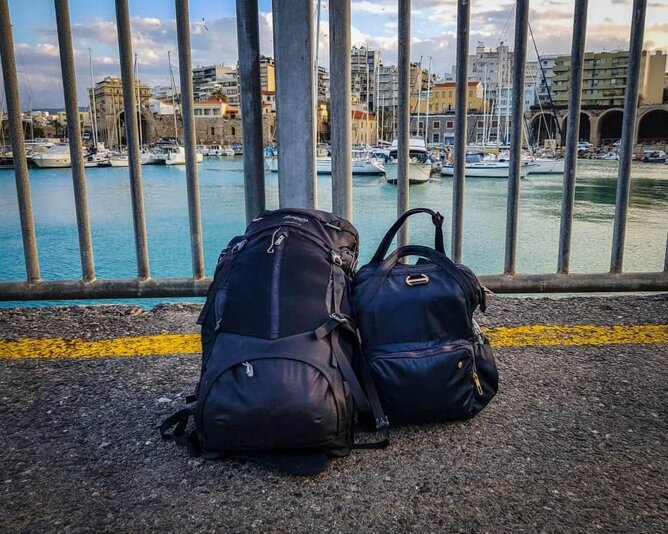 We have a guide of what to pack for Turkey, but here are five things you definitely want to bring with you!
The Lonely Planet Turkey: a good guidebook can help you with the kinds of safety tips you need if you're out in the city and feel a bit lost, especially if you don't have internet or a cell signal. These also have specific neighborhood information that will help you in different parts of the city, and it's a great supplement to blog posts like this one!
Unlocked Cell Phone: Stephanie and I both have unlocked cell phones that we bought in Europe (Stephanie uses a Samsung and I use an iPhone). This allows up to get sim cards when we travel so that we always have the internet. This has gotten us out of so many jams! If you don't have an unlocked cell phone that can use a Turkish sim card, you can buy a cheaper unlocked phone online and bring it with you!
Pacsafe Citysafe or Other Anti-Theft Bag: This is the bag both Stephanie and I use for all our travels. It has a pouch with RFID technology so our credit cards can't get scanned from afar, interlocking zippers to make it harder to pickpocket, and it's roomy enough to be a perfect sightseeing day bag, yet it's still quite stylish for all of its security features. If you'd rather bring something smaller, you can pack a money belt instead.
Grayl Water Filter: While the water is *technically* safe to drink now, I would still avoid it. If you don't want to be buying millions of plastic water bottles, you can get a reusable water bottle that comes with a water filter so that you can stick to the tap water and reduce your plastic waste. If you'll be traveling outside of the major tourist centers, check if the water is potable locally.
Seabands: If you get seasick easily, pack some Seabands or seasickness pills so you don't miss out on the best parts of Turkey – being on the water! A trip to Turkey isn't complete without a cruise or at least a quick boat trip, so make sure you're prepared to enjoy it to the fullest!
More Istanbul Travel Resources
We have a ton of resources to help you plan your trip to Istanbul! First, start with our top 50 Istanbul travel tips – virtually every question you might have about visiting Istanbul should be covered here. You can also check out our post on Istanbul safety tips.
We're working on our massive things to do post in Istanbul, plus you can check out our guide to the best Instagram spots around Istanbul,, our favorite Istanbul neighborhoods and where to stay, and tips for shopping in Istanbul. If you visit in winter, we have a special winter in Istanbul guide.
If you want to be in the city for just a few days (four or less), check out our Istanbul city break guide, which breaks down the best of the city so you won't miss anything!
For more general Turkey information, check out this guide to planning a trip to Turkey (including visa information) and this guide to other beautiful places to visit in Turkey. You can also check out our Balkan currency guide, which explains how the Turkish lira works and guidelines for tipping in Istanbul.
If you will also be traveling to Cappadocia, we have this massive DIY Cappadocia itinerary post that will be helpful to read if you are not going on a guided excursion. If you're curious about the most Instagrammable places in Cappadocia, we've got you covered. We've also written extensively about the best cave hotels for all budgets here in Cappadocia.
We have tons more Turkey and Balkans resources, and we publish new content nearly daily. Bookmark our Turkey and Balkans travel pages so you can find any new resources that come out before your trip!
Don't Forget About Travel Insurance!
It's always a good idea to travel to Turkey or anywhere in Europe with a valid travel insurance policy. Istanbul is a very safe place to travel, but accidents or theft can easily ruin your trip if you don't have the travel insurance coverage to recover the losses. Recently my aunt fell on a train in France and needed surgery, but luckily her travel insurance covered the costs in full. Thank goodness!
For travel insurance, I use World Nomads. I've been a happy customer of theirs for almost three years, and I've never had an issue when making a claim. I'm happy to refer them to anyone I meet.
Get a travel insurance quote for your trip here.
After studying literature, Dize started to work as a freelance blog writer. She is the mother of a baby girl and 2 dogs. She lives in Istanbul with her family.