This post may contain affiliate links. This means that if you click a link, we may make a small commission off any subsequent purchase, at no extra cost to you. For more information, please check our privacy policy.
Planning a trip to Turkey? We've got a few Istanbul puns up our sleeve, ready to mosque you laugh!
Here are the silliest puns about Istanbul we've got — perfect for making your trip companions groan or for adding a little humor to your Istanbul Instagram captions.
PS – We've got a whole bunch of great Instagram spots in Istanbul here, and we also have a list of 50 Turkey puns in case you just falafel that you didn't find the right Istanbul pun here.
Pin this Istanbul pun post for later!
Here are the best Istanbul puns we have!
I'll be there in just a minaret
I'm hammam a great time here in Istanbul!
Istanbul is the city that never Bospho-rests
Istanbul is a bit bazaar!
I mosque ask you if you love Istanbul as much as I do
Istanbul, nice to simit you!
Cat-ch me in Istanbul
Feline just fine in Istanbul.
Istanbul holds the Turkey to my heart.
Istanbul, I'll definitely be baklava!
I'm Turkish Delight-ed to be in Istanbul.
I Galata get to Istanbul, ASAP!
This is not my last trip to Istanbul. I'll definitely Bebek.
You Ortaköy know how gorgeous Turkey is.
Kadıköy? More like Cat-iköy.
If I eat any more baklava, I'll be a Fatih
I'm feeling Istan-bullish about this trip!
5 Things to Bring to Turkey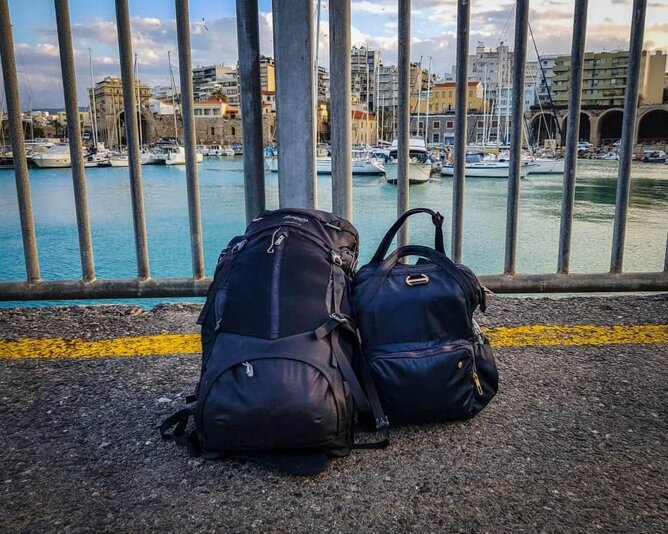 We have a guide of what to pack for Turkey, but here are five things you definitely want to bring with you!
The Lonely Planet Turkey: a good guidebook can help you with the kinds of safety tips you need if you're out in the city and feel a bit lost, especially if you don't have internet or a cell signal. These also have specific neighborhood information that will help you in different parts of the city, and it's a great supplement to blog posts like this one!
Unlocked Cell Phone: Stephanie and I both have unlocked cell phones that we bought in Europe (Stephanie uses a Samsung and I use an iPhone). This allows up to get sim cards when we travel so that we always have the internet. This has gotten us out of so many jams! If you don't have an unlocked cell phone that can use a Turkish sim card, you can buy a cheaper unlocked phone online and bring it with you!
Pacsafe Citysafe or Other Anti-Theft Bag: This is the bag both Stephanie and I use for all our travels. It has a pouch with RFID technology so our credit cards can't get scanned from afar, interlocking zippers to make it harder to pickpocket, and it's roomy enough to be a perfect sightseeing day bag, yet it's still quite stylish for all of its security features. If you'd rather bring something smaller, you can pack a money belt instead.
Grayl Water Filter: While the water is *technically* safe to drink now, I would still avoid it. If you don't want to be buying millions of plastic water bottles, you can get a reusable water bottle that comes with a water filter so that you can stick to the tap water and reduce your plastic waste. If you'll be traveling outside of the major tourist centers, check if the water is potable locally.
Seabands: If you get seasick easily, pack some Seabands or seasickness pills so you don't miss out on the best parts of Turkey – being on the water! A trip to Turkey isn't complete without a cruise or at least a quick boat trip, so make sure you're prepared to enjoy it to the fullest!
More Turkey Travel Resources
We have a ton of resources to help you plan your trip to Turkey!
If this will be your first time traveling to Turkey, check out this guide to planning a trip to Turkey (including visa information) and this guide beautiful places to visit in Turkey. You can also check out our Balkan currency guide, which explains how the Turkish lira works and guidelines for tipping in Istanbul.
If you're heading to Istanbul, we have you covered. Start with our essential Istanbul Travel Tips and guide to staying safe in Istanbul
We're working on our massive things to do in Istanbul post, plus you can check out our guide to the best Instagram spots around Istanbul, tips for shopping in Istanbul, the best Turkish food to eat, how to plan an Istanbul honeymoon, and what to do in Istanbul at night.
If you will be visiting in winter, we have a special winter in Istanbul guide plus an overview of Istanbul weather in January.
If you want to be in the city for just a few days (four or less), check out our Istanbul city break guide, which breaks down the best of the city so you won't miss anything!
Headed to Cappadocia? If you're curious about the most Instagrammable places in Cappadocia, we've got you covered. We also have posts on the best things to do in Cappadocia, and how to plan a perfect 3 day Cappadocia itinerary, plus how to get to Cappadocia from Istanbul.
We have tons more Turkey and Balkans resources, and we publish new content nearly daily. Bookmark our Turkey and Balkans travel pages so you can find any new resources that come out before your trip!
Don't Forget About Travel Insurance!
If you're planning a trip to Turkey, make sure to travel with a valid travel insurance policy. While we feel safe in Turkey, it's a good idea to be covered in case of an emergency. Travel insurance covers you in case of theft or an accident, which can save your trip if there's an incident.
For travel insurance, Stephanie and I use World Nomads. I've been a happy customer of theirs for almost three years, and I've never had an issue when making a claim. I'm happy to refer them to anyone I meet.
Originally from California, Allison has been living in Bulgaria for the last two years and is obsessed with traveling around the Balkans. She has been published in National Geographic, CNN Arabic, Matador Network, and the Huffington Post. She loves befriending dogs, drinking coffee, geeking out about wine, and cooking food from around the world.