This post may contain affiliate links. This means that if you click a link, we may make a small commission off any subsequent purchase, at no extra cost to you. For more information, please check our privacy policy.
I didn't decide to go to Crete in winter specifically to visit the Christmas Market. It's not like Berlin, Vienna, or Prague – cities that are true Christmas destinations. However, if you find yourself in Heraklion in December, it would be a shame not to visit the small but charming Heraklion Christmas Market.
Want to save this post for later? Click to pin!
Where to Stay in Heraklion
We have a complete guide on where to stay in Heraklion here, with suggestions for every budget category and type of traveler, but we've chosen our favorites here for you to peruse when planning your Heraklion itinerary.
Budget: Intra Muros Boutique Hostel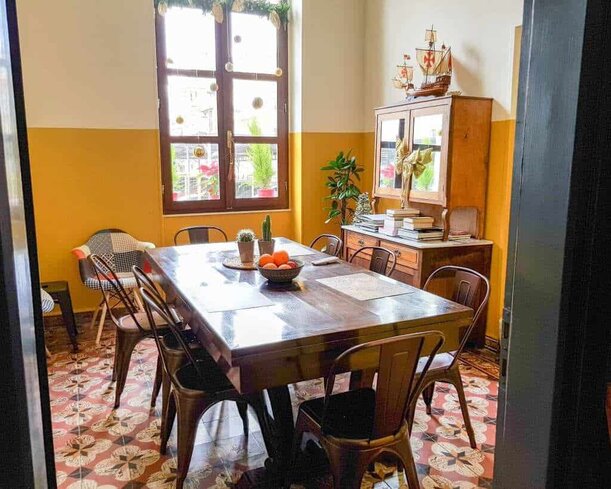 The hotel is named after the Latin phrase that translates as "within the walls," and you'll love how they work to make the space between their walls a home away from home.
Backpackers and group travelers will enjoy this boutique hostel; not only is it strategically located in the heart of the city (and close to most tourist spots) but it also has a nearby bus stop so you can save on transportation expenses. They have dormitories with shared bathrooms available for as low as USD 13 for a night with bunk beds with privacy curtains. You can choose from a mixed or all-female dorm room.
There's also a shared kitchen equipped with a stove, oven, refrigerator, and utensils. You can cook quick meals here since there is a nearby mini market outside! The service desk is not open 24 hours, but if you inform them of your late arrival then they can arrange someone to meet you at the said time. >>Check guest reviews, prices, availability, and more photos here.<<
Mid-Range: Infinity City Boutique Hotel
Infinity City Boutique Hotel is a very modern hotel that features contemporary style and comfort. The hotel is a bit narrow due to the building's structure, but it has spacious and soundproof rooms. It has 6 floors and a total of 21 rooms that have a balcony with a view of the amazing blue sea plus a private bathroom with complete amenities.
You can try their free continental breakfast and have some of their coffee, juice, and some tasty croissants. Of course, for many people, mornings aren't complete without eggs, which they make to order! >>Check guest reviews, prices, availability, and more photos here.<<
Luxury: Stella Palace Resort and Spa
The pool view of this resort hotel is marvelous – actually, everything about the hotel is! It has its own water park, bars, spa, and so many more world-class features to offer its guests. They have rooms, suites, and maisonettes where you can even have your private pool or hot tub.
They have 4 restaurants on-site which means you have many options of what to eat (though every restaurant in Heraklion is delicious as well). Elia serves Greek dishes, Enso offers yummy authentic Asian dishes, La Veranda treats you to an Italian dinner or lunch plus a good selection of wines, and lastly, Poseidon, which offers a huge selection in their buffet. A night of fun won't be complete without checking their different bars where each offers a different ambiance and a different selection of drinks and snacks. >>Check guest reviews, prices, availability, and more photos here.<<
Heraklion Christmas Market Dates
I believe the dates of the Christmas Market are December 1st through January 6th, but I am still trying to get official confirmation from the city. Part of why I am writing this post is that there is not much information available online about the market and its schedule.
Things to Do at the Heraklion Christmas Market
The market is small, but there are still a lot of great activities to do while you're here.
Shop for Seasonal Gifts
Most of the booths at the market are full of beautiful Christmas ornaments and decorations for you to peruse. While many are the same things you'll find all over Europe, there are true local gems if you look closely.
Kids can Ice Skate and Ride the Merry-Go-Round
There are a few rides and a small ice skating rink that are for children. If you're traveling to Heraklion in December with younger children, you'll love having something fun for them to do at night!
Read Next: How to Visit the Minoan Palace of Knossos (from Heraklion + Elsewhere)
Enjoy the Christmas Music
Even if you don't plan on doing much shopping, it's lovely to just walk around the market and soak in the sounds of Christmas music as you browse.
Enjoy Delicious Cretan Food
I didn't spot too many booths dedicated to food at the market, but there are great restaurants located around the perimeter. One of my favorite cheap restaurants in Heraklion, Hovoli, is just a few minutes away. It would be a perfect place to eat before or after visiting the market.
Christmas Market Location
The Christmas Market is located in the square across from the Heraklion Archeological Museum.
Other Notable Heraklion Christmas Decorations
You'll find other Christmas displays in the city, most notably in front of the Venetian Loggia on August Str. 25, Iraklio 712 02, Greece and on Leof Kalokerinou near the Goody's restaurant.
Heraklion doesn't really get that cold during winter, but when it occasionally does, you might want to discover the best of the city on the comfort of a (warm) bus, in this case, a Hop-on-Hop-off experience like this one is nothing but a great idea!
Several stores are open during the Christmas season selling ornaments and decorations. This is perfect for someone looking for a Christmas-themed souvenir who doesn't have time to visit the actual Christmas market. I don't have the addresses of these stores (and they may change from year to year), but I found at least four while wandering the city's main shopping areas.
5 Things to Bring with You for a Winter Crete Vacation
We have an entire Crete packing list that includes exactly what to bring to dress for winter in Crete, but here are some essentials you don't want to miss!
A Guidebook – While travel blogs are great, we also definitely see the benefit of having a good paper guidebook in hand to refer to in your on-the-ground travel. We own and recommend the Lonely Planet Greece book as a starter, but you may also want to pick up the Lonely Planet Crete which covers the island more in-depth.
A winter scarf: Bring a winter scarf like this one (women's) or this cashmere scarf (men's) to help block out the wind.
An ultra-light down jacket: You can wear this on its own or pair it with the jacket for colder days. This rolls up and packs easily in your day bag so it's good to bring along – I have one similar to this (women's) but there's a men's version as well.
Sunscreen: Yes, you will want sunscreen in Crete, even during the winter! While you can buy it here, I suggest you buy the good stuff from recognizable brands or better yet, buy it online in advance.
I love this solid Neutrogena sunscreen. Who doesn't love a good solid for liquid swap? Great to keep in your bag without worrying about sunscreen explosions.
Motion sickness pills: Great for bus rides especially on mountain roads – I buy these non-drowsy ones. You can also try these natural motion sickness bands which use acupressure to reduce nausea – they work pretty well.
Read Next: Essential Crete Packing List: What to Wear & Pack for Crete
More Crete Travel Resources
Headed to Crete? We have some great travel resources to help you with your trip. First read our guide to planning a trip to Greece, which covers visas, budgets, vaccines, and much more. We also have a Balkan currency guide that explains how money works in Greece and local tipping customs.
If you know you'll be there from December through February, check out our post on things to do in Crete in winter.
If you're still trying to work out where to go on the island, check out our guide to the best places to visit in Crete and our favorite Crete beaches.
If you'll be spending a few days in Chania, here is our guide to visiting Seitan Limania from Chania (which is our favorite beach in Crete) and Chania's best Instagram spots.
If you will be spending time in Heraklion, check out our guides to the best Instagram spots in Heraklion and the city's best restaurants and cafes.
If you're interested in taking a day trip to Rethymnon, check out our Instagram guide to Rethymnon next, and perhaps our guide to things to do in Rethymnon and the best Rethymnon hotels.
If this will be one of your first trips to the Greek islands, check out our massive Greek Island hopping guide as well as our recommendations for where to go in Greece and when is the best time to visit.
We publish new content about the Balkans almost every day! For more information about traveling to Greece and the Balkans, bookmark our Greece and Balkan travel pages so you can find out what's new before your trip.
Don't Forget About Travel Insurance!
I'm sure you're aware that it's a good idea to have travel insurance for traveling in Crete, the Balkans, or anywhere in the world!
Allison and I have both been paying customers of World Nomads for the last three years. We love the peace of mind it gives us in case of emergencies, accidents, illnesses, theft, or trip cancellation or disruption.
While Greece is safe, there's always a risk inherent in everyday travel like theft or injury, so it's better to play it safe.
>>Get a travel insurance quote for your trip here.<<
Pin this Guide to Visiting the Heraklion Christmas Market for Your Trip!
Stephanie has been living in and traveling around the Balkans for the past three years. She's written for National Geographic Online, appeared on CNN Arabic and in the New York Times, and ridden more Balkan buses than is good for a person.