This post may contain affiliate links. This means that if you click a link, we may make a small commission off any subsequent purchase, at no extra cost to you. For more information, please check our privacy policy.
We know finding the best memes to send to your friends is an important part of planning a trip to Greece, so we've made it easy and rounded up our favorite funny Greece memes from all the darkest corners of the internet.
Can't read now? Pin for later!
>> Read Next: 50 Fabulous Places to Visit in Greece: Local Favorites & Hidden Gems <<
Where to Stay in Greece
If you're visiting Greece any time soon, you'll probably spend some time in Athens before moving to discover other amazing places in the country. In that case, it's a good idea to check this accommodation guide to Athens to find the best places to stay in Greece's capital. Check this article as well, if you'd like to book a room with unforgettable Acropolis views. Remember that booking early is always the best way to get better prices and nicer rooms! We recommend checking out Booking.com as early as possible since this is a popular time to visit. These are some of the places we suggest you check.
Budget: If you're looking for a budget hotel in lively Monastiraki, book a stay at Fivos Hotel. Located right by Monastiraki Station, the hotel has free wifi and ensuite bathrooms. Check out prices and availability at Fivos Hotel here.
Mid-range: If you want more traditional accommodation, stay at the Kimons Athens Hotel in Plaka. The rooms are cozy and there's a roof terrace that guests can enjoy. Check out guest reviews, prices, and availability at Kimons Athens Hotel here.
Luxury: To enjoy a bit of luxury in Monastiraki, check into the four-star Emporikon Athens Hotel on Agia Irini Square. The rooms are sophisticated and swanky, with a traditional take on comfort. Check out guest reviews, prices, and availability at Emporikon Athens Hotel here.
When You Try So Hard to Disconnect on Vacay
>> Read Next: 13 Fairytale Destinations for Your Honeymoon in Greece <<
There are Two Types of Greek Vacations
When You Tell the Truth About Ancient Rome
A Greek Democracy Meme is a Good Meme
When You Realize No One Outside of Greece Understands Your Macedonia Obsession
When You See Funny Greek Memes Everywhere
When You Still See the Financial Crisis Everywhere
When You Know Alexander Was Actually the Greatest
Basically, the Greeks Did Everything First
Greek Mythology Memes FTW
Need More Memes in Your Life?
This isn't even a question, the answer is obviously yes. So check out 21 Hilariously True Balkan Memes You Need in Your Life. Because you need them IN. YOUR. LIFE.
What to Bring with You for a Greece Trip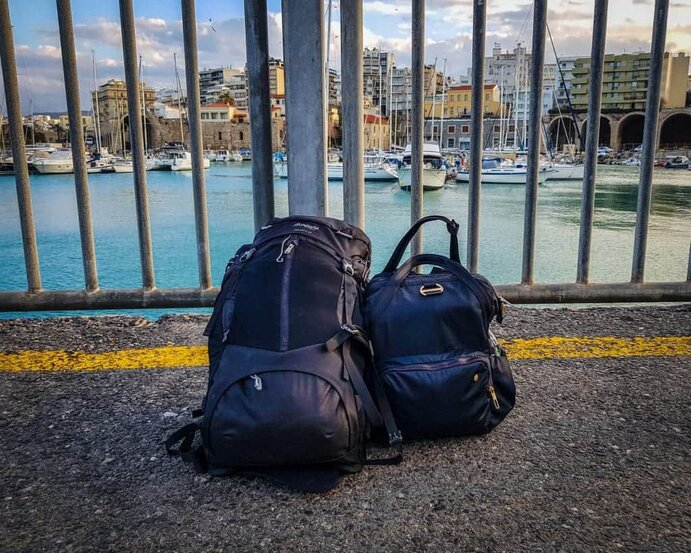 We have several Greece packing lists to help you decide what to bring with you to Greece, Rhodes, and Crete (with more on the way)! But here are five things you want to bring with you to any Greek beach vacation!
A Guidebook – While travel blogs are great, we also definitely see the benefit of having a good paper guidebook in hand to refer to in your on-the-ground travel. We own and recommend the Lonely Planet Greece for a great guidebook on the ground.
Sunscreen: Yes, you will want sunscreen in Greece, no matter the time of year. While you can buy it here, I suggest you buy the good stuff from recognizable brands or better yet, buy it online in advance. I love this solid Neutrogena sunscreen. Who doesn't love a good solid for liquid swap? Great to keep in your bag without worrying about sunscreen explosions.
Motion sickness pills: Great for ferry rides and bus rides especially on winding roads – I buy these non-drowsy ones. You can also try these natural motion sickness bands which use acupressure to reduce nausea – they work pretty well.
Hiking boots or sneakers with good grip: If you're looking for waterfalls in Greece, you may have to do some hiking to get to them! Be sure to wear some well broken-in hiking boots or at the very least, some grippy sneakers.
A water bottle with a filter. While often, the tap water in Greece is drinkable, there are places where it isn't. Always ask before drinking the water.
We generally recommend using a water bottle with a purifying filter to reduce your plastic consumption and ensure you won't drink any bad water that could make your trip unpleasant! We recommend the GRAYL water bottle – it filters water perfectly (literally – 99.999% free of viruses, bacteria, etc.) in an instant so that you can even drink from lakes, bad taps, etc. – basically everything but the sea itself.
Travel safety items. We think Greece is very safe to travel to, but at the same time, it never hurts to be prepared! Some people like to carry money belts, but neither Stephanie nor I use these.
Instead, we both carry the same PacSafe anti-theft backpack. It has locking zippers, slash-proof construction with metal mesh hidden in the fabric, and tons of other smart security features — all while being cute and stylish enough to be our everyday bag. We recommend it highly for both male and female travelers, as it's neutral enough to be unisex. We also recommend travel insurance! Our recommendation is at the bottom of the post.
Greece Travel Resources
Obviously, you don't just need Greece memes when planning a trip, but in case you are, here are some of our best Greece travel resources:
We publish new articles and trip advice nearly daily! For more information about traveling to Greece and the Balkans, bookmark our Greece and Balkan travel pages, where you'll find our entire archive plus anything new we publish before you leave for your trip.
Don't Travel to Greece without Travel Insurance
Finally, make sure you always travel to Greece with a valid travel insurance policy. While the country is a very safe place to travel, you want to make sure you have your possessions covered if they're stolen and your medical bills covered if you get sick or injured. This is especially true if you plan on doing any water sports like snorkeling, diving, or boating. For travel insurance, I use World Nomads. I've been a happy customer of theirs for almost three years, and I've never had an issue when making a claim. I'm happy to refer them to anyone I meet.
Get a travel insurance quote for your trip here.
Pin these Funny Greece Memes for Your Trip
Stephanie has been living in and traveling around the Balkans for the past three years. She's written for National Geographic Online, appeared on CNN Arabic and in the New York Times, and ridden more Balkan buses than is good for a person.