This post may contain affiliate links. This means that if you click a link, we may make a small commission off any subsequent purchase, at no extra cost to you. For more information, please check our privacy policy.
Istanbul is one of a kind city, full of 24/7 vibrant life. Millions of tourists flock to this city every year to see the Grand Bazaar, Bosphorus Bridge, Sultanahmet Mosque, Beyoglu, Moda, and countless other sights that this city has to offer.
However, Istanbul is also a travel hub for many tourists — as well as locals –who want to get away from its hustle and bustle, thanks to its unique geographical situation on the Bosphorus. The city offers short breaks you can take either by car, by boat, or by a short flight.
The greatest feeling, of course, is returning to one of the most beautiful cities in the world — and that's Istanbul.
Let's get started, shall we?
Best Day Trips from Istanbul by Car
Gallipoli War Cemeteries
Back in 1915, the Ottoman Empire was attacked by the Allied forces with the main purpose of taking control over the Dardanelles. One of the most historic and bloody battles of the world took place on the Gallipoli peninsula. Thousands of lives were lost.
The clash lasted around nine months and there was an astounding amount of casualties. With 100,000 dead and 400,000 wounded, the place has a deep sentimental value to the people of the United Kingdom, Australia, New Zealand, France, and of course the Republic of Turkey.
Thousands of tourists visit Gallipoli War Cemeteries every year to pay their respects to the souls who were lost there.
Note that if you plan on visiting during ANZAC Day, which is a commemoration for the Australian and New Zealand Corps, you might have to plan your trips ahead since it gets pretty busy during the time.
It gets so busy that most visitors actually never get to see the ceremonies because of all the hustle and bustle.
For the very same reason, Gallipoli War Cemeteries are best accessible by road and having your own vehicle or going on a guided tour helps quite a lot.
If you would like to see the commemoration ceremonies, try visiting during ANZAC day, which falls on April 24 and 25. We must remind you, it gets pretty intense during the memorial services.
We recommend this guided tour which covers the Gallipoli peninsula if you're planning to visit the area. Unless you're renting a car, which presents some challenges, it's too long of a trip to do by public transit.
Troy
Troy, best recalled from Homer's "Iliad," was thought to never exist.
However, Heinrich Schliemann discovered it in 1868. It gained worldwide popularity after the movie Troy, featuring Brad Pitt, was shot, and more people started visiting the city. Ironically, the film wasn't even filmed in the actual Troy!
A great historical site and the oldest ruins in the area dating back to 3,000 BC, the drive to Troy from Istanbul is 5 hours each way — but it is worth it!
Because of its distance, it's best to combine it with other nearby sights, like Canakkale and Gallipoli.
We recommend this guided tour to Troy if you only have a day, but if you have two days, better yet to do a combined Troy and Gallipoli overnight tour.
Canakkale
Situated on both sides of the Dardanalles, Canakkale is the perfect spot to start your journey before you head to Gallipoli War Cemeteries and Troy, as they are all clustered close together and often combined on a day trip from Istanbul.
The historic city is also considered quite mythological. It has seen many historical battles, such as the War of Troy, which can be found in Homer's Iliad, and also the Battle of Canakkale, which took place during World War I, under the command of Mustafa Kemal Ataturk.
Apart from its historical importance, Canakkale is a pleasant city with a number of museums, as well. If visiting Canakkale independently, try to include the Naval Museum, Military Museum, the Canakkale Archaeological Museum, Dardanalles (Hellespont), and the Cimenlik Fortress on your list.
At the center of the city is the historic Clock Tower, which is also a must-see and a locals' favorite meeting point.
Locals prefer eating cheese halvah and you should definitely taste this amazing dessert. My favorite place is Kadir Yaşar Çanakkale Helvacısı. (address: Arap İbrahim Paşa Cd. No:30, Canakkale
İznik
Once called "Ancient Nicaea," the walled city of Iznik is situated on the shore of Lake Iznik, which is on the southeast of Yalova.
The city is a significant place for Christians, as it played a huge role in the spread and shaping of Christianity. History says that two ecumenical councils were also held in Iznik.
Also well known for its tile-making prowess in the traditional Ottoman style, the city is full of tile shops and tea houses where locals get together for a hot cup of tea or Turkish coffee.
While it is basically a farming town, it is also worth a visit for its picaresque lakeside views.
Situated right at the center of the city, Hagia Sophia Church, now transformed into a mosque, is one of the must-see places in Iznik. Another sight worth seeing is the Green Mosque, which portrays full Turkish influence in its design.
Edirne
Located near Bulgaria and Greece, Edirne is a worthwhile day trip from Istanbul that is skipped by most tourists who tend to travel east and south from Istanbul.
Located to the west of Istanbul, Edirne is home to beautifully built mosques featuring elegant Ottoman architecture; in fact, it was once the second capital of the Ottoman Empire.
The Great Synagogue is also located within Edirne. This synagogue was deserted due to a lack of attendees and then restored by the Turkish government in 2015.
Once you are there, wander through the streets observing the Ottoman Victorian designs, take a walk down Meric River over the Ottoman stone bridge, and explore the bazaars. Don't miss the Selimiye Mosque, either!
If your trip falls in the months of June or July, you may be able to catch Kırpınar Wrestling Tournament, which is an ancient sport dating back to the days of Ottoman Sultan Orhan.
You can get there by public bus or by an organized day trip from Istanbul – this is the day trip I recommend.
Tekirdag
Situated on the western shore of the Marmara Sea, Tekirdag is a 4,000-year- old city. A walk along Rakoczi Street could show you everything you need to know about the city, which is full of houses of all kinds: old, about to collapse, new, and newly restored.
The Archaeology and Ethnology Museum is also located here, once known as Tekirdag Vali Konagı, a provincial governors building.
The end of Rakoczi Street is home to Rakoczi Museum, which was once the home of a Hungarian nobleman named Prince Francis II Rakoczi. He is known to be the person who led the revolt against Habsburgs in Hungary. After accepting defeat, Rakoczi moved to the soils of the Ottoman Empire upon his request, and he died in Tekirdag at the age of 59.
Tekirdag is very famous for its meatballs! If you want to eat the most delicious meatballs in your entire life, visit Özcanlar. It has various restaurant chains; therefore take a look at its website before you go. No need for reservations!
Agva & Şile
The town of Agva is another popular tourist destination reachable by a short drive from Istanbul. Only a 70 kilometers drive will take you to this region, dating back to 700 BC.
Agva is famous for the Tomb of Kum Baba, a historic Muslim Saint, and it's a perfect day trip from Istanbul for anyone looking for some peace and wanting to get away from the hustle and bustle of the city.
Also known for its cotton production called "şile," stroll among the shops selling dresses and towels made from this cozy soft cotton.
Only a 3-hour drive away from Istanbul, you can take the bus from Otogar in Istanbul to Agva, or rent a car for the day if you're brave. Agva has everything a peace-lover could ask for, from serene beaches to lush mountains. You can set up camp by the river and catch fish, or go fruit picking.
Do not return to Istanbul without enjoying rakı-balık (fresh fish cooked in an anise liquor called rakı) in Marin Balık, one of the top fish restaurants in Şile. It's address is Hacı Kasım, Liman Sk. No: 20, 34980 Şile
Sapanca & Kartepe Mountain
Fresh air: that's the first word that comes to mind when someone mentions Sapanca. Home to Lake Sapanca, a perfect destination for someone who loves scenic views, and the countryside, Sapanca attracts many nature lovers to take a day trip from Istanbul.
Visitors can walk along the lakeshore, a perfect spot for some stunning photos. You can go to the local zoo, hike in Kartepe Mountain, or take a ski lift tour.
A popular destination for peace seekers as well as ski lovers due to its close proximity to Istanbul, Kartepe Mountain and fine resorts around it make a popular destination during the winter season.
The easiest way to get here is by guided tour – you can find one here.
Bursa
Bursa was the first capital of the Ottoman Empire, and the remnants of Ottoman influence are still alive and well in this city.
A must-see for anyone with even the slightest interest in architecture, Bursa is home to the Muradiye-Hudavendigar Mosque, which dates back to 1366. This architectural masterpiece is based on Seljuk Turkish architecture, birthed by the Ottoman Empire.
Another must-see is Emir Sultan Mosque and the various styles of Ottoman housing kept secret in the suburbs.
Bursa also attracts a lot of elderly people who seek remedy to their illnesses by visiting hot mineral baths and spa resorts in Cekirge. Keep this in mind, if you ever visit the city in the winter!
I should also mention that Bursa is famous for Iskender Kebap. You should definitely pay a visit to Kebapçı İskender / Mavi Dükkan, serving its guests since 1867.
This small local restaurant gets incredibly crowded; therefore avoid lunch hours when locals also pay a visit. Its address is at Tayyare Kültür Merkezi Yanı Atatürk Caddesi No: 60 16170 Osmangazi, Bursa.
To get here, you can either go by public bus or by an organized tour which includes Uludag, the next place on this list of Istanbul day trips below.
Uludag
An escape to Uludag is often combined with a trip to Bursa or done on its own as a ski escape in winter – yes, you can ski close to Istanbul.
Should you get tired from the city, you can also easily escape to Uludag, known as Mt. Olympus or Great Mountain, via cable car from Bursa. The cable car takes you to the summit for hiking in summer and skiing in winter.
This tour combines Bursa and Uludag.
Bolu & Kartalkaya
Kartalkaya and Bolu are both winter wonderlands for ski fanatics. Surprisingly, Bolu and Kartalkaya are both accessible by road, thanks to Bolu Mountain Tunnel.
The area is most popular during the winter due to the Kartalkaya Ski Center. It is home to the most modern winter facilities and the most preferred skiing slopes in Turkey. These features, plus the fresh pine trees in the surroundings, make Kartalkaya the capital in winter tourism industry in Turkey.
Other places to see in Bolu and Kartalkaya are Haccagiz Plateau, the Victory Tower for its architecture and historical significance, Karamurat Lake for its natural green beauty, and Gazi Suleyman Pasha Mosque for its architecture.
Abant Nature Park is also a must-see in Bolu to get away from your everyday stress and free yourself with some peace.
Yedi Göller
Any visitor who first lays their eyes upon Yedi Göller National Park is always star-struck by its beauty. As you view the small seven lakes for the first time, the first thought that will come to your mind will be that this is heaven on earth – it's hard to believe this is a day trip from Istanbul!
Full of trees and herbs of all kinds, the great thing about Yedi Goller National Park is that the plant protection program of the park has been working well, which has led to an increase in the number of animals and plants inside the park.
This park is absolutely serene with trees covered in red, yellow and green, which make autumn the best season for a visit. It is 1,623 hectares and its nature, the seven lakes, the flora and fauna, hiking activities, camping activities, and the fishing of fresh salmon are just some of its highlights.
Assos (Behremkale)
Officially named Behramkale, this town is still referred to by its old name of Assos. Founded by colonists coming from Lesvos where Aristotle sailed to after coming to Assos and marrying King Heremeias's daughter, it is a remarkable historic gem.
The Temple of Athena is situated in Assos, although it is now only just ruins and is now surrounded by cemeteries and the walls of a crumbling city. The Greek island of Lesvos can be seen from the temple, with a view of the Aegean Sea.
The city is of historical significance as well, as St. Paul and Aristotle visited it. It was under the control of Persians and Lydians and was also taken over by the Macedonian King Alexander the Great during later years.
The Romans left behind their ruins, and the cultural significance of the city is still protected by the Republic of Turkey, after its establishment.
I should also mention the seashore, earning blue flags with its crystal clear water. Be aware of the waves though as the sea can get pretty rough sometimes thanks to the winds of the north. If you are not a good swimmer, be careful.
Day Trips from Istanbul by Boat
Gökçeada
Primarily populated by the Greeks in the past, Gökçeada is now well known for its beautiful beaches, seafood and stone houses. It is a colorful island with beautiful sunsets and sunrises.
Being near the Aegean Sea, the views are extremely vibrant. Gökçeada is a laid-back island and nature has taken over in the area. Locals have nicknamed the place "the heavenly island," and it has definitely earned its fame.
Wandering goats and sheep stumbling upon historical buildings from the past are not uncommon. The town has been encouraged to stick with and retain its natural state.
You can access Gökçeada by taking the ferry from Canakkale. A bazaar is held on Sundays where you can find the specialties of the island such as, almond cookies, honey and cicirya, which is a Greek dish made of melted goat cheese, mint and thyme.
Bozcaada
Situated near Canakkale, Bozcaada is the third largest island in Turkey. It is also one of the two islands on the Aegean Sea that belongs to Turkey rather than Greece.
Bozcaada is a high and rocky area, due to its rocky cliffs. It is also home to numerous coves and beaches. Traditional Greek houses can be seen on the island, and it is the perfect holiday spot for those looking for a quiet calming area.
The island is so laid back and chill that your most tiring task of the day would be biking around the city. Places in Bozcaada that should be visited are the Yali Mosque, Namazgah, Meryem Ana Church, the vineyards of Bozcada, the Greek houses, Koprulu Mehmet Pasa Mosque, the Mermer Cape and Polente Lighthouse.
September and October are great months to visit the island as wine and music festivals are organized.
Bozcada is easily accessible by ferry and boat, and transportation is available throughout the day.
Princes Islands
Seeing the Princes Island would require you to keep your entire day free. The Princes Islands are a chain of nine islands in the Marmara Sea, though only four are open to the public.
The Princes Islands define silence, since no motor-operated vehicles are allowed on the islands: just what you want on a day trip from Istanbul, some peace and quiet! The Princes Islands are easily accessible by boat from Kabatas in Istanbul, and it is just a 50 min boat-ride away.
With numerous hotels and restaurants available on the island, though, you don't need to worry about missing your boat back should you be entired to stay more than a day!
The people are generally friendly and they love their cats and dogs. The island is full of friendly cats and dogs. A view of the Istanbul skyline can be seen from the shore of any island.
It's easy enough to get here independently via ferry from Istanbul, but you can also take an organized day trip if you want more guidance.
Day Trips by Flight
Pamukkale
Pamukkale literally translates to "Cotton Castle" in Turkish and is rightfully named so, due to its picturesque pools hanging like a waterfall.
Pamukkale is the site of well-preserved ruins and terraces of warm water-pools. It is a UNESCO World Heritage Site and it is the single most visited attraction of Turkey. Did you also it is often considered the eighth wonder of the world?
Pamukkale is also the only place in the world where you can find hot springs, temples, bathhouses, and ruins of ancient Roman civilizations all in the same place!
Don't forget to bring slip-on shoes and swimwear with you, and note that you cannot wear shoes when walking on the travertine path, so as not to erode and stain the delicate surface.
Keep in mind that because everything is white, everything is bright and sunglasses are a must! Sunscreen is also a must as the water will reflect the sun, and if you have fair skin, you will certainly burn.
If you want to do it as a day trip, booking a guided tour is basically a must, as they will organize all the logistics including flights. You can book a guided tour here for a suprisingly affordable price given the flights!
Efes (Ephesus)
Efes, also called Ephesus, is one of Turkey's most visited sites, and is the best-preserved Roman city in the Mediterranean region. This spectacular archeological marvel is home to St. John Basilica and the Isa Bey Mosque which are both must-sees.
If possible, avoid visiting Efes in the summer months, as you will have difficulty in walking among the ruins under the scorching sun. I prefer May or September when the weather is nicer for long peaceful walks.
The perfect place for history fanatics as its ruins are world class, it is said that the ruins of Efes are even better than the ruins of Rome itself!
As you leave the ancient city, head to Sirince that is a historical Ottoman village, with old houses, mansions, vineyards, and olive orchards.
Again, as this tour requires flights, the only way to do Ephesus as a single day trip from Istanbul is to organize a tour who can make all the tight connections work — we suggest this highly rated one.
Cappadocia
Cappadocia is the most picturesque area in Turkey and the place to be for Instagrammers! With backgrounds of the hot-air balloons, the place is so visually pleasing to the eye.
The "moonscape" area of Cappadocia is a must-see due to the beautiful force of nature, which has eroded the caves and clefts in the most astounding manner.
The area of Cappadocia has been referred to in the Bible's New Testament, making it a historical place and it has been important since the times of Jesus.
Aside from the famous hot air balloon rides, Cappadocia is also famous for its painted cave churches, which are historically very significant.
Be sure to get a taste of testi kebabı as well when you are visiting this magical atmosphere. The kebab is cooked in a pot where it gets its earthy and smoky taste.
While Cappadocia definitely warrants more than just a day trip from Istanbul, sometimes that's all the time you have. If you only have one day for Cappadocia, we suggest this private day trip from Istanbul.
Where to Stay in Istanbul
We have a ton of resources to help you decide where to stay in Istanbul!
Check our giant neighborhood guide and hotel recommendations, or look specifically for our favorite Sultanahmet hotels near the Blue Mosque or our favorite Bosphorus view hotels.
If you just want our quick recommendations, here are our top picks for each budget category.
Budget: For a great budget-friendly hotel, you can stay in single or double rooms at the Dreamers B&B. Colorful and cozy, the B&B boasts a fabulous location in Beyoglu, less than a kilometer from Taksim Square. You can explore all of Beyoglu from here, and then head to Sultanahmet when you're ready to see the old city. Check pricing, reviews, and availability here.
Mid-Range: For an affordable, yet trendy boutique hotel, we recommend Peradays. It's perfect for all Istanbul visitors, from first-timers to Istanbul veterans. The lofted rooms are generously large, so you can spread out and relax after a long day of sightseeing. They also have two cats that live here, Pera and Daisy, which you'll be happy to greet after counting cats all day when out in the city. Check pricing, reviews, and availability here.
Luxury: Istanbul has no shortage of fabulous hotels, but we love Hammamhane, a boutique apartment-hotel that was originally a hammam, and the sister hotel of Peradays. Built in a historic hammam (Turkish bath), the suites are spacious and luxurious. Located in the heart of Cukurcuma, the antiques district, Hammamhane is within walking distance to art galleries, design stores, antique shops, and chic cafés. Check pricing, reviews, and availability here.
What to Pack for Istanbul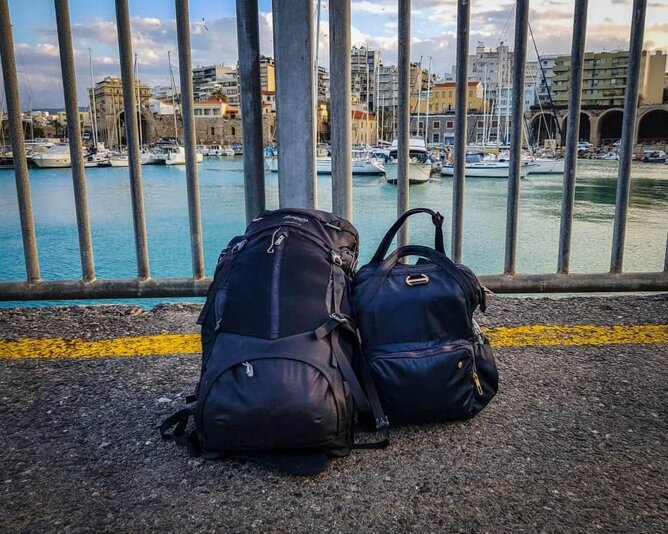 We have a guide of what to pack for Turkey, but here are five things you definitely want to bring with you!
The Lonely Planet Turkey: a good guidebook can help you with the kinds of safety tips you need if you're out in the city and feel a bit lost, especially if you don't have internet or a cell signal. These also have specific neighborhood information that will help you in different parts of the city, and it's a great supplement to blog posts like this one!
Unlocked Cell Phone: Stephanie and I both have unlocked cell phones that we bought in Europe (Stephanie uses a Samsung and I use an iPhone). This allows up to get sim cards when we travel so that we always have the internet. This has gotten us out of so many jams! If you don't have an unlocked cell phone that can use a Turkish sim card, you can buy a cheaper unlocked phone online and bring it with you!
Pacsafe Citysafe or Other Anti-Theft Bag: This is the bag both Stephanie and I use for all our travels. It has a pouch with RFID technology so our credit cards can't get scanned from afar, interlocking zippers to make it harder to pickpocket, and it's roomy enough to be a perfect sightseeing day bag, yet it's still quite stylish for all of its security features. If you'd rather bring something smaller, you can pack a money belt instead.
Grayl Water Filter: While the water is *technically* safe to drink in much of Turkey, I would still avoid it. If you don't want to be buying millions of plastic water bottles, you can get a reusable water bottle that comes with a water filter so that you can stick to the tap water and reduce your plastic waste. If you'll be traveling outside of the major tourist centers, check if the water is potable locally.
Seabands: If you get seasick easily, pack some Seabands or seasickness pills so you don't miss out on the best parts of Turkey – being on the water! A trip to Turkey isn't complete without a cruise or at least a quick boat trip, so make sure you're prepared to enjoy it to the fullest!
More Turkey Travel Resources
Headed to Turkey? We have some great travel resources to help you with your trip.
If this will be your first time traveling to Turkey, check out this guide to planning a trip to Turkey (including visa information) and this guide beautiful places to visit in Turkey. You can also check out our Balkan currency guide, which explains how the Turkish lira works and guidelines for tipping in Istanbul.
If you're heading to Istanbul, we have you covered. Start with our essential Istanbul Travel Tips and guide to staying safe in Istanbul
We're working on our massive things to do in Istanbul post, plus you can check out our guide to the best Instagram spots around Istanbul, tips for shopping in Istanbul, the best Turkish food to eat, how to plan an Istanbul honeymoon, and what to do in Istanbul at night.
If you will be visiting in winter, we have a special winter in Istanbul guide plus an overview of Istanbul weather in January.
If you want to be in the city for just a few days (four or less), check out our Istanbul city break guide, which breaks down the best of the city so you won't miss anything!
Headed to Cappadocia? If you're curious about the most Instagrammable places in Cappadocia, we've got you covered. We also have posts on the best things to do in Cappadocia, and how to plan a perfect 3 day Cappadocia itinerary, plus how to get to Cappadocia from Istanbul.
We have tons more Turkey and Balkans resources, and we publish new content nearly daily. Bookmark our Turkey and Balkans travel pages so you can find any new resources that come out before your trip!
Don't Forget About Travel Insurance!
I'm sure you're aware that travel insurance is a good idea for traveling in Turkey (or really, any part of the world)! We have both been paying customers of World Nomads for the last three years. We love the peace of mind it gives us in case of emergencies, accidents, illnesses, theft, or trip cancellation or disruption.
While Turkey is safe to travel around, there's always a risk inherent in everyday travel, so it's better to play it safe.
>> Get a travel insurance quote for your trip here <<
After studying literature, Dize started to work as a freelance blog writer. She is the mother of a baby girl and 2 dogs. She lives in Istanbul with her family.