This post may contain affiliate links. This means that if you click a link, we may make a small commission off any subsequent purchase, at no extra cost to you. For more information, please check our privacy policy.
If you're planning a Cappadocia trip, get ready — this place will rock your world!
If you're looking for some funny Cappadocia puns, we've got you covered. Whether you want to make your travel companions grow or use these as Cappadocia Instagram captions worthy of making your followers snort-laugh, these Cappadocia puns are gold.
Want to save this post for later? Click to Pin!
Funny Cappadocia Puns, Jokes, & Instagram Captions
Have you ever been to Cappadocia? This place rocks.
Cappadocia, you rock my world.
I never want to Goreme home.
My sediments that you can't join me here in Cappadocia.
Are my Cappadocia puns good, or should they be a bit boulder?
Coming to Cappadocia was a rock solid choice.
Cappadocia holds the Turkey to my heart.
Making the mosque of our time in Cappadocia.
I Cappadocia believe this place.
Feline just fine in Cappadocia.
The fairy chimneys in Cappadocia are truly a-stone-ishing.

Best Cappadocia Cave Puns
Have you ever stayed in a cave hotel? I'm really digging it!
Go with you to Cappadocia? Fine, I'll cave.
It may be a miner thing, but I love the details here in this cave hotel!
Best Cappadocia Balloon Puns
I could talk about Cappadocia until you're balloon in the face.
Having a gas here in Cappadocia!
Cappadocia, you make my heart a-float-er
Take a float-o, it'll last longer
Imitation is the sincerest form of float-ery
Floating without a c-air in the world
It's air-mazing here!
5 Things to Bring to Turkey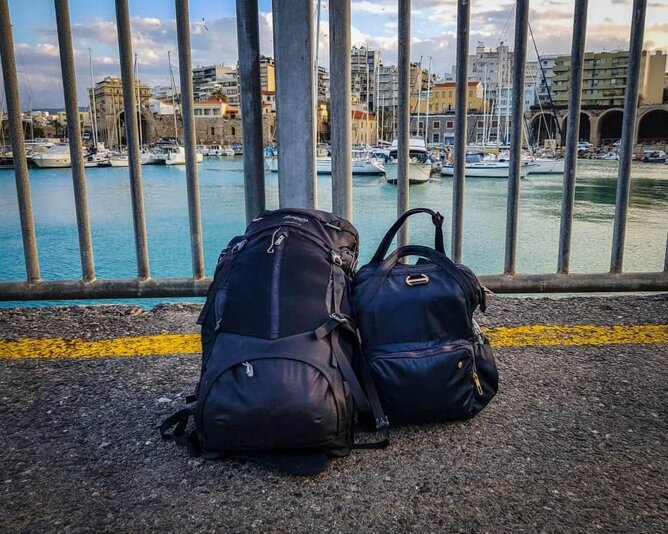 We have a full list of what to pack for Turkey in every season, but here are five things you definitely want to bring with you!
The Lonely Planet Turkey: a good guidebook can help you with the kinds of safety tips you need if you're out and about and feel a bit lost, especially if you don't have internet or a cell signal. These also have specific guides to every town in Cappadocia (which is a region, not a town in itself), and it's a great supplement to blog posts like this one!
Unlocked Cell Phone: Stephanie and I both have unlocked cell phones that we bought in Europe (Stephanie uses a Samsung and I use an iPhone). This allows up to get sim cards when we travel so that we always have the internet. This has gotten us out of so many jams! If you don't have an unlocked cell phone that can use a Turkish sim card, you can buy a cheaper unlocked phone online and bring it with you!
Pacsafe Citysafe or Other Anti-Theft Bag: This is the bag both Stephanie and I use for all our travels. It has a pouch with RFID technology so our credit cards can't get scanned from afar, interlocking zippers to make it harder to pickpocket, and it's roomy enough to be a perfect sightseeing day bag, yet it's still quite stylish for all of its security features. If you'd rather bring something smaller, you can pack a money belt instead. While pickpocketing isn't much of a concern in Cappadocia, if you're also visiting a big city like Istanbul, we do suggest strongly suggest it.
Grayl Water Filter: It generally isn't safe to drink the tap water in Cappadocia, although you could ask your hotel what they think. If you don't want to be buying millions of plastic water bottles, we strongly recommend a reusable water bottle that comes with a water filter like this Grayl water bottle that filters out literally 99.999% of so that you can sanitize the tap water and reduce your plastic consumption.
A fantastic Instagram dress: If you stay in a cave hotel and don't 'gram it wearing a beautiful dress, did you even go to Cappadocia though? We love this maxi dress (and there's a super-cute plus size version here), as well this this maxi skirt.
Where to Stay in Cappadocia
We have a full guide of cave hotels that will rock your world — you can read it here. Here's the quick version:
Budget: For a cheap but chic place to stay in Cappadocia, Angel Cave Suites offers a total of 9 cave rooms within a really budget-friendly price range. Most of their rooms have a private bathroom with complete amenities plus a balcony with a view of the mountains or the city.
>> Check out guest reviews, prices, and availability at Angel Cave Suites here
Mid-Range: For a not too expensive but still comfortable stay, we recommend Wish Cappadocia. This small boutique cave hotel in Cappadocia offers six rooms with well-fitted furniture that goes perfectly with the structure of the cave rooms. Some rooms even have a fireplace, and chopped wood is provided for your disposal — great if you're visiting Cappadocia in winter!
>> Check out guest reviews, prices, and availability at Wish Cappadocia here
Luxury: Awarded both the Best Luxury Boutique Hotel and the Best Hotel Architecture in Europe, you can rest easy that Museum Hotel is one of the finest cave hotels in Cappadocia. Heated outdoor pool where you can even eat breakfast? Check. Museum-quality artifacts in the hotel for guests to peruse? Check. Beautiful luxury rooms? Check. A room with an actual wine tap in it? I'll never leave.
>> Curious? Check guest reviews, prices, and availability here.
More Turkey Travel Resources
If you're curious about the most Instagrammable places in Cappadocia, we've got you covered. We've also written a 3-day itinerary for Cappadocia, a guide to some of the best things to do in Cappadocia, and a review of the Cappadocia Green tour
You're likely also planning a trip to Istanbul if you're headed to Cappadocia. We have a guide to the best things to do in Istanbul, which we're continually improving, but for now, you can check out our Instagram guide to Istanbul, our favorite Istanbul neighborhoods and where to stay, and tips for shopping in Istanbul.
If you're looking for some specific Istanbul hotel recommendations, we have guides to Istanbul hotels with a Bosphorus view and hotels near the Blue Mosque.
For more general Turkey information, check out this guide to planning a trip to Turkey (including visa information) and this guide to other beautiful places to visit in Turkey.
We have tons more Turkey and Balkans resources, and we publish new content nearly daily. Bookmark our Turkey and Balkans travel pages so you can find any new resources that come out before your trip!
Headed to Cappadocia? Don't Forget Travel Insurance!
If you're planning a trip to Cappadocia, make sure to travel with a valid travel insurance policy. While we feel safe in Turkey, especially in Cappadocia, you need to be covered in case of an emergency. Travel insurance covers you in case of theft or an accident, which can save your trip if there's an incident.
For travel insurance, I use World Nomads. I've been a happy customer of theirs for almost three years, and I've never had an issue when making a claim. I'm happy to refer them to anyone I meet.
Get a travel insurance quote for your trip here.
Originally from California, Allison has been living in Bulgaria for the last two years and is obsessed with traveling around the Balkans. She has been published in National Geographic, CNN Arabic, Matador Network, and the Huffington Post. She loves befriending dogs, drinking coffee, geeking out about wine, and cooking food from around the world.