This post may contain affiliate links. This means that if you click a link, we may make a small commission off any subsequent purchase, at no extra cost to you. For more information, please check our privacy policy.
So you've finally booked that dream trip to Cappadocia.
You've picked your Cappadocia cave hotel, drooled over Turkish food options, scouted the most Instagrammable places in Cappadocia, and generally just planned the perfect Cappadocia itinerary.
But the cherry on top of the cake of any trip to Cappadocia is undoubtedly doing a morning sunrise hot air balloon ride in Cappadocia.
Floating over the fairy chimneys as the sun makes its arc in the sky, changing the colors of the fiery landscape like a kaleidoscope: a Cappadocia hot air balloon ride is a once-in-a-lifetime experience, and as long as you can afford it, it's something you should not miss in Cappadocia.
Want to save this post for later? Click to Pin!
But because it is undeniably an expense to undertake, we understand that many people have reservations about booking their Cappadocia hot air balloon. Price and safety are two major concerns, as is the concern of "well, is it really worth it?"
So, to help you decide on whether or not it's worth it to take a hot air balloon in Cappadocia, here are 15 things to know before booking (or passing on) that Cappadocia hot air balloon ride.
It's the most magical experience you can ever have
I travel for a living, and I've been lucky enough to experience some truly incredible things.
But even my other most magical travel experiences — spending the night in the Sahara desert, seeing sunsets in the Maldives, wandering around hidden temples in Cambodia — pale in comparison to how amazing my Cappadocia hot air balloon ride was.
Nothing compares to seeing the otherworldly landscape of Cappadocia ebb away, the fairy chimneys becoming mere specks in the distance, as you float amongst a rainbow of other hot air balloons doing their morning dance in the sky.
Know in advance what a Cappadocia hot air balloon costs
Before you even book your trip to Cappadocia, I suggest you familiarize yourself with average prices in the region for popular activities, accommodations, meals, and tours, so that you can budget appropriately.
Unless you are staying in an ultra-luxury cave hotel, your top expenditure will most likely be a Cappadocia hot air balloon (or, if you skip that, other Cappadocia tour experiences like ATV rides or day trips like the Cappadocia Green Tour).
Expect to spend a minimum of $200 USD per person for a basic 1-hour balloon ride flight. That is the standard baseline Cappadocia hot air balloon price. You may be able to find cheaper if you arrive and barter, but you risk all the balloons being filled up or having to go with a second-rate company which cuts corners on safety and pilot experience. To save $20-30 USD, I don't think it's worth risking your safety.
In terms of other costs in Cappadocia, expect to spend about $20-30 USD for an airport transfer, $50+USD a night for your hotel, $10 USD per sit-down meal without alcohol, and around $40-60 USD for each day tour… plus don't forget to budget for some souvenirs!
Note the inclusions and exclusions of your Cappadocia balloon ride carefully
Generally, a Cappadocia hot air balloon ride experience is basically all-inclusive.
This means that you will be provided with inclusive hotel transfers (both drop-off and pick-up), a rushed but tasty buffet breakfast, an experienced pilot, insurance, and at least 1 hour of flight time. Most, but not all, balloon rides include a 'certificate' at the end as a souvenir as well as a champagne or juice toast.
However, do be sure to read the fine print of the balloon tour you end up booking so as to avoid any disappointments in your expectations.
There are a wide variety of Cappadocia hot air balloon prices for each budget
The cheapest (but still safe) balloon ride I was able to find was with Royal Balloons, for around $200 USD. You can see more details and book it here. I flew with Royal and recommend it; they're widely regarded to be one of the best hot air balloon companies in Cappadocia, with nearly 2,000 5-star reviews on TripAdvisor.
In case Royal Balloons' budget flight is booked on your trip dates, my second choice would be Butterfly Ballons, which also enjoys an excellent reputation and is only slightly more, around $210 USD, and has over 1,600 5-star reviews. You can look at more details and book it here. Hey — it was good enough for Rick Steves, so it's good enough for me!
If budget isn't a concern, there are plenty of more luxurious balloon rides you can do. One step up from the Royal Balloon Queen flight is the King Flight, which you can check out here, which lasts longer and is more luxurious for about $90 USD more ($290 USD total).
For a special occasion, you can inquire about private hot air balloon rides, which will be costly but are great for an ultra-special occasion — like a proposal!
Cappadocia hot air balloon prices are high, but you can save elsewhere
I'm the kind of traveler who skimps on a lot of things in order to pay for the experiences that I love.
I stayed in a hostel in Abisko, Sweden so that I could afford a dog-sledding ride; I stayed in budget accommodations in Italy so that I could indulge on food tours. For other people, the accommodations is the splurge; for others, it's the food. But for me, experiences win over everything, every time.
For me, I cut some corners by staying in a more affordable cave hotel for about $50 a night instead of the Insta-famous ones which go for $100+ a night, and used those savings to fund my Cappadocia hot air balloon sunrise flight. It was 100% worth it.
There have been hot air balloon crashes in Cappadocia, so choosing a safe company is key
Of course, I can't write this post without acknowledging that in the past, there have been several hot air balloon crashes in Cappadocia.
Before getting too anxious up about this, let's look at the data, which you can find a synopsis of here from a reputable academic source. In summary, it says that during their period of study (4 years), there were 33 injuries and 3 deaths out of nearly 1.5 million passengers, meaning that the risk of injury is 0.0022% and the risk of fatality is 0.0002%.
For perspective, compare that to the risk of driving in a car, which is something I'm sure most people do on a daily basis without even thinking about it. You're probably at more risk on the road from the Kayseri airport to and from Cappadocia as you are in a hot air balloon.
In my opinion, the data shows that it's safe enough, but that it's always better to go with companies who value safety as a priority.
One of the reasons why I suggest Royal Balloon is because their balloons are made by Lindstrand Balloons, one of the safest and best hot air balloon manufacturers. Their balloons are the only silver-coated balloons in all of Cappadocia, which is the safest and highest-quality standard. Their pilots are also some of the most experienced.
You should also check that your balloon company provides insurance, particularly insurance that is in accordance with the ICAO standards (International Civil Aviation Organization).
Be prepared for ultra-early wake-up calls!
If you're doing a hot air balloon ride in Cappadocia, the only time they offer it is at sunrise… which means an ungodly early wake-up call!
I did my hot air balloon ride in September, so sunrise was a bit later than at its earliest around the solstice in June. Still, I had to wake up at 4 AM for a 4:15 or 4:30 AM pickup… which was rough, for sure, but it was worth it!
If you're doing a hot air balloon ride in the winter, your wake-up call will likely be a little later, but still on the early side as you have a transfer, multiple people to pick up, and breakfast before the flight.
Cancellations due to bad weather are possible
While generally, hot air balloons in Cappadocia are able to fly about 70% of the time, there's no denying that 30% of the time, flights are canceled. In 2018, hot air balloons flew 247 days of the year and were grounded for 118 days (about 67% able to fly and 33% grounded). Other years have been better; some past years saw 300+ days of flying, but it's impossible to predict. 250+ days a year is the standard.
The decision to ground hot air balloons is made by the Turkish Civil Aviation Authority each day, and your hot air balloon company has no impact on this decision. All balloons will be grounded if the TCAA makes this decision.
If the TCAA cancels balloon flights, you should be able to receive a 100% refund or be rebooked the following day at no extra charge if there is still availability. This is the policy with Royal Balloon and Butterfly Balloon, the two companies I've highlighted here in this post. If you book with any other company, you'll want to check their specific policy.
Stay longer than just a few days in Cappadocia if possible to maximize your chance of flying
Since cancellations occur roughly one-third of the time, you'll want to be prepared for this possibility!
The best way is to plan to spend at least three nights and three mornings in Cappadocia and to schedule your hot air balloon ride for the first morning. That way, if your balloon flight is canceled, you have two more opportunities to make it up!
If staying that long isn't possible, I'd suggest still staying a minimum of two nights and two days. There's so much to do and see in Cappadocia beyond just hot air ballooning, so don't worry — there's plenty to fill your days with, whether it's shopping for carpets, hiking in Ihlara Valley, discovering salt lakes, exploring cave churches and monasteries, hiking and ATVing through beautiful valleys, and more!
The best time of year for Cappadocia hot air ballooning is April through November
Cappadocia has an arid climate without too much rain or wind, especially in the late spring, summer, and early fall.
I visited in mid-September and the weather was perfect. I stayed for three nights; the first morning, I went ballooning, and the next two mornings I know balloons were flying because I woke up each morning to watch them dance.
Summer can be quite brutally hot in Cappadocia, and the crowds can be similarly relentless. If you want the best combination of low crowds and bearable heat, I'd suggest May, September, or October.
However, you can fly in the winter too — and there may be snow!
While April through November enjoys the best weather in Cappadocia and has the least likelihood of cancellations, that doesn't mean you're out of luck if you want to visit Cappadocia in the winter.
However, do note that due to the possibility of heavy winds and/or snow, cancellations are a lot more frequent in winter, particularly in the period between December and March.
If you are visiting Cappadocia in winter, I suggest extending your stay to at least three nights and scheduling your hot air balloon ride for the first morning. If it gets canceled, the fact that it's low season means you'll likely be able to rebook without any problems, and you'll have two more possible mornings to fly.
Even better would be to stay at least four nights just for that extra chance — there is plenty of activities to do in Cappadocia year round, so I wouldn't worry about that being too much time. Trust me, you'll find that in Cappadocia, there's no such thing!
Be sure to be on one of the balloons that depart before sunrise
There are over 20 certified companies providing hot air balloon flights in Cappadocia, many with several balloons. There are 100 balloons permitted to take off before sunrise (aim to be on one of these, on a company like Royal Balloon or Butterfly Balloon) and another 50 can take off about half an hour past sunrise.
The magic of watching the sun come up over the Cappadocian landscape is what makes the experience so worthwhile, so do try not to go on one of the ones that departs after sunrise — you'd be missing the best part. These tend to be the budget operators (who likely have less of a safety record) so that's yet another reason to skip these.
Book months in advance — especially in high season!
The main reason people come to Cappadocia is to ride in a hot air balloon, so don't be thinking you can just book when you arrive. You'll be in for a world of disappointment if you arrive in Cappadocia only to find all the best companies booked up!
I just looked online now to test it out and see how far in advance you need to book. It's October 1st and Butterfly Balloons is completely booked until November 3rd — over a month, and it's not even high season! Royal Balloons is booked even further… until November 7th! Again, that's over a month in advance that it's all booked, and this is pretty much as low as the season gets.
Even looking at less highly-reviewed companies in the low season, I couldn't book anything for less than two weeks in the future. You may end up paying a premium just because you wait and end up flying with a less prestigious company, so once you've decided to do a hot air balloon ride, be sure to book it to avoid disappointment — trust me on this.
Brace yourself if you're afraid of heights!
The Cappadocia hot air balloons really soar — up to 3,000 feet, nearly a thousand meters! So if you're a bit anxious about heights, this may be a challenge for you.
My friend Kate is rather afraid of heights, but she was still so glad she did the hot air balloon ride and faced her fears as she said it was well-worth it. I'm moderately afraid of heights (I'm more afraid of anything, yay generalized anxiety disorder) and even I was a bit nervous on our way up as the ground got smaller and smaller below us!
If heights freak you out, I suggest taking an anti-anxiety medication beforehand (assuming you've been prescribed them by a doctor) to keep yourself from getting in your head about it.
Despite having a bit of a struggle with anxiety during the take-off, I was perfectly fine during the flight because it was so smooth – no rocking, swaying, or turbulence like you'd have on an airplane (and I have terrible plane anxiety).
5 Things to Bring to Cappadocia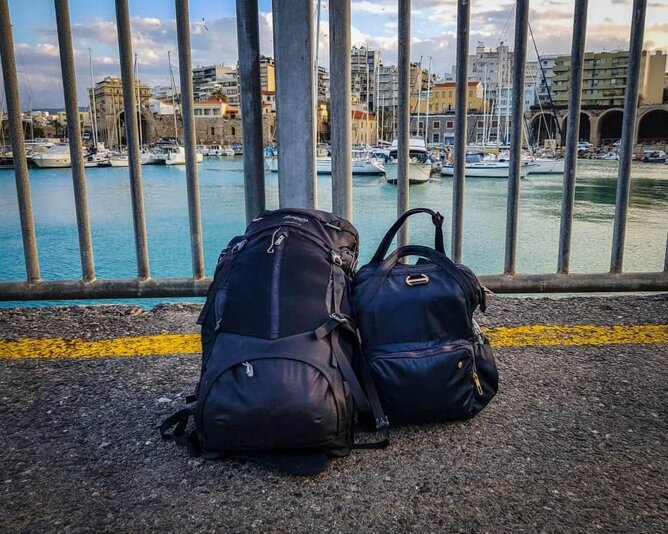 We have a full list of what to pack for Turkey in every season, but here are five things you definitely want to bring with you!
The Lonely Planet Turkey: a good guidebook can help you with the kinds of safety tips you need if you're out and about and feel a bit lost, especially if you don't have internet or a cell signal. These also have specific guides to every town in Cappadocia (which is a region, not a town in itself), and it's a great supplement to blog posts like this one!
Unlocked Cell Phone: Stephanie and I both have unlocked cell phones that we bought in Europe (Stephanie uses a Samsung and I use an iPhone). This allows up to get sim cards when we travel so that we always have the internet. This has gotten us out of so many jams! If you don't have an unlocked cell phone that can use a Turkish sim card, you can buy a cheaper unlocked phone online and bring it with you!
Pacsafe Citysafe or Other Anti-Theft Bag: This is the bag both Stephanie and I use for all our travels. It has a pouch with RFID technology so our credit cards can't get scanned from afar, interlocking zippers to make it harder to pickpocket, and it's roomy enough to be a perfect sightseeing day bag, yet it's still quite stylish for all of its security features. If you'd rather bring something smaller, you can pack a money belt instead. While pickpocketing isn't much of a concern in Cappadocia, if you're also visiting a big city like Istanbul, we do suggest strongly suggest it.
Grayl Water Filter: It generally isn't safe to drink the tap water in Cappadocia, although you could ask your hotel what they think. If you don't want to be buying millions of plastic water bottles, we strongly recommend a reusable water bottle that comes with a water filter like this Grayl water bottle that filters out literally 99.999% of so that you can sanitize the tap water and reduce your plastic consumption.
A fantastic Instagram dress: If you stay in a cave hotel and don't 'gram it wearing a beautiful dress, did you even go to Cappadocia though? We love this maxi dress (and there's a super-cute plus size version here), as well this this maxi skirt.
Where to Stay in Cappadocia
We have a full guide of cave hotels that will rock your world — you can read it here. Here's the quick version:
Budget: For a cheap but chic place to stay in Cappadocia, Angel Cave Suites offers a total of 9 cave rooms within a really budget-friendly price range. Most of their rooms have a private bathroom with complete amenities plus a balcony with a view of the mountains or the city.
>> Check out guest reviews, prices, and availability at Angel Cave Suites here
Mid-Range: For a not too expensive but still comfortable stay, we recommend Wish Cappadocia. This small boutique cave hotel in Cappadocia offers six rooms with well-fitted furniture that goes perfectly with the structure of the cave rooms. Some rooms even have a fireplace, and chopped wood is provided for your disposal — great if you're visiting Cappadocia in winter!
>> Check out guest reviews, prices, and availability at Wish Cappadocia here
Luxury: Awarded both the Best Luxury Boutique Hotel and the Best Hotel Architecture in Europe, you can rest easy that Museum Hotel is one of the finest cave hotels in Cappadocia. Heated outdoor pool where you can even eat breakfast? Check. Museum-quality artifacts in the hotel for guests to peruse? Check. Beautiful luxury rooms? Check. A room with an actual wine tap in it? I'll never leave.
>> Curious? Check guest reviews, prices, and availability here.
More Cappadocia Travel Resources
If you're curious about the most Instagrammable places in Cappadocia, we've got you covered. We've also written a 3-day itinerary for Cappadocia, a guide to some of the best things to do in Cappadocia, and a review of the Cappadocia Green tour
You're likely also planning a trip to Istanbul if you're headed to Cappadocia. We have a guide to the best things to do in Istanbul, which we're continually improving, but for now, you can check out our Instagram guide to Istanbul, our favorite Istanbul neighborhoods and where to stay, and tips for shopping in Istanbul.
If you're looking for some specific Istanbul hotel recommendations, we have guides to Istanbul hotels with a Bosphorus view and hotels near the Blue Mosque.
For more general Turkey information, check out this guide to planning a trip to Turkey (including visa information) and this guide to other beautiful places to visit in Turkey.
We have tons more Turkey and Balkans resources, and we publish new content nearly daily. Bookmark our Turkey and Balkans travel pages so you can find any new resources that come out before your trip!
Headed to Cappadocia? Don't Forget Travel Insurance!
If you're planning a trip to Cappadocia, make sure to travel with a valid travel insurance policy. While we feel safe in Turkey, especially in Cappadocia, you need to be covered in case of an emergency. Travel insurance covers you in case of theft or an accident, which can save your trip if there's an incident.
For travel insurance, I use World Nomads. I've been a happy customer of theirs for almost three years, and I've never had an issue when making a claim. I'm happy to refer them to anyone I meet.
Get a travel insurance quote for your trip here.
Originally from California, Allison has been living in Bulgaria for the last two years and is obsessed with traveling around the Balkans. She has been published in National Geographic, CNN Arabic, Matador Network, and the Huffington Post. She loves befriending dogs, drinking coffee, geeking out about wine, and cooking food from around the world.