This post may contain affiliate links. This means that if you click a link, we may make a small commission off any subsequent purchase, at no extra cost to you. For more information, please check our privacy policy.
If you're planning to visit Bulgaria in winter, you've made a fantastic choice! Skiing in Bulgaria is excellent and fantastically cheap, the country gets plenty of snow yet sufficient sunshine, and Bulgarian cuisine is hearty and perfect for winter.
And even if you're not a skier or snowboarder, there are plenty of other things to do in Bulgaria in winter to keep everyone happy.
Here are 11 of our favorite Bulgaria winter activities to get you inspired for your trip to Bulgaria this winter!
Want to save this post for later? Click to pin!
Ski or snowboard at the delightful winter resorts
Bulgaria offers world-class skiing and snowboarding, and the prices are a fraction of what you'll find in Western Europe while still offering comparable amenities and comfort.
Some of the most popular Bulgarian ski resorts are Bansko, Borovets, and Pamporovo.
Our personal favorite is Borovets because it's cheaper than Bansko and closer to Sofia. However, if you want a more luxurious ski vacation, Bansko is definitely a bit more upscale and has plenty of five-star hotels such as the Kempinksi Grand Arena. This is wonderful if you want to stay and ski luxuriously — for about the same cost as an average ski resort in France, Switzerland, or Italy!
Marvel at a magical, snow-covered Rila Monastery
Rila Monastery is beautiful all year long, but there's something especially magical about this place when it's underneath a coating of snow.
While you can expect tourists year-round as it's one of Bulgaria's most visited attractions, you'll find significantly fewer buses and people crowding your views as you would outside of winter.
Shop and sip at adorable Christmas markets
Who doesn't love a good Christmas market? We're huge fans of Sofia in the winter, and one major reason for that is the yearly Christmas market that pops up in front of the Ivan Vazov National Theater in City Garden each year.
With mulled wine, hot punch, German and Swiss-inspired fare like sausages and raclette, and plenty of adorable ornaments, you really shouldn't miss the German Christmas Market in Sofia if you'll be in Bulgaria in December.
Read Next: How to Visit the Sofia Christmas Market for a German Christmas in Bulgaria
Eat a hearty Bulgarian meal
Bulgarian food is great for winter weather! While some of the food is better enjoyed in summer (nothing is tastier than fresh summer tomatoes in a shopska salad), there are several Bulgarian dishes that are absolutely fantastic in the winter.
My favorite cold weather food is sach, a massive plate for two or more with sizzling vegetables and meat that is sometimes served on fire for dramatic effect. It's classic cold-weather food! If you can't find that, chicken or pork kavarma is similar and also delicious for winter.
A few other dishes I recommend for the winter are delicious soups. Bob chorba – bean soup – is a favorite, and more adventurous eaters will definitely want to try shkembe chorba, a slightly spicy tripe soup that is supposed to cure hangovers. I can't stomach (pardon the pun) tripe, so I've never tried it, but some people love it.
Visit the snow-covered city of Veliko Tarnovo
Veliko Tarnovo is often considered to be the most charming town in Bulgaria, and that goes double if you're lucky enough to see it covered in snow!
While it won't be snowy all winter long, if you're lucky enough to visit Veliko Tarnovo when it snows, it's a landscape you won't soon forget.
Be amazed at the otherworldly Belogradchik Castle
In the far north of Bulgaria not far from the border with Serbia, Belogradchik Castle doesn't get nearly that many tourists any point of year – and it certainly gets far fewer in winter.
Imagine seeing this stunning castle built into the natural fortress of the rocks, all under a dusting of snow — it'd be like something truly out of a fairytale.
Soak in one of Bulgaria's many thermal hot springs
There are several hot springs that can be found all around Bulgaria, and entire towns and cities that have popped up around these hot springs.
The most famous spa resort in Bulgaria is Velingrad, where there are a number of spa resorts and over 70 natural hot springs in the city, making it a perfect place to dedicate a few days in Bulgaria in winter if you are just aiming to relax.
If you're basing yourself near Sofia, you'll be delighted to know that you can find a public mineral hot spring by Lake Pancharevo, and the pool as well delivers warm water (37 degrees Celsius) that can be a delightful place to warm up on a cool winter's day.
See a snow-covered "communist UFO"
If you're visiting Bulgaria in winter and you are renting a car, we definitely recommend you visit Buzludzha, the former communist party headquarters shaped like a UFO, located on top of a remote mountain in the center of Bulgaria.
However, we don't recommend driving up the road to Buzludzha after a big snowstorm as the road may not be properly plowed. Make sure that you check the weather beforehand and be sure to drive carefully in case you encounter any snow. This road is also likely to be quite foggy due to its altitude and location, so that's one more reason to drive carefully.
See the marvelous Russian church of Shipka
The beautiful Russian church of Shipka is one of Bulgaria's best-kept secrets — it's drop-dead beautiful and yet there are hardly ever any tourists at any time of year (and definitely virtually zero in winter).
Since it's located right near Buzludzha and the Shipka Pass, an important battleground in the Russo-Turkish war, we strongly recommend bundling these three important sites together. If you have a rental car and are staying near Veliko Tarnovo or Plovdiv this winter, it'd make a fantastic day trip. There are also some Thracian tombs nearby.
Carouse at the impressive winter carnival of Surva
If you'll be in Bulgaria in January, you're in luck! The winter carnival of Surva takes place in Pernik, about one hour outside of Sofia, and it's perhaps one of the most interesting cultural traditions in Bulgaria with roots back to Bulgaria's pagan times.
Masked dancers called kukeri dress up with elaborate costumes adorned with giant bells. Their dances and the clanging of the bell are said to scare off evil spirits and keep towns and people safe.
Master the art of doing nothing in Plovdiv
There's a word in Bulgarian, aylyak, which roughly translated means "The art of not giving a sh*t, doing everything at a relaxed pace and not worrying at all." It's strongly associated with the relaxed second city of Plovdiv, which is said to be the birthplace of the aylyak lifestyle. And winter is the perfect time to relax a bit!
Whether it's taking a leisurely coffee in the beautiful cafés of Plovdiv to avoid the cold, wandering aimlessly around the stunning Bulgarian National Revival architecture, or getting meta and sipping Aylyak craft beer in one of Plovdiv's funky bars (we love Cat & Mouse), Plovdiv is a great place to spend a winter city break in Bulgaria.
Go for a snowy hike on Vitosha
Mount Vitosha is a fantastic place to escape the busy pace (and winter smog) of Sofia in winter. If it's running, you can take one of the ski lifts from Dragalevtsi or Simeonovo up to the top of Vitosha, where you can unwind with a short winter hike. You can also rent a car, take a cab, or go by bus.
The Aleko hut is a great place to start hikes on Vitosha, and there's also a small restaurant where you can refuel with some hearty Bulgarian food after your winter hike.
Where to Stay in Sofia
While accommodations in Sofia are affordable year round, prices dip quite a bit in the winter and you can get fantastic deals on hotels.
We've broken down where to stay in Sofia according to a few different budget ranges. Here is a general range of what we mean by each budget category:
Budget: A room in a hostel, usually $5-12 USD per night for a dorm bed or under $40 for a double.
Mid-range: Around $40-80
Luxury: Around $100 per night or more
Budget: For a hostel, we always recommend Hostel Mostel. I have never stayed at the Sofia location but several of my friends have and have always spoken highly of it. I stayed at the one in Veliko Tarnovo and it was excellent. Perks include a free vegetarian dinner in addition to breakfast included in your stay! Check rates and availability here.
Mid-range: For a trendy boutique hotel that is surprisingly affordable, we recommend R34 Boutique Hotel. The location is dead center, near the Ivan Vazov National Theater in the middle of Sofia. It has gorgeous, loft-inspired details like exposed brick, giant windows, and streamlined but modern décor. It's a great bargain, too – check rates, reviews, photos, and availability here.
Luxury: As far as we see it, there's only one option for the best hotel in town: Sense Hotel. We go to their upscale, beautiful rooftop bar all the time when we have guests in town. With beautiful views over Alexander Nevsky, Sofia's most iconic landmark, the hotel couldn't be in a better location. Sense Hotel also boasts a state-of-the-art fitness center, an art gallery in the lobby, an excellent spa with luxe treatments, and an indoor pool. It's truly the best choice in town. Check rates, reviews, photos, and availability here.
What to Pack for Winter in Bulgaria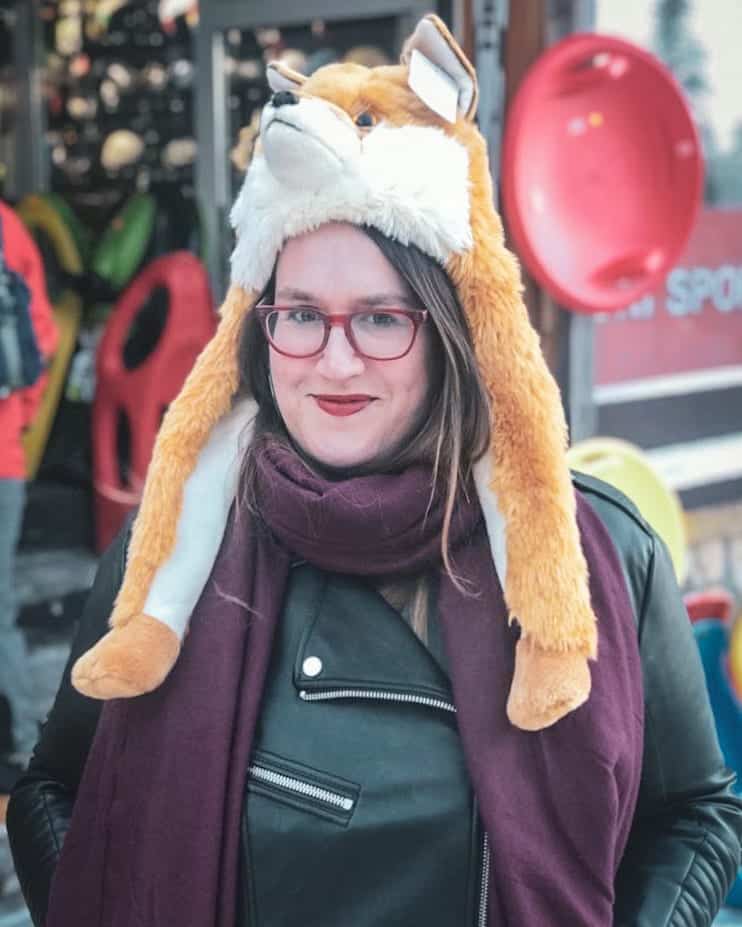 We have a full Bulgaria packing list, but in case you just want the quick version, here are a few essentials you shouldn't forget to pack!
A good guidebook: While travel blogs are great, we still think a good guidebook is always handy. We own and strongly recommend the Lonely Planet Bulgaria & Romania for travel in Bulgaria and beyond!
Plenty of winter clothing: You can check our packing list above for our full winter packing suggestions for men and women. At a minimum, you'll want to bring a warm winter jacket (I love this North Face parka), cozy snow boots, warm wool socks, touch-screen friendly gloves, a scarf, and a winter hat.
Any ski equipment and clothing (if skiing): We're not skiers ourselves, so we don't have specific ski gear equipment, but special ski clothes — waterproof pants and jackets, goggles, etc. — and ski gear obviously should be on your packing list, unless you have decided to rent it all when you arrive in Bulgaria.
Moisturizer: Travel will beat your skin up in the best of times — and winter travel in addition to skiing will really do a number on it! If you use a moisturizer at home, bring it. If you've never used a moisturizer before, you really should start. You'll be happy to give your face a boost before heading outside in the cold all day.
Sunscreen: We strongly suggest wearing sunscreen when you spend time outdoors, no matter the weather outside. I love this solid Neutrogena sunscreen – it's mess-free, works well in carry-ons, is ultra-protective, and blends in well.
Bulgaria Travel Resources
We want you to have the best trip to Bulgaria possible! If this will be your first time in Bulgaria, check out our Bulgaria trip planning guide as well as our packing list for Bulgaria (which includes a winter section).
To help you, we've created a number of resources that will be helpful. If you're visiting Sofia, this 101 things to do in Sofia should be a nice start! Also read our Sofia travel tips post and where to stay in Sofia.
For transportation, check out our guide to avoiding taxi scams in the city. If you'll be flying into Sofia, you can read our tips for flying in and out of Sofia Airport.
We also have Sofia restaurant and bar recommendations. We also have articles for popular day trips from Sofia like Plovdiv, the Rila Lakes, Buzludzha.
If Borovets is where you'll be spending your winter in Sofia, check out how to get to Borovets from Sofia as well as our favorite Borovets restaurants.
For more resources for your trip, check out our pages on traveling in Bulgaria and the Balkans.
Planning a Trip to Bulgaria in Winter? Don't Forget Travel Insurance!
We strongly suggest that you travel to Bulgaria with a valid travel insurance policy. While the country is safe, accidents can happen anywhere. If you experience an accident or theft, travel insurance will help you recover your costs and enjoy the rest of your trip.
This is especially important in winter, since winter activities carry a certain amount of risk with them. We recommend the Explorer upgraded insurance plan if you plan to do any skiing or snowboarding so that you can be fully covered.
For travel insurance, I use World Nomads. I've been a happy customer of theirs for almost three years, and I've never had an issue when making a claim. I'm happy to refer them to anyone I meet.
Originally from California, Allison has been living in Bulgaria for the last two years and is obsessed with traveling around the Balkans. She has been published in National Geographic, CNN Arabic, Matador Network, and the Huffington Post. She loves befriending dogs, drinking coffee, geeking out about wine, and cooking food from around the world.