This post may contain affiliate links. This means that if you click a link, we may make a small commission off any subsequent purchase, at no extra cost to you. For more information, please check our privacy policy.
Bran Castle looms large in many people's ideal Romania itineraries. Who can blame them? Few castles have such a prominent place in our collective unconscious — even if the Dracula connection is tenuous at best and deceitful marketing at worst.
Still, out of my two weeks traveling around Romania, visiting Bran Castle was an obvious standout. And while I think Bran Castle is best visited while you're on a larger Transylvania itinerary, including cities such as Sibiu, Brasov, and Targu Mures, I can also understand if you want to do a day trip from Bucharest to Bran Castle if you have limited time in Romania.
Doing a Transylvania day trip from Bucharest is certainly doable, but it's not easy. The problem is that Romanian transportation is not the most reliable. On my two weeks traversing the country, we slid down one hill due to shoddy brakes before luckily coming to a stop, went on a number of extremely bumpy roads, and ended up delayed for hours due to a shepherd protest.
So, while going from Bucharest to Bran Castle in a day via public transit is definitely doable, you're going to want to wake up early and pack a bunch of patience with you (also bus snacks, which equal patience in my mind) since things in Romania tend not to ever go quite exactly as planned.
And while generally we are independent travelers who prefer to forge our own way than to take a day tour, due to the distance and logistics of getting from Bucharest to Transylvania, we think that Transylvania tours from Bucharest actually offer great value as a day trip option compared to the cost (and headache) of DIYing it all.
How to Get from Bucharest to Bran Castle by Public Transit (The Hard Way)
There are a few options when it comes to getting from Bucharest to Bran Castle via public transit.
The best and fastest option would be a combination of train + taxi. Get the train at Bucharest North (Gara de Nord) station. You can buy tickets online here, but it must be six hours before departure, or you can buy them at the station.
If buying online, be sure to enter the names in the Romanian (București Nord for Bucharest; Brașov for Brasov) or it won't work.
The train times vary between 2.5 hours and 3.5 hours, depending on when it departs and what route it takes. I'd recommend taking the 6:05 AM, 7:00 AM, or 8:05 AM train to give yourself enough time. There's a big gap between the 8:05 AM train and the next one at 9:55 AM, which is not ideal.
However – even though it says 2.5 hours, don't rest on that! Sometimes, Romanian trains experience a significant delay, so go early to account for any issues.
A ticket should cost 48.6 lei (a little more than $11 USD) as of July 2019, but you'll get a 5% discount if you book online. I haven't booked train tickets online before, so I'm not sure if you'd have to print out your ticket or if you could show it on your phone, so keep this in mind when booking.
For a return ticket, you are looking at about $22.50 USD per person for the train plus taxi fare to and from Bran.
I had private transportation between Brasov and Bran so I didn't need to make this trip myself, but I've heard that a taxi between Brasov and Bran costs 80 lei ($19 USD) if you're a good bargainer. To go back, it should be the same, though if you want the same driver you will also have to pay for his waiting time. Some taxi drivers may refuse to make the trip unless you pay them to wait and use them on the return journey too, so keep this in mind when bargaining with taxis.
Using train + taxi for a solo traveler, all in you're looking at $60.50 USD to do a DIY day trip from Bucharest to Bran Castle, not counting your transit to & from Gara de Nord, meals, entry tickets, or any price gouging you may experience from taxi drivers.
Theoretically, if you're on a budget, there is also a public bus from the Brasov bus station which goes to Bran. The bus should take about 45 minutes and leaves once an hour on weekends or once every 30 minutes on weekdays. It costs about 10 lei, ($2.50).
However, the Bus Station (Autogara 2) is quite far from the train station, just over 3 kilometers away (about a 45-minute walk), so you'd need to walk a while or take a taxi between the train station and the bus station, so keep that in mind when deciding between bus and taxi.
If you do it this way, walking between the bus station and the train station, you could go from Bucharest to Bran Castle for as little as $27.50 USD, again excluding your transit to and from Gara de Nord, meals, and entry tickets.
How to Get from Bucharest to Bran Castle by Rental Car (The Medium Way)
Theoretically, Bucharest to Bran Castle is only 187 kilometers – not so bad, right? Well, due to road conditions in Romania (and egregious traffic leaving Bucharest), that's probably closer to 3 hours.
You could rent a car for the day and do an independent trip to Bran Castle from Bucharest, which would make for an adventure, but with rental prices, insurance, and gas, it probably doesn't make sense economically unless you can gather up a group of 3 or more adventurers to make the trek with you.
However, if you do this, you can stop at a number of other awesome Transylvania sights along the way like Rasnov Citadel, Peles Castle, and more, which makes the journey more worth it.
Pro Tip: We've rented cars dozens of times in the Balkans through various search engines and have settled on Discover Cars as the best car rental search engine – it searches over 500 trusted rental companies to find the cheapest price for your rental! Compare prices for car rental in Romania here.
How to Get from Bucharest to Bran Castle (The Easy Way)
If ultimately, your goal is to visit Bran Castle from Bucharest as a day trip in the most stress-free manner possible, a tour is the way to go.
Taking a Bran Castle tour from Bucharest is pretty inexpensive, especially considering that most Transylvania tours from Bucharest don't just include Bran Castle but also Peles Castle (arguably even more beautiful than Bran!) and sometimes Rasnov Citadel as well. If you're traveling solo and would have done the taxi option, it's about the same price (but a lot less hassle) than DIYing it. For those reasons, I highly recommend an organized day trip to Transylvania from Bucharest.
If you go for a Bucharest to Bran Castle day trip, I strongly recommend this well-reviewed tour run by TravelMaker, which has over 600 positive reviews with an average score of 4.6/5 stars.
It covers both a Peles Castle and a Bran Castle, aka Dracula Castle, tour (including entry fees, but you're on your own for lunch). You'll also get some time to walk around Brasov city before returning to Bucharest in the evening. Check reviews, availability, and prices here.
Note: As per the tour website, "Between 16 September and 15 May, Peles castle is open from Wednesday to Sunday only. On Mondays and Tuesdays, Rasnov Citadel will be visited instead"
So if visiting Peles is a major draw for you when considering your tour, and you are traveling in the off-season, be sure to plan your departure day accordingly, avoiding Monday and Tuesday. Rasnov is really cool, but Peles would be my choice if I had to choose.
This tour looks cheaper on paper, but since it does not include entry fees, you will pay a bit more.
Another choice is to take a tour that covers Bucharest to Bran Castle, Peles Castle, and also Rasnov Fortress (which is awesome and worth a visit!). This is the tour that I recommend that covers all three, although please note when visiting that you will pay to pay for your own entry fees, which will be an additional ~100 lei (40 for Bran, 30 for Peles, 28 for Rasnov) or $24 USD.
Ultimately, the choice is yours – whether you want to spend more time in Brasov exploring the Old Town, or to see a third castle (Rasnov) which is in a bit of decay compared to Bran and Peles, but ultimately super cool as well!
Personally, I'd pick the tour covering all three castles since each offer something super unique, but if I wanted more time in Brasov I'd pick the first option.
Bran Castle Cost & Operating Times
Entry to the castle costs 40 lei (about $10 USD), though students are eligible for a discount. From the months of April through September, Bran Castle's hours are 9 AM to 6 PM. (Mondays throughout the year, it opens at noon, not 9 AM).
In the off-season, from October through the end of March, the hours are 9 AM to 4 PM, so keep this early closing time in mind if doing the public transit choice or personal car rental option from Bucharest.
Organized tours will keep in mind the opening hours and make sure you don't miss it.
What to Pack for Bucharest & Transylvania
If you're planning a trip to Romania, you'll want to pack all the normal essentials, but here are a few things we strongly recommend bringing that may not have crossed your mind.
– A physical guidebook, in paper or on Kindle. We love Lonely Planet Bulgaria & Romania for this region and strongly recommend it to supplement blogs. Blogs are great, but a combination of a blog and a guidebook is key to having the best access to information easily at your fingertips.
– Layers in case of poor weather. We had really bad luck with weather our last trip in Romania – it snowed before Halloween! We always recommend bringing a rainproof jacket like Allison's personal favorite, the Marmot PreCip, which she has had for years and has held up well to countless abuse over 3+ years of travels. (Here's a men's version, too!)
– A water bottle with a filter. While generally, the tap water in big cities in Romania is drinkable, such as in Bucharest and Brasov, we generally recommend using a water bottle with a purifying filter to reduce your plastic consumption and ensure you won't drink any funny-tasting water on your stomach that could make your trip unpleasant! We recommend the GRAYL water bottle – it filters water perfectly in an instant so that you can even drink from lakes, bad taps, etc.
– Motion sickness pills. Romanian roads are winding and road conditions are not good – not even getting into the drivers, either. If you have a weak stomach like we do, save yourself and bring some non-drowsy motion sickness pills.
– Wet wipes, hand sanitizer, TP & other Balkan transit needs. Bathrooms in the Balkans tend to be… how can we say it?… not so well-stocked. Save yourself the disappointment and bring a mini-rescue pack of wet wipes & hand sanitizer.
– Travel safety items. We think Romania is very safe to travel, but at the same time, it never hurts to be prepared! Some people like to carry money belts, but neither Stephanie or I use these. Instead, we both carry the same PacSafe anti-theft backpack. It has locking zippers, slash-proof construction with metal mesh hidden in the fabric, and tons of other smart security features — all while being cute and stylish enough to be our everyday bag. We recommend it highly for both male and female travelers, as its neutral enough to be unisex. We also strongly recommend travel insurance! Our recommendation is at the bottom of the post.
Romania Travel Resources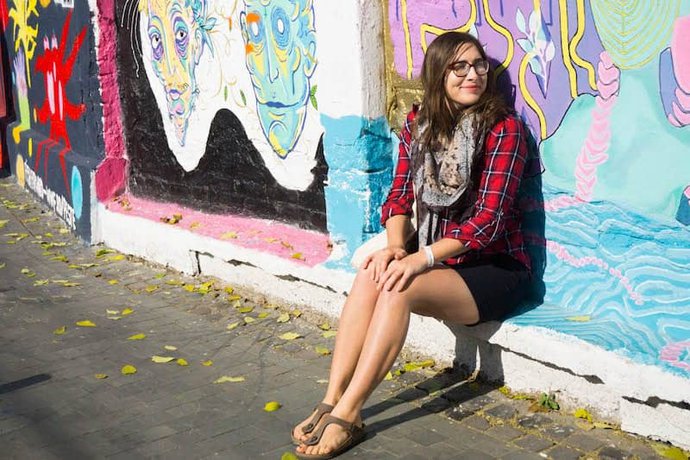 If you're going to Romania, we have a goldmine of resources for you to take advantage of! First, check out this guide to planning a trip to Romania. It's a good starting point for planning your trip.
Next, check out all the things to do in Transylvania and things to do in Bucharest. You can also check out our Instagram guides to Sibiu, Brasov, and Bucharest – more are on the way.
You can also read about the best Romanian castles, the Romanian food you should try on your trip, or how to plan some epic day trips from Bucharest (this is only one of them – we have 6 others!)
Where to Stay in Bucharest
Overnighting in Bucharest and not planning to stay in Brasov? Here are our tips for where to stay in Bucharest.
Budget: After having a bad experience with the owner of Pura Vida and Little Bucharest, I cannot recommend them to other travelers, especially solo women travelers. Instead, I'd suggest checking out Funny Hostel (check availability and reviews here) or Friends Hostel (check availability and reviews here).
Mid-range: Omega House is a gorgeous boutique hotel (which also has a few dormitory style rooms if you are a solo traveler with a slightly higher budget). The hotel has beautiful design and a spacious co-working space where you can make use of of Bucharest's speedy, best-in-Europe WiFi. It is near Piata Romana, my favorite part of Bucharest (and where many of the best coffee shops, bars, and restaurants are located). With a 9.0 rating on Booking.com (read reviews, see photos, and check availability here), I'd recommend this for travelers who want a step above a standard hostel without paying a ton
Luxury: I stayed at the Grand Hotel Continental during my first Bucharest trip and I can't recommend it enough if you have the money to spare. The room was elegantly furnished and the bed was ridiculously comfortable – the comforters and sheets were just so lush. The bathroom and room itself were crazy large and spacious (though the bathroom was oddly modern, to the point where the sink was really confusing and barely usable). I loved being a 10-minute walk away from the Old Town. I actually don't recommend at all staying in the Old Town itself, because it's super loud with drunks at all hours of the night. It comes highly recommended by me and others agree, considering it has a 9.0 rating on Booking.com from others (check reviews and availability here).

Don't Forget about Travel Insurance!
I'm sure you're aware that travel insurance is a good idea for traveling in Romania (or really, any part of the world)! Stephanie and I have both been paying customers of World Nomads for the last three years. We love the peace of mind it gives us in case of emergencies, accidents, illnesses, theft, or trip cancellation or disruption.
While the Balkans are perfectly safe to travel around, there's always a risk inherent in everyday travel, so it's better to play it safe. The saying goes "if you can't afford travel insurance, you can't afford to travel" is true!
>> Get a travel insurance quote for your trip here <<
Originally from California, Allison has been living in Bulgaria for the last two years and is obsessed with traveling around the Balkans. She has been published in National Geographic, CNN Arabic, Matador Network, and the Huffington Post. She loves befriending dogs, drinking coffee, geeking out about wine, and cooking food from around the world.