Cappadocia is a photography dreamscape, and an essential part of planning your visit to this magical wonderland is picking the best cave hotel in Cappadocia with epic balloon views.
While you may think that picking a cave hotel in Cappadocia will cost you a fortune, in reality, there is such a wide range of accommodations options that you really can have this incredible bucket list experience on a moderate budget.
I visited Cappadocia during a Muslim holiday, when the prices of all the accommodations were quite high, and I still only paid approximately $45 USD per night for a genuine cave hotel with an actual jacuzzi bathtub inside (of course, I paid more for a room with a tub, because I'm extra like that). The hotel had a lovely terrace with breakfast and sunrise balloon views, and while it was by no means as Instagrammable as other Cappadocia hotels, it was no less magical.
Commonly Asked Questions about Staying in a Cave Hotel in Cappadocia
I know it may seem crazy to sleep in a cave, so let me dispel some of the most common misconceptions and answer some questions about what it's really like to stay in a cave hotel in Cappadocia.
Q: Is it comfortable?
Yes, sleeping in a cave hotel is extremely comfortable! All cave hotels have electricity and modern conveniences like indoor plumbing. Most cave hotels have air conditioning and virtually all should have heating, though if you are traveling at a particularly hot or cold time of year, do your due diligence in ensuring the Cappadocia cave hotel you select has the appropriate climate control. The cave hotel I stayed in Cappadocia had air conditioning, a towel warmer, and a jacuzzi tub – hardly roughing it! However, I will note that WiFi can be tricky due to the thick cave walls, though generally, it is perfectly fast in the lobby or open areas.
Q: Is it dark and/or claustrophobic?
In many cave hotels there is not a ton of natural light but if you are staying in a larger cave suite with a big window then you won't have a problem! Most of the cave hotels I've researched have one window that you can open and close to control the light, so you won't feel completely trapped in the dark. If you are particularly claustrophobic you'll want to scour the photos of your room type to ensure you have a window. My room had a small window which helped me not feel too claustrophobic, and every cave hotel will have plenty of indoor light as well to brighten up your room and make it cozy.
Q: Is it expensive?
Delightfully, no, not at all! While of course there are several luxury cave hotels in Cappadocia that offer a premium service for a premium price, there are a number of quite affordable Cappadocia accommodations that will offer a similar experience for a quarter of the price (or less). I personally in a mid-range cave hotel, Chelebi Cave House, and for around $50 per night (in September during Eid Al-Adha, so pretty much as high season as it gets!). Despite the affordable price tag, I had a great experience! It can't compare to a luxury hotel, but for where to stay in Cappadocia on a budget, it was a fantastic choice.
A quick note on the budget categories below: I did a Booking search for them for one month in the future, a time that's not particularly peak season nor low season either. The prices I've listed below are based off the most affordable room at that hotel. However, various factors may change the cost of the room – staying in a double room vs. a more expensive suite, day of the week, seasonality, holidays and festivals, etc. – so please use these price ranges as a general guide rather than strictly accurate.
Where to Stay in Cappadocia: Luxury Cave Hotels in Cappadocia ($150/night+)
I'll start with luxury cave hotels in Cappadocia because they are something truly unique and spectacular, but budget travelers, don't fear as I will have plenty of recommendations for you on where to stay in Cappadocia on a budget near the end of the post. I haven't personally stayed in any of these hotels yet, but hopefully soon!
Sultan Cave Suites
The Instagram classic, you've undoubtedly seen the breakfast set-up at Sultan Cave Suites approximately eleventy jillion times during your scrolling on Instagram. While this is staged (the food is not meant to be eaten and you must take your turn to get the shot), there is an actually edible delicious Turkish breakfast spread ready for you once you've gotten your Insta pics, so you can snap your 'breakfast photos' without your food getting cold. Oh, also, there's an adorable dog included. Marketing genius.
But breakfast aside, let's talk the rooms and amenities. All of the rooms are quite spacious, setting aside any claustrophobic ideas you may have about staying in a cave hotel in Cappadocia.
Every room is technically a suite so there is not only just a room with a bed, but also a sitting area and modern bathroom all as part of the room. There are four sizes, ranging from smallest to bigger (and thus cheapest to most expensive): junior suite, suite, king suite, and sultan suite.
What each room has varies – some have a fireplace, others a giant balcony with views over the town of Göreme, so check through the photos of various rooms on Booking (you can do so here) and make sure you're getting the room you want.
If you want a glimpse inside the suites, this is what they look like – genuine cave rooms!
While I unfortunately haven't gotten the chance to stay in this hotel personally, the reviews on Booking back it up, so check them out here for detailed user experiences.
Some of the best amenities of Sultan Cave Suites include a gorgeous sun terrace with sweeping views of Göreme and its many fairy chimneys and fellow cave hotels, affordable shuttle service, a concierge who will help you organize excursions, a swimming pool, and a sauna/steam room at an extra charge if you want a day of pure R&R.
While Sultan Cave Suites often sells out, it is one of the more affordably luxury cave hotels in the region, with prices as low as $150 per night when you can be lucky enough to score a room. Not bad for the most photographed hotel in town!
>> Check out guest reviews, prices, and availability at Sultan Cave Suites here <<
Museum Hotel
Awarded both the Best Luxury Boutique Hotel and the Best Hotel Architecture in Europe, you can rest easy that Museum Hotel is one of the finest cave hotels in Cappadocia. It's located in Uchisar, not Göreme, which is a smaller town but Göreme is easily accessible by taxi if you want to head into that town and its famous carpet stores and open air museum. However, there are still plenty of restaurants and any tours you want to do will pick you up in Uchisar, so you don't have to feel envy that you're not staying in Göreme.
If you want a dreamy place for sunrise balloon photos, you'd be hard-pressed to beat the dreamy infinity-style pool at Museum Hotel – yes, breakfast can be included poolside! Better yet, the pool is heated so you can enjoy it even if you visit Cappadocia in winter.
The coolest thing about Museum Hotel is that its name isn't in vain: the hotel is literally set within historic ruins which have been renovated to provide an incredible hotel experience. It has a number of artifacts from around Turkey that create a 'museum' within a hotel, plus each room is furnished with invaluable antiques that you'd be hard-pressed to find anywhere else. Staying here is like staying in a living, breathing, 5* piece of history.
Rooms range from deluxe suites to spa suites with jacuzzis and stone massage tables. Some of these rooms are accessible through original tunnels that date back to the cave's original purpose, adding an extra layer of intrigue your Cappadocia cave hotel stay. Each room is extremely different with different levels of luxury increasing with each room tier, so be sure to go through the details of each room type before booking so as to avoid disappointment.
Here's a little walkthrough of one of their suites:
Museum Hotel is a step above other cave hotels in Cappadocia and is priced to match. You can get the lowest-level room for as low as $400 in the off season, but be prepared to pay double that in the peak season, so it's certainly a splurge (honeymoon, anyone?).
Certain rooms even come with a literal free wine tap so brb, pooling my life's savings in exchange for a paltry few nights' stay right now.
>> Curious? Check guest reviews, prices, and availability here. <<
Mithra Cave Hotel
For a luxury cave suite with fantastic views of the air balloons lifting off in the Cappadocia Valley from a gorgeous – with a cute pup included, to boot – Mithra Cave Hotel is a fantastic place to stay for Instagrammers and luxury seekers.
In addition to the beautiful rooftop terrace, there are plenty of luxury amenities worth enjoying at Mithra Cave Hotel. Air conditioning in every cave suite, spa and massage facilities on site, and wonderful design elements elevate Mithra Cave Hotel above its competitors.
Inside, they have gorgeous cave rooms that are stripped down and minimalist yet strikingly beautiful. It's not so fancy that it seems out of place with the cave concept, but it's still undeniably luxurious.
>> Check out prices, availability, reviews, and photos of Mithra Cave Hotel here <<
Hermes Cave Hotel
Named after the Greek messenger of the gods, this hotel surely gives you one of the best views in Uçhisar, one of the many villages in Cappadocia worth staying in.
Rooms are cleaned daily, and each one has its own ensuite bathroom (which is big you could even fit another bed inside!). The style is also very individualized, so each room kind of paints a story for those who will stay there. If you're someone who likes a hotel with personality and individuality, this is it!
The soft stone cave walls are also carved intricately, with detailing like pillars and geometric shapes, so it isn't the typical carved stone room you'd find in many Cappadocia cave hotels. Breakfast is served from 7:30 AM to 10:30 AM, and you can have it wherever you wish – indoors if it's cold outside or even outdoors with a beautiful view of the valley with its sunrise balloons!
It has a pool with a lovely view, perfect for scorching Cappadocia summers, but note that it is a little small. Since it is not heated, it is not available during winter.
The hotel can also accommodate bigger groups or families in their rooms. Some rooms have fireplaces, perfect to make cold winter nights cozier. However, past guests found it a bit strange that this luxury hotel does not provide a closet for your clothes — though this may be because of the layout of most cave rooms.
While most cave hotels in Cappadocia cater more towards couples, this hotel is great for children, who will be kept entertained with their indoor play area, board games, toys. If in case they are a bit short for the dining table, the restaurants have high chairs children can use.
Their on-site restaurant, Inside Restaurant, offers Mediterranean, Turkish, and international breakfast, lunch, and dinner. There are also some different wines and cocktails available if you want to try them. The terrace on the rooftop is perfect for sight-seeing (especially the beautiful rock formations and the morning dance of hot air balloons) and there is also some seating available.
The best part about their 24-hour reception is that they can assist you with any concern you need, travel or tours, and there is a night manager on staff to make sure that the best services are delivered to the guests no matter the time of day.
>> Check out guest reviews, prices, and availability at Hermes Cave Hotel here. <<
Door of Cappadocia Hotel
This family-run luxury property offers 18 stone carved rooms and a terrace with a stunning view of the morning hot air balloons.
The interiors of the hotel look like a beautiful underground palace — almost as if inspired by the underground cities Cappadocia is famous for. The hotel also looks picturesque at night when you see how the arches create shadows and the charming lights are all lit up.
You have choices from a deluxe room, junior suite,or a king suite, which are all fully-furnished with matching red sheets and covers. Despite being a stone-carved room, the walls are etched with brick-like shapes to imitate a brick wall.
Beds with canopies and vibrant rugs add a charming Turkish appeal to the rooms. The ceilings are also covered with wood, which also acts as a great soundproofing material. A chandelier in the middle of the room provides beautiful soft overhead lighting and a romantic design element.
Couples on their honeymoon should look at their King Suite because it has a tub that's perfectly set for two. They sometimes even sprinkle the entire room with some rose petals to make the room more romantic – aside from the red sheets, rugs, and curtains! The free breakfast is fabulous, and there are also international choices if you don't feel like a Turkish breakfast (but is that even possible, though?).
During winter the outdoor pool is closed, but it is perfect during summer when you need to just keep yourself cool. The service desk can also help you with any organized tours for a hassle-free itinerary. This is surely a contender for one of the most beautiful cave hotels in Cappadocia!
>> Check out guest reviews, prices, and availability at Door of Cappadocia Hotel here.<<
Where to Stay in Cappadocia: The Best Mid-Range Cave Hotels in Cappadocia ($50-150 per night)
Chelebi Cave House Hotel
This is where I stayed in Cappadocia and I found it worth every penny! I got an abnormally good deal and paid $50 per night for a double room with a jacuzzi (not a comped stay).
It was the high season because I was visiting during Eid Al-Adha and it was one of the few hotels left, so I was lucky to end up snagging such a beautiful hotel at the last minute despite the holiday. Generally, Chelebi Cave House Hotel is a little more expensive than what I paid now (perhaps they've increased their rates since I visited in fall of 2017) but it's still an excellent deal and absolutely worth it.
They had an absolutely delicious daily Turkish breakfast with an incredible view of fairy chimneys and other cave hotels nestled in Cappadocia's beautiful and unique topography.
I can say firsthand that the staff was really helpful and friendly, assisting us with booking tours around the city, organizing transportation from the airport (a long way away in Kayseri as the nearby Nevsehir airport was closed at the time), and figuring out onward transport to Pamukkale.
There are a variety of room options available, from suites to double rooms. I opted for the economy double but I got the jacuzzi upgrade because bathtubs are life.
For the sake of continuity with all the Instagram embeds in this article, my economy double room looked something like this – comfortable, but nothing too fancy, but what can you really expect at that price?
The rest of the building is quite beautiful, a traditional Greek house built in the Cappadocian style and dating back centuries. There are five cave rooms and three stone rooms so if you have your heart 100% set on sleeping in a cave room be sure to check the room description when booking and ensure you are getting the right room type.
>> Check out guest reviews, prices, and availability here <<
Henna Konak Hotel
While I love luxury hotels, realistically, I almost never book them. I travel more than most people do, about 50% of the time, and contrary to popular belief a lot of travel bloggers actually prefer to pay their own way with hotels rather than chasing complimentary stays based off exchange of services: these collaborations are often more trouble than they're worth. Therefore, mid-range hotels are what I tend to book, and I'm always keeping an eye out for affordable luxury hotels with personality and a keen sense of aesthetics.
When I researched the prices for Henna Konak Hotel I was truly shocked at how affordable one of the most beautiful hotels in Cappadocia is. Henna Hotel is absolutely gorgeous and it's way less "discovered" than Sultan Cave Suites, which I feel like I see on Instagram every other day. If your aesthetic is all about interiors, patterns, and a slightly off the beaten path vibe, Henna Hotel is a dreamy place to stay in Cappadocia.
While it's not a Cappadocia cave hotel in the strictest sense, its stone walls blend into the geography of the city in a traditional way that's been done for over 400 years, so if you're not strictly seeking to sleep in a cave room but are more interested in the historical architecture and traditional design of Cappadocia homes (as it used to be a mansion), it can be an excellent choice.
I'm especially in love with the detail of this exquisite breakfast room dating back to 1823 and preserved in pristine condition… I mean, who needs hot air balloons? Though of course, not to be outdone, Henna Hotel also has a gorgeous rooftop terrace where you can sit on some carpets that have been laid out and watch the balloons.
The rooms are beautifully designed with bespoke furnishings, and while they're not quite as luxurious as, say, a spa suite with a built-in massage table, they look extremely cozy and aesthetically pleasing.
Virtually every guest review raves about the host, Mustafa, and so you can rest assured that you'll receive 5* service with the intimacy that only a small boutique hotel can offer.
The hotel was used as a mansion until 2014, with rooms nearly 400 years old and decorated with the traditional stone-room structure you'll find in many Cappadocia cave hotels. The mansion underwent three years of renovation and opened as a boutique hotel in 2017, with only six rooms. As it's still rather new, everything feels cozy and fresh.
For an example of the interior, check out this shot provided by the hotel (you can peruse more photos here):
Each room comes with finely designed details like ornate doors as headboards, woven curtains, and traditional Turkish cotton sheets. All of this can be found in a small hotel that's kept its original structure, while adding modern amenities like air conditioning.
Keep in mind this is an extremely small boutique hotel that is getting more popular by the day due to its Instagrammability, so book in advance if you have your heart set on staying here.
>> Check out guest reviews, prices, and availability here <<
Wish Cappadocia
Wish Cappadocia wants to make your every wish come true staying at their property! This small boutique cave hotel in Cappadocia offers six rooms with well-fitted furniture that goes perfectly with the structure of the cave rooms. Some rooms even have a fireplace, and chopped wood is provided for your disposal — great if you're visiting Cappadocia in winter.
Some antique and vintage items were also used to add personality to the room. The bed headboards are made from walnut, which is known for its strength and rich color. The bathrooms are all tiled and a glass divider is present to keep the toilet area dry.
They have an Agora Hall, where you can enjoy the different local wines (yes, Turkey makes its own wine, and it's delicious!), pastries, and snacks alongside a good view of the Pigeon Valley. There is also a fireplace to keep you cozy during the colder season.
It is decorated with rustic furniture, and there are also some antique artworks to add a unique feel to the place. Their terrace offers you a different kind of view: it has log walls and outdoor furniture (as well as swinging knitted chairs) plus artistically arranged light bulbs. Here, you can see the moon and stars at night, or at sunrise, a polka-dotted sky due to the hot air balloons which fly nearly every morning.
The hotel can also arrange different activities for their guests who would love to explore more about the nearby tourist spots and events. They also offer free private parking on-site, and you can bring your pets at no extra cost!
>> Check out guest reviews, prices, and availability at Wish Cappadocia here <<
Charming Cave Hotel
Perfectly otherworldly landscapes and mid-range priced rooms are what Charming Cave Hotel offers. It is filled with Turkish furniture, and you can surely see magic once the night comes – the entire hotel exudes a beautiful golden glow due to its lighting.
This cave hotel is family-owned and operated, and with only 16 rooms, the hotel is able to provide personalized boutique service. Each room is beautifully styled, perfect for both couples and families traveling together.
Inside the rooms, the bed frames and chairs are intricately detailed, and you will also see colorful rugs on the floor. The rooms also have arches, which help create a more relaxed and spacious vibe inside the rooms. All of their cave suite rooms have a private bathroom with a hot tub, a shower, and a separate toilet.
The front area offers a nice place to sit and relax, as some trees and snaking vines provide shade in the morning and the balloon views are spectacular. They offer a simple breakfast with some fruits, deli meats and cheeses, and other local delicious treats. You may also request their special menu if you are allergic or intolerant to certain foods — just inquire before booking if you have specific dietary requirements.
Parking is also free on-site — no need to submit a special request. If you need shuttle services to or from the airport, they have a partner with a local transfer company who will see you to your final destination safely. You can also bring your pets at no extra cost! This property is usually booked fast, so if you like this place, then you should hurry and check below.
>> Check out guest reviews, prices, and availability at Charming Cave Hotel here <<
Where to Stay in Cappadocia: Best Budget Cave Hotels (Under $50/night)
Angel Cave Suites
Angel Cave Suites offers a total of 9 cave rooms within a really budget-friendly price range. Most of their rooms have a private bathroom with complete amenities plus a balcony with a view of the mountains or the city.
Each room is fully equipped with a TV, A/C, coffee and tea making facilities and seating areas. The furniture is made out of wood and is beautifully sculpted with intricate designs. Turkish rugs also help add color since most of the sheets and chair covers are in nude colors — it is a Cappadocia cave hotel, after all!
In the morning, they serve a long buffet table filled with a ton of delicious Turkish breakfast options to satisfy your hunger. You can check out their roof terrace for a nice sunrise or sunset view (balloons included in the morning!).
Though the entire hotel is made out of stone, you can still see the wood beams on the ceiling that helps support the structure, which creates a sense of height and design to the interiors and makes it feel less claustrophobic than the words "cave hotel" may make you think. The lobby area is a bit small, but there are comfortable sofas and tables where you can stay if you feel like not staying in your room but still prefer to be indoors.
If you want to rent a car, the 24-hour service desk can assist you (actually with anything you need). They also have secured parking spaces available for free. Past guests loved how efficiently their concerns and requests were attended.
>> Check out guest reviews, prices, and availability at Angel Cave Suites here <<
Cappadocia Caves Hotel
Cappadocia Caves Hotel is one of those rare budget-friendly hotels where you can get the most out of what they offer.
The bathrooms are perfect, the shower area is completely separated by a long glass wall from the toilet. The basins are also big, so you won't get the water splashing onto your clothes when you brush your teeth or wash your face. Some rooms have their own bathtub, so even if there's no pool on the property you can still enjoy soaking!
The rooms are really spacious — way more spacious than most other cave hotels in Cappadocia — with complete features like a clothes iron, fireplace in some rooms, long beds, closets, coffee and tea making facilities, etc. Each room differs, so be sure to read the specifics of your room before booking. The entire property is also fully covered with strong WiFi connection. Yes — WiFi in a cave!
Larger families can book two interconnected rooms so they won't have to leave the room to check on their loved ones. The Turkish breakfast buffet in the morning is excellent, but it does start off a bit late at 8:30 AM — not exactly sunrise time!
Anyway, you do have a coffee maker in your room which you can use to prepare some coffee while you are waiting for breakfast to be served. You have to try their jams and spreads too, and there's a wide variety of food to eat — vegetarians will rejoice!
They also have special features for guests with disabilities to ensure that their stay is as comfortable as possible. It has features like raised toilets, shower chairs, a shower that is wheelchair is accessible as well as emergency cords. It is quite difficult to find these in other cave hotels. Of course, we still recommend that you inquire with the hotel about your specific accessibility needs. There's also free parking for guests who have a car!
>> Check out guest reviews, prices, and availability at Cappadocia Caves Hotel here. <<
Travellers Cave Pension
One of the more affordable cave hotels in Cappadocia, Travellers Cave Pension offers a traditional cave room experience without a huge price tag. Opened in 2010, it's a small, 10-room boutique hotel so you can be sure to have a personalized experience. It even has a hidden underground hammam room if you want to add a spa experience to your stay!
There is also a peaceful garden and terrace with balloon and fairy chimney view for all guests to enjoy. It offers a combination of stone and cave rooms so if you really want a cave room, be sure to clarify that when booking.
The rooms feature traditional Turkish furnishings and private en-suite bathrooms. They have central heating in the winter although no air conditioning in the summer. The stone walls should not make the heat an issue but in the case of abnormally high temperatures this could potentially be uncomfortable, so keep that in mind.
>> Check out guest reviews, prices, and availability here <<
Gedik Cave Hotel
Another budget-friendly place to stay in Cappadocia, Gedik Cave Hotel offers an affordable option in the heart of Göreme town. This stone-built mansion is exquisite, and it offers a lovely terrace and cozy cave rooms (though like the abovementioned hotel, not all of them are authentically caves, so inquire if that is a strict selling point for you).
Guests have raved about the Turkish breakfast and the roof terrace from which you can watch the balloons in the morning.
Each room has central heating and an en-suite bathroom and garden views, however, if you are traveling summer, keep in mind that this hotel does not have air conditioning. While generally, the stone construction keeps rooms cool, if there is a heat wave I would imagine it could get uncomfortably hot.
>> Check guest reviews, prices, and availability here <<
Here's a sample room pictured below:
5 Things to Bring to Turkey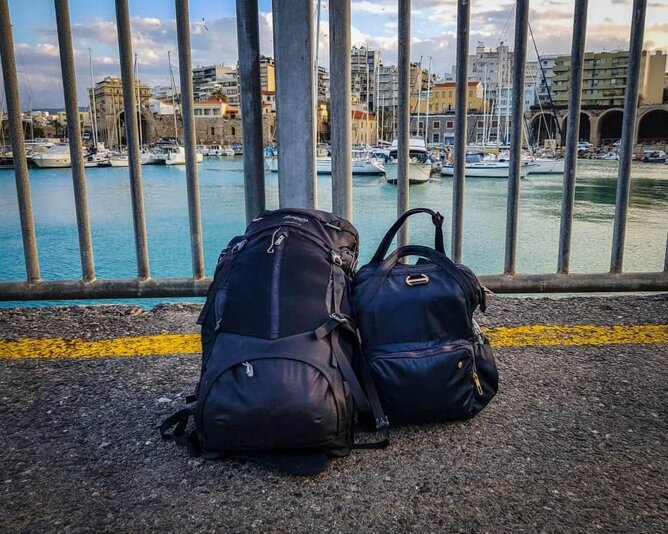 We have a full list of what to pack for Turkey in every season, but here are five things you definitely want to bring with you!
The Lonely Planet Turkey: a good guidebook can help you with the kinds of safety tips you need if you're out and about and feel a bit lost, especially if you don't have internet or a cell signal. These also have specific guides to every town in Cappadocia (which is a region, not a town in itself), and it's a great supplement to blog posts like this one!
Unlocked Cell Phone: Stephanie and I both have unlocked cell phones that we bought in Europe (Stephanie uses a Samsung and I use an iPhone). This allows up to get sim cards when we travel so that we always have the internet. This has gotten us out of so many jams! If you don't have an unlocked cell phone that can use a Turkish sim card, you can buy a cheaper unlocked phone online and bring it with you!
Pacsafe Citysafe or Other Anti-Theft Bag: This is the bag both Stephanie and I use for all our travels. It has a pouch with RFID technology so our credit cards can't get scanned from afar, interlocking zippers to make it harder to pickpocket, and it's roomy enough to be a perfect sightseeing day bag, yet it's still quite stylish for all of its security features. If you'd rather bring something smaller, you can pack a money belt instead. While pickpocketing isn't much of a concern in Cappadocia, if you're also visiting a big city like Istanbul, we do suggest strongly suggest it.
Grayl Water Filter: It generally isn't safe to drink the tap water in Cappadocia, although you could ask your hotel what they think. If you don't want to be buying millions of plastic water bottles, we strongly recommend a reusable water bottle that comes with a water filter like this Grayl water bottle that filters out literally 99.999% of so that you can sanitize the tap water and reduce your plastic consumption.
A fantastic Instagram dress: If you stay in a cave hotel and don't 'gram it wearing a beautiful dress, did you even go to Cappadocia though? We love this maxi dress (and there's a super-cute plus size version here), as well this this maxi skirt.
More Turkey Travel Resources
If you're curious about the most Instagrammable places in Cappadocia, we've got you covered. We've also written a 3-day itinerary for Cappadocia, a guide to some of the best things to do in Cappadocia, and a review of the Cappadocia Green tour
You're likely also planning a trip to Istanbul if you're headed to Cappadocia. We have a guide to the best things to do in Istanbul, which we're continually improving, but for now, you can check out our Instagram guide to Istanbul, our favorite Istanbul neighborhoods and where to stay, and tips for shopping in Istanbul.
If you're looking for some specific Istanbul hotel recommendations, we have guides to Istanbul hotels with a Bosphorus view and hotels near the Blue Mosque.
For more general Turkey information, check out this guide to planning a trip to Turkey (including visa information) and this guide to other beautiful places to visit in Turkey.
We have tons more Turkey and Balkans resources, and we publish new content nearly daily. Bookmark our Turkey and Balkans travel pages so you can find any new resources that come out before your trip!
Headed to Cappadocia? Don't Forget Travel Insurance!
If you're planning a trip to Cappadocia, make sure to travel with a valid travel insurance policy. While we feel safe in Turkey, especially in Cappadocia, you need to be covered in case of an emergency. Travel insurance covers you in case of theft or an accident, which can save your trip if there's an incident.
For travel insurance, I use World Nomads. I've been a happy customer of theirs for almost three years, and I've never had an issue when making a claim. I'm happy to refer them to anyone I meet.