This post may contain affiliate links. This means that if you click a link, we may make a small commission off any subsequent purchase, at no extra cost to you. For more information, please check our privacy policy.
We think that Borovets is one of the most underrated destinations in Bulgaria for a ski holiday. It's close to Sofia (and super easy to get there!), cheaper than Bansko, and full of wonderful ski resorts in Borovets that won't break the bank while providing all the amenities you expect from a ski resort.
We've picked out the best Borovets ski resorts for a variety of budgets and picked out two holiday homes as well, perfect if you're planning a Bulgaria ski trip with a larger group.
In general, our budget categories go as follows: a budget Borovets ski resort is under $100 USD per weekend night, a mid-range ski resort in Borovets goes for around $100-200 USD per weekend night, and a luxury Borovets ski can go for slightly upwards of $200+ USD per night.
However, keep in mind that we based these prices off a random Saturday in January. If you travel in the very peak season, such as the period between Christmas and New Years, expect prices to be as much as doubled at times! Meanwhile, if you travel during the weekdays and limit your weekend days, you'll likely find that you're able to get quite a good deal on accommodations in Borovets.
So, without further ado, here are our top recommendations for where to stay in Borovets, Bulgaria: the best ski resorts in the city!
Want to save this post for later? Click to pin!
Budget
Hotel Festa Chamkoria
The location of the hotel is peaceful and perfect — it is just right beside the ski slope. It boasts complete family-friendly features for as low as $84 USD (that's for 2 adults and 2 kids!) per night. Try to book it for the early ski season to get a good deal like this!
All rooms are soundproofed and have a balcony with a mountain view. The hotel's decor is the perfect embodiment of winter – the interiors are mostly white! The ensuite bathroom comes with the usual toiletries, a hairdryer, as well as fluffy bathrobes and towels. For someone who can't live without caffeine (raises hand), each room has its own coffee and tea making facilities. While breakfast is inclusive, you can also request dinner with a wide selection of food!
If traveling with a family, there are a few family-friendly features to note. They have an outdoor playground and an indoor kids' club for children. You can also request extra cribs or beds; just make sure to communicate this request before your arrival, as it can sometimes be unavailable due to the number of guests.
But not only kids can enjoy! For friends traveling here in a group, there is a bar inside where you can have some drinks. You can also take a dip in their year-round indoor heated pool, relax in the steam room or sauna, go to the spa for beauty treatments and massages.
»» Check out guest reviews, prices, and availability at Hotel Festa Chamkoria here ««
Euphoria Club Hotel
This 4-star design-inspired hotel is a skier's paradise. The rooms look lovely in neutral light colors with touches of red, which give it a romantic appeal. Skiers are provided with free private ski storage, and if you didn't bring your own gear, you can rent equipment directly at the hotel for a reasonable price.
The beds are comfortable and extra-long, to ensure that your sleep will be relaxing. In the morning, you will love the forest and snow-covered mountain view from your balcony.
Parking is free, but if you decided not to bring a car, then you can also take their free shuttle to and from the gondola lift or slopes. For some R&R, you can take a dip in the hot tub or visit their spa for a massage, facial, or other body treatments.
Families will be happy to note a few facilities that are perfect for them. If you need someone to watch over the kids while you enjoy the slopes or have a night out, you can utilize the hotel's babysitting services. Keeping them entertained at the outdoor playground is also an option.
Those who do not ski can still enjoy swimming in their indoor pool, playing in their game room, relaxing in the lounge with a book, having cocktails at the bar, or renting a bike to go around nearby locations (weather permitting!). There are just so many things you can do at this hotel, and with the low price, it's definitely a good bang for your buck.
»» Check out guest reviews, prices, and availability at Euphoria Club Hotel here ««
The Lodge Hotel
Considered to be one of the first boutique hotels in Bulgaria, The Lodge Hotel is one of the most well-reviewed hotels in Borovets. It's a small, personal hotel with only 17 rooms and suites, so you can rest assured there is a great deal of attention to detail individually provided.
The rooms are simple yet elegant and have features like a minibar, private bathroom with toiletries, and safety deposit boxes for your important belongings. If you want a balcony or patio, take a look at their larger suite options.
A unique feature of the rooms is their underfloor heating which helps keep maintain your desired temperature — no frozen toes here!
First time skiers can get guidelines on their ski school inside. You can also buy or hire ski equipment here. It's right next to the gondola entrance (literally 20 meters away!), so it's perfect for skiers and snowboarders who don't want to waste any time in transit to the slopes!
They also have wellness amenities like a fitness center, sauna, spa, steam bath, hot tubs, and two heated indoor pools. Those who do not wish to go outside for meals can dine in their restaurant and bar (though Borovets does have some delicious restaurants!)
If you're lucky, you can get their suite for two that includes a private pool for $100 USD – that is such a steal! People looking to get married can book their bridal suite. If you feel like riding a horse or renting a car, they can arrange those have it too.
For people with kids, there are some amenities for you that make your trip even more relaxing. You can keep kids busy at their playground, enjoying board and puzzle games which are provided, or utilize the hotel's own babysitting services.
»» Check out guest reviews, prices, and availability at The Lodge Hotel here ««
Radina's Way Hotel
You will be welcomed by the fresh breeze from the mountain the moment you arrive! The rooms are well-maintained and cleaned every day plus there are multiple configurations for different family sizes. Details of warm colors complement its simple and elegant theme.
You can also rent ski equipment and have a private instructor for yourself at an additional charge. And you can even take a tour around the facilites on a sleigh pulled by horses! What a wonderful way to start that much-awaited vacation (and please any kids you're traveling with!)
Guests enjoyed the free buffet breakfast due to its healthy options. There is also a restaurant inside the hotel that serves international breakfast, lunch, or dinner at an extra charge. The bar also has a good selection of drinks and cocktails.
Keep your vacation stress-free by availing some of the services at their spa center. You can also enjoy other free wellness activities in their fitness center, Finnish sauna, geothermal pool, and steam bath. To ensure safety, they have a separate children's pool for free.
Just in case you need someone to watch over the kids, you can leave them at their kids' club where a trained staff member can watch them. Cots and extra beds are available at no extra charge.
One thing to note is that it's a little outside the center of Borovets and a bit away from the ski lift. There is a shuttle which connects you to the town center and the ski lift, but it doesn't run extremely frequently, so you may prefer to stay here if you have your own car rather than relying upon the shuttle and taxis.
»» Check out guest reviews, prices, and availability at Radina's Way Hotel here ««
Mid-Range
Ice Angels Hotel
Ice Angels is the biggest 4-star hotel in Borovets, Bulgaria. That said, the hotel only has 40 rooms, and you can choose from a double, a studio or a suite type (some even have private fireplaces!).
The rooms are spacious, which makes it a very big space for couples and perfect for families on a vacation. Guests will feel like a celebrity upon entering the hotel because you will walk on their red carpet! The hotel has a very high demand during the peak of the ski season, so be sure to book in advance if this Borovets ski resort catches your eye.
Most of its amenities are world-class and newly renovated. They have an International Ski & Snowboard Center where you can learn the basics of these winter sports if it's your first time hitting the slopes.
You can check their restaurant for a delicious experience of Bulgarian and international cuisine, or even party at their night club! If you prefer some peace and have some shots or drinks, then you can visit their lobby bar. For someone who wants to rejuvenate themselves, spa facilities like a warm jacuzzi, Turkish bath, sauna, and other delightful treatments are available: a perfect treat after a long day of skiing.
Due to the night club and lively lobby bar, the hotel can be a bit loud and is perhaps not the best place for families. It'd be far better for a group of friends who enjoy a lively apres-ski scene!
»» Check out guest reviews, prices, and availability at Ice Angels Hotel here ««
Festa Winter Palace Hotel
This is a 5-star hotel that looks very grand – it's really like a palace! It has a total of 66 rooms — some even with fireplaces. The rooms are very stylish, spacious and elegant, each having its own balcony showcasing the view of the ski slopes and the mountains. You will be surprised by beautiful surprise decor elements like tiny hummingbirds and antelopes completing the interiors!
For someone who hates wet toilets that often come as a result of poorly designed bathrooms (raises hand), rejoice for the toilets are divided from the shower. As someone who's been living in Bulgaria for years and is always shocked by the poor bathroom design — this may sound silly but it's pretty freaking cool!
The quality of the buffet breakfast is also wonderful according to guests. There are two restaurants and a café inside, where you can enjoy meals or sip some warm coffee. Use of amenities like the pools, steam rooms, sauna, and fitness center is inclusive of your stay. There are also wonderful choices of treatments you can avail in their spa.
For skiers and snowboarders, the location couldn't be more perfect, as it's just 100 meters away from the ski lift! It's nearby to several restaurants as well.
It's a kid-friendly hotel, so bring along the whole family! Kids can meet new friends in their indoor play area (which is quite cute and safe) or watch their TV programs with children's shows available. Cots for kids under 2 are free; there is a charge for kids over 2 if they require an extra bed.
»» Check out guest reviews, prices, and availability at Festa Winter Palace Hotel here ««
Borovets Hills Ski & Spa
This gorgeous hotel has a total of 65 rooms, where you can choose from a double, a suite, or an apartment-type stay. The floors are all carpeted and have vibrant and regal colors that perfectly complement and create a beautiful space.
Breakfast and dinner are included. For someone who is very conscious about what they intake, you can check their menu which caters to special diets. There is also a café inside the hotel and the restaurant offers a fine dining experience where you can see how they prepare authentic Balkan dishes right before your eyes! Parking is also very convenient and free.
Skiers can store their equipment safely in the ski storages provided. Someone who doesn't know how to ski can try their ski school! The ski lift is only two minutes' walk away, so there's no time like the present to indulge in some winters sports.
The spa offers a great pampering experience, but you can step up your relaxation game with their hammam, massages, and hair and nail salon. There's also a swimming pool, a steam bath, a hot tub, a fitness center, a sauna, and my personal favorite — a salt room!
If you want to bring back some Bulgarian souvenirs for your loved ones, they have an on-site gift shop for easy souvenir shopping.
For families, there are a few things to note. Children aged three years old and below are free of charge, and you can get them either a free cot or extra bed upon request. For a busy day skiing where you can't bring your kids (or a night out sans kids), you can leave them safely at the kids' club where a trained staff member can supervise them and keep them entertained with some activities and amusements! There are also indoor and outdoor kids playgrounds.
»» Check out guest reviews, prices, and availability at Borovets Hills Ski & Spa here ««
Luxury
Rila Hotel Borovets
The architecture of Rila Hotel Borovets is very modern, with an unusual triangular shape. It is classified as a spa hotel and you will notice a lot of wood in their interiors which makes you feel peaceful and calm. The rooms are also decorated with wooden furniture, that remind you of an upscale version of gorgeous Scandinavian designs. While Borovets is indeed safe, guests will feel an additional layer of safety due to the 24/7 security presence.
If you feel lucky that day, try your best at their on-site casino! Other activities like horse riding, cycling, and a games room with darts and billiards will keep you occupied when you're bored. Though with the ski lift only a few meters away, why would you get bored?
You can also try their spa amenities — they're one of the best, if not the best in the area. They have a 25-meter long heated indoor pool, hot tubs, a salon, hammam, fitness center, sauna, and wellness services such as massages and more.
A breakfast buffet is included in your stay and what parents love the most is the selection in their kids' buffet. If nothing from the buffet fits your kids' liking, you can check their a la carte kids' menu too — perfect for picky eaters. For families, note that cots for kids under 2 are free; there is a reasonable charge (40 leva per child) for extra beds for kids aged 3-11.
»» Check out guest reviews, prices, and availability at Rila Hotel Borovets here ««
Hotel Yastrebets Wellness & Spa
The hotel has a next-to-nature design, making it look like a huge luxurious cabin — a lot of wood was used to make it, giving it an extremely natural and beautiful aesthetic! In fact, it has been awarded multiple times as Bulgaria's leading resort by the World Travel Awards!
Outdoors, you will see the square-shaped wicker chairs in their patio, which look stunning. All of their rooms have a minibar, mountain view, safety deposit boxes, a personal wardrobe, a balcony with the view of the mountain, and free toiletries.
A/C and heating are also available depending on the season you arrive. The ensuite bathroom comes with free toiletries and all of their shower gels, shampoo, soap, and conditioners are organic.
Outside of the hotel are countless fragrant pine trees, that add a spectacular view from your room terrace. Most guests have loved their free breakfast, and many guests noted that they always looked forward to the themed dinner nights hosted at the restaurant.
Families who love to bond over a BBQ can pay additional to use their barbeque facilities. And even better — you can even bring your pets with you; just make sure to coordinate with the hotel and pay applicable fees! You can also check their on-site bar, restaurant, and café.
Aside from the free pool and wellness activities you can do, there are also a ton of other paid activities like archery, bike tours, badminton and tennis equipment rentals, horse riding and fishing which you may ask about at their 24-hour service desk.
For an extra special occasion, take a look at the incredible Finnish chalets they have on site, where you can stay in a wooden cabin, either one or two bedrooms — and some even have their own sauna! The price is a little high for this experience, but for a special occasion, I can't think of anywhere more cozy or romantic to stay in Borovets.
»» Check out guest reviews, prices, and availability at Hotel Yastrebets Wellness & Spa here ««
Holiday Villas
Saint George Holiday Village
The villas provide a private, homey feel to every family vacation! It can also be considered as a perfect place to celebrate special occasions due to its privacy.
During winter, the villas will remind you of Christmas villages! Each villa features a living room with a fireplace and a seating area. There's also three large bedrooms, two bathrooms and the floors are made of warm-toned wood parquet — perfect for large groups. The entire villa is equipped with speedy internet, so you don't have to disconnect completely (unless you want to!).
In the "holiday village," there is a restaurant that serves an international menu — you can also have breakfast there. Private parking is also available for those who wish to rent a car or are traveling with their own personal car. Kids can also have fun at the playground nearby.
Skiers who were not able to bring equipment can rent directly at the site. However, the ski storages are not inclusive of your stay and additional fees apply. There is a 24-hour service desk in the village if you need anything, so it's the comfort of having your own home with the convenience of a receptionist on call at any hour!
»» Check out guest reviews, prices, and availability at Saint George Holiday Village here ««
Villa Elena
Villa Elena is a huge villa with 8 bedrooms that are simple, big, and clean. The villa can accommodate 20 people or more, so it's perfect for a family reunion or giant ski trip with friends!
The kitchen and dining area are complete with anything you would need to prepare and eat your meals. Everyone can feel warm in the living room because of the fireplace surrounded by a nice sofa. Kids (and adults, let's be honest!) can enjoy making s'mores here! Free speedy WiFi is also available in the entire property.
Both the garden and terrace are a nice place to stay and watch the beautiful views of the mountains. The patio outside is where you can gather for a nice barbeque if it's not too cold to heat up the grill and hang out outside!
However, it will be a good idea to bring your personal toiletries, especially towels, because there is an additional fee to get them there. If you feel tired at the end of the day, you can sit and relax at the sauna inside the villa. The overall experience of guests who stayed here was great!
»» Check out guest reviews, prices, and availability at Villa Elena here ««
What to Pack for Winter in Bulgaria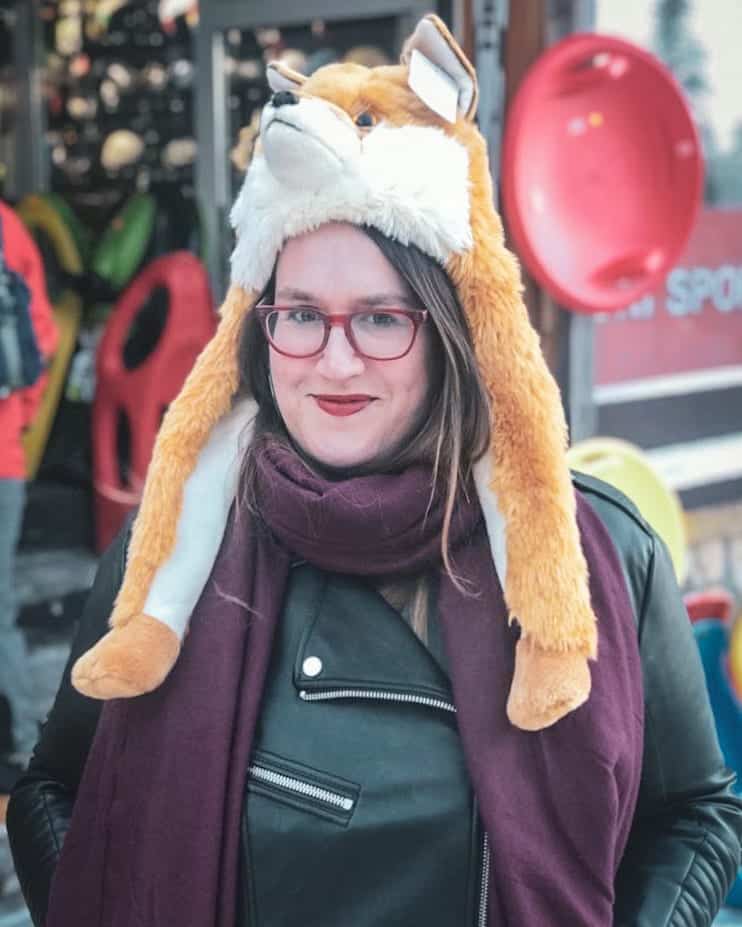 We have a full Bulgaria packing list, but in case you just want the quick version, here are a few essentials you shouldn't forget to pack!
A good guidebook: While travel blogs are great, we still think a good guidebook is always handy. We own and strongly recommend the Lonely Planet Bulgaria & Romania for travel in Pamporovo and beyond!
One or two swimsuits: While swimsuits may not come to mind for ski season, if you're staying in a ski resort with a sauna, indoor pool, or steam room, you'll likely want one! We suggest bringing two so you never have to put a cold wet one back on. We love this one.
Plenty of winter clothing: You can check our packing list above for our full winter packing suggestions for men and women. At a minimum, you'll want to bring a warm winter jacket (I love this North Face parka), cozy snow boots, warm wool socks, touch-screen friendly gloves, a scarf, and a winter hat.
Any ski equipment and clothing: We're not skiers ourselves, so we don't have specific ski gear equipment, but special ski clothes — waterproof pants and jackets, goggles, etc. — and ski gear obviously should be on your packing list, unless you have decided to rent it all when you arrive at your Bulgaria ski resort.
Moisturizer: Travel will beat your skin up in the best of times — and winter travel in addition to skiing will really do a number on it! If you use a moisturizer at home, bring it. If you've never used a moisturizer before, you really should start. You'll be happy to give your face a boost before heading outside in the cold all day.
Sunscreen: We strongly suggest wearing sunscreen when you spend time outdoors, no matter the weather outside. The higher altitudes combined with the reflection of the sun off the snow can lead to unexpected sunburns. I love this solid Neutrogena sunscreen – it's mess-free, works well in carry-ons, is ultra-protective, and blends in well.
More Bulgaria Travel Resources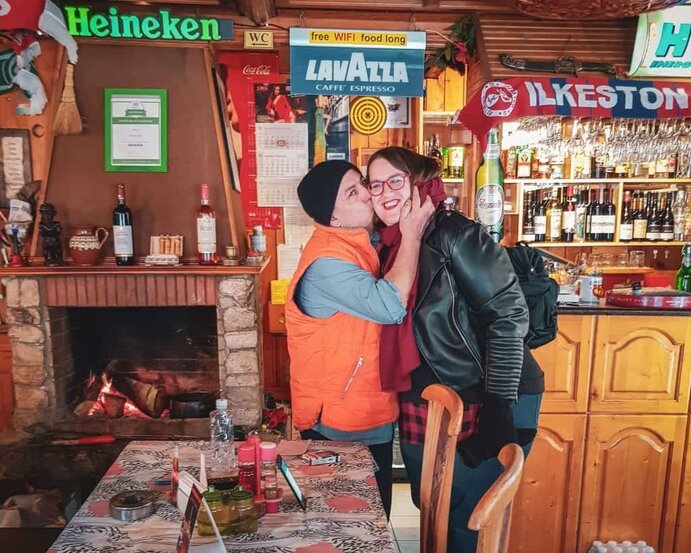 If you're coming to Borovets for skiing or hiking, make sure to set aside some time to enjoy the town! We found that the hospitality in Borovets exceeded our expectations tremendously! Here are our Borovets restaurant recommendations for your trip. You'll also want the directions for getting from Sofia to Borovets, as well as from Borovets back to Sofia.
Of course, you'll want to know what to pack! We have a Bulgaria packing list which covers winter clothing for men and women here; however, since we're not skiers or snowboarders, you'll have to fill in your own gear knowledge if you plan to bring any winter sports equipment.
Since you're planning a winter trip, we have some more winter ideas for what to do in Bulgaria in winter, as well as what to do in Sofia in winter (if you're visiting Sofia as well!).
If this is your first trip to Bulgaria, read up on our Bulgaria trip planning checklist. You may also want to brush up on our guides to the Sofia airport and Sofia taxis, which will help you plan the logistics of your trip.
If you intend on spending some time in the capital before or after your trip, we have guides for things to do in Sofia, along with our Sofia restaurant and bar guides, plus where we recommend you stay in Sofia.
Going Skiing? Update Your Travel Insurance Policy
Finally, make sure you always ski with an updated travel insurance policy. Any time you'll be doing adventure sports and outdoor activities, you want to have travel insurance to cover you in case you get hurt. One of my best friends got in a skiing accident in Switzerland and had to be flown home. Without travel insurance, she would have gone bankrupt. However, they covered her ACL surgery in full.
For travel insurance, I use World Nomads. Important note: if you plan to ski or snowboard, be sure to opt for their Explorer plan, as the standard plan does not include winter sports!
I've been a happy customer of theirs for almost three years, and I've never had an issue when making a claim. I'm happy to refer them to anyone I meet.
Originally from California, Allison has been living in Bulgaria for the last two years and is obsessed with traveling around the Balkans. She has been published in National Geographic, CNN Arabic, Matador Network, and the Huffington Post. She loves befriending dogs, drinking coffee, geeking out about wine, and cooking food from around the world.