This post may contain affiliate links. This means that if you click a link, we may make a small commission off any subsequent purchase, at no extra cost to you. For more information, please check our privacy policy.
If you're looking for some cheesy Albania puns that will make your Albanian friends cringe (or to perfectly suit your Instagram feed with some punny Albania Instagram captions), this is the post for you – literally!
No post gathering up puns about Albania existed on the Internet before, so we have bravely gone where no internet denizen has before to come up with this killer list of hilariously bad Albania puns and jokes for you to use on all your friends (or on your Instagram).
So, without further ado, here are 23 hilarious Albania puns for you to enjoy!
23 So-Bad-They're-Good Albania Puns
Puns about Tirana
I want Tirana-way with you.
Tirana have a drink with me?
I'm hoping all this meditation lets me reach Tirana
General Puns about Albania
I've been bunkered down in Albania for the past few days — it's pretty great here!
Alban around the world, but there's no place quite like Albania.
I've only been here for a few days, but I've already got Al-mania!
Have you heard about Albania? Visiting is really Shqip!
Oh, Albania. It's just the Theth.
Don't Berat me for posting too many photos of Albania, it's just too beautiful.
The thought of leaving Albania has me under great Durrës.
Koman down to Albania!
Puns about Saranda & Southern Albania
Don't sweat the Ksamil stuff. [Note: Ksamil has a silent K]
Luckily, Butrint hasn't been ruined by an excess of tourists.
Standing on the balcony, enjoying the view from my Saranda(h)
Gjirokaster a-stone-ished me with its beautiful architecture
Puns about the Albanian Riviera
I'm just Vlora'd by this view.
Hima-lready thinking about my return trip to the Albanian Riviera.
A tan is the best Dhermi-tologist money can buy.
The best thing about the Albanian Riviera? It's so Gjipe!
Jala be back to the Albanian Riviera next year.
5 Things to Bring to Albania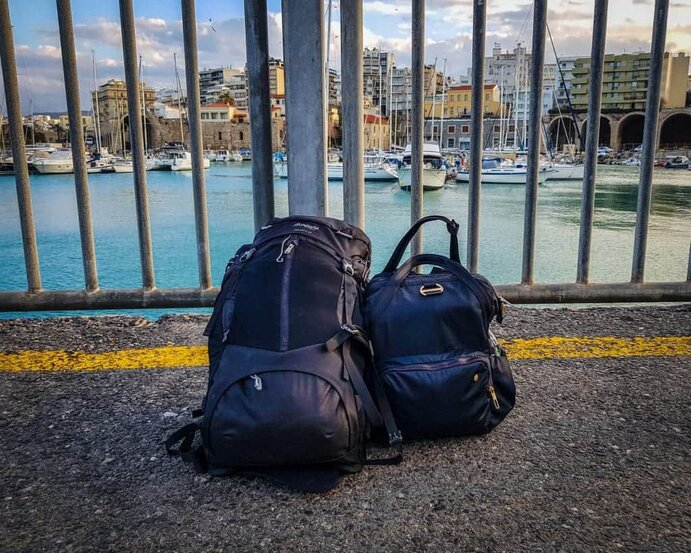 We have a complete packing list for Albania, but make sure you bring these five items with you!
Lonely Planet Western Balkans is a great guidebook for your visit to Albania, and it's great if you're also visiting any combination of the following countries: North Macedonia, Kosovo, Bosnia, Serbia, Croatia, Montenegro, and Slovenia. It can be really hard (sometimes impossible) to buy a physical guidebook in English once you're in Albania, so if you like having your guidebook in your hands you will need to bring it with you from home.
A water bottle with a filter. While generally, the tap water in big cities in Albania is drinkable, such as in Tirana and Sarande, we generally recommend using a water bottle with a purifying filter to reduce your plastic consumption and ensure you won't drink any funny-tasting water on your stomach that could make your trip unpleasant! Albanian water has a notoriously high amount of chlorine that affects the taste.
We recommend the GRAYL water bottle – it filters water perfectly in an instant so that you can even drink from lakes, bad taps, etc.
Wet wipes, hand sanitizer, TP & other Balkan transit needs. Bathrooms in the Balkans tend to be… how can we say it?… not so well-stocked. Save yourself the disappointment and bring a mini-rescue pack of wet wipes & hand sanitizer.
Unlocked Cell Phone: Steph and I both have unlocked cell phones that we bought in Europe (Steph uses a Samsung and I use an iPhone). This allows up to get sim cards when we travel so that we always have the internet. This has gotten us out of so many jams! If you don't have an unlocked cell phone that can use an Albanian sim card, you can buy a cheaper unlocked phone online and bring it with you!
Travel safety items. We think Albania is very safe to travel, but at the same time, it never hurts to be prepared! Some people like to carry money belts, but neither Steph or I use these. Instead, we both carry the same PacSafe anti-theft backpack. It has locking zippers, slash-proof construction with metal mesh hidden in the fabric, and tons of other smart security features — all while being cute and stylish enough to be our everyday bag. We recommend it highly for both male and female travelers, as it's neutral enough to be unisex. We also strongly recommend travel insurance! Our recommendation is at the bottom of the post.
Read next: Essential Albania Packing List: What to Wear & Pack for Albania
Where to Stay in Albania
We're in the process of creating comprehensive guides on where to stay in various Albanian cities, but for now, we recommend checking out Booking.com as early as possible. While Albania is underrated by international travelers, many of the best places can book early during the high season because Albanians know where to go.
More Albania Travel Resources
First, start by reading our post on planning a trip to Albania. It covers everything from visas to vaccinations to what to pack, so it's a great jumping-off point for your travel plans.
Next, check out our Albania packing list and our suggested one, two, and three week Albania itineraries.
If you're curious about the currency used in Albania and how tipping works, we recommend our Balkan currency guide to learn all about the Albanian lek and tipping culture. We also have a post on Albanian cuisine!
If you're looking for even more places to add to your Albania itinerary, we have a bunch of ideas for you from us and other bloggers in this collaborative post about the 15 best places to visit in Albania!
We are working on all of our Tirana guides, but for now, we have posts on the best restaurants in Tirana, the best Tirana cafes, and the best Instagram spots in Tirana.
We add new content almost daily! We recommend you bookmark our homepage, our Albania page, or our general Balkans page to refer to when planning your trip.
Don't Forget About Travel Insurance!
If you're planning a trip to Albania, make sure to travel with a valid travel insurance policy. While we feel safe in Albania, it's a good idea to be covered in case of an emergency. Travel insurance covers you in case of theft or an accident, which can save your trip if there's an incident.
For travel insurance, Steph and I use World Nomads. I've been a happy customer of theirs for almost three years, and I've never had an issue when making a claim. I'm happy to refer them to anyone I meet.
>> Get a travel insurance quote for your trip here. <<
Originally from California, Allison has been living in Bulgaria for the last two years and is obsessed with traveling around the Balkans. She has been published in National Geographic, CNN Arabic, Matador Network, and the Huffington Post. She loves befriending dogs, drinking coffee, geeking out about wine, and cooking food from around the world.