This post may contain affiliate links. This means that if you click a link, we may make a small commission off any subsequent purchase, at no extra cost to you. For more information, please check our privacy policy.
Rethymnon, the third city in importance on Crete, is located between the regions of Heraklion and Chania, towards the western area of the island. Often overlooked by those who prefer busier cities, there's a lot of things you can do both in the city and the region.
If you're driving from Heraklion to Chania, or even if you're traveling by bus, don't hesitate and make a stop in Rethymnon and devote a couple of days to the region. It's home to wonderful monasteries, archaeological sites, and a romantic Venetian town, right by the sea.
In this 2 day Rethymnon itinerary, we have included some of the most traditional things to see in town, as well as a few day trip ideas as we are certain you'll love the region and would want to stay more.
Day 1 of Your Rethymnon Itinerary
Start at Porta Guora
Your itinerary for Rethmynon should definitely begin by entering the old town through Porta Guora or Megali Porta, a Venetian gate that today connects the old town of Rethymnon to the modern city. 
A few steps away from this entrance, you will walk past a tiny square with a fountain, and only a couple of meters ahead, it's a great idea to stop for breakfast at Gaias Geusis. 
Here, choose the traditional Greek loukoumades, small pastries (often called a 'Greek doughnut') that here they will fry right in front of you. While putting them on a dish, the cook will ask you how you want to garnish them. Nothing better than a drizzle of local honey or a scoop of vanilla ice cream… or both, if you're feeling gluttonous!
Visit the charming Old Town and Venetian Port
Now it's time to walk the alleys of the old town, a fantastic Venetian maze of alleys with clear Ottoman influences visible in the many wooden harem balconies and the tall minarets still standing in town.
In the heart of the old city, one of the must-see landmarks in town is the remains of Rimondi Fountain, built back in 1626 by one of the Venetian rulers in town. 
The refined fountain is in Platanos Square, and it consists of three water basins decorated with the typical Venetian lion head and a few inscriptions in Latin, some of which are barely visible today. According to an urban legend, those who stop and drink from the fountain will definitely travel back to Crete.
Not far from Platanos Square, you can admire the remarkable minaret of the former Mosque of Neratzes, today transformed into a music school due to the fantastic acoustics of the domed building.
The area is also famous for craft and souvenir shops selling wooden crafts, antiques, and Turkish lamps.
Reach the waterfront for a stroll by the sea at the small Venetian port. There are several bars and restaurants where you can sit and enjoy the views of the lighthouse and the old Venetian buildings. Stay by the port for lunch and continue the afternoon exploring the Fortress of Rethymnon.
Wander Rethymnon's Fortezza
Probably the most famous attraction in town is the massive fortified castle in front of the sea, on the western side of town. Known by the Italian name of Fortezza, the building dates to the 16th century. 
The entrance ticket is €4, and it's open to the public from 8 am to 7 pm in summer, and from 10 am to 5 pm in winter.
Despite being one of Greece's most impressive standing castles, its thick walls were not strong enough to protect Rethymnon from different pirate attacks during the centuries.
Inside the building, you can visit the unique mosque of Sultan Ibrahim Han which boasts an impressive domed ceiling completely covered in tiles.
Day 2 of Your Heraklion Itinerary
Visit The Holy Arkadi Monastery
If there's a place history lovers should definitely include in any Crete itinerary – especially one that is already visiting Rethymnon – that's certainly the Holy Monastery of Arkadi, not far from the city of Rethymnon. Arkadi played a memorable role in the continuous battles for freedom during the long years of Ottoman rule.
To visit the monastery by car, you will only need about half an hour to get there. Instead, if you're traveling by bus, head to Rethymnon's Public Bus station and take one of the three daily buses to Arkadi, you can check the schedules here.
The adventurous among us can even take an e-bike tour, which does makes a 44-kilometer roundtrip pilgrimage to the holy site (book your e-bike tour here).
During the years of Turkish rule, the island suffered constant oppression and heavy taxation, a new religion was imposed, and many monasteries and churches were transformed into mosques.
Although many Cretans managed to escape the island, many others faced torture and imprisonment, while several others were able to hide in mountain caves and refuges.
The Cretan people felt a strong need to rebel against the oppressor, and Arkadi played a decisive role during these events. As the Ottomans spread terror in the surrounding area of Arkadi, many villagers managed to hide insider the fortified walls of the monastery.
Once they were found, the enemy ordered them to surrender to which the Cretans replied that they'd rather die.
This is the beginning of the sad episode known as the Arkadi Holocaust when the hundreds of people hidden in the monastery decided it was better to take their own lives instead of giving up to the Turkish.
The men, women, and children locked themselves up inside the gunpowder storage room and blew themselves up, killing also hundreds of Turks. This event did not mark the end of the Turkish domination of the island, but certainly caught the attention of the rest of Europe, who realized that Crete was in need of desperate help.
The Ottomans were finally expelled several years after Arkadi, in 1898, but the place remains one of Crete's most sacred places to visit as well as one of its most important historical points of interest.
Arkadi Monastery is open from 9 am to 8 pm in summer, and from 9 am to 4 pm in winter. The ticket is €3, though the entrance is free for local citizens.
Spend the afternoon in the pottery village of Margarites
Another place that you can visit, not far from Arkadi, is the traditional mountain village of Margarites, located next to the gorge of the same name.
Margarites is a typical Cretan village of small stone houses, winding cobblestone alleys, and fantastic tavernas where you can taste local dishes such as goat, lamb, and wild greens.
The special characteristic that makes Margarites famous, is the several pottery workshops that you can find in the small village. Margarites is, in fact, known as the pottery village of Crete.
Many artisans open their shops to the public and allow visitors to test their skills hands-on, working with clay! The village is a small tranquil place, ideal for a relaxing walk admiring the landscape of the Cretan mountains.
If you visit, choose any of the tavernas located in the small central square. You'll never go wrong if you simply order the dish of the day!
Bonus: Day Trips in the Rethymnon Region
Rethymnon is a land rich in beautiful landscapes. A ride through the mountains of Rethymnon to reach the southern coast of the region marvels travelers with the stunning views of Mount Psiloritis, Crete's highest peak. 
If you decide to cross towards the south, there are a few places you should visit, such as the magnificent palm beach of Preveli, with the river flowing into the sea, the Archaeological site of Eleftherna, or the quiet seaside resort of Plakias.
Preveli Beach & Monastery
Preveli Monastery is another famous religious building on Crete built around the Middle Ages, and once again, we are in front of a historic landmark of Crete where fights for independence took place during the Turkish rule.
Not far from the monastery, you can visit the stunning palm forest and beach of Preveli, with an impressive river forming a lake before reaching the sea.
Preveli is famous for the vast palm grove which underwent a serious fire a few years ago but which is little by little recovering to be once again once of Crete's greenest areas.
You can get there by public bus but the easiest way is by opting for a day trip which includes transport from Rethymnon, which you can book here – you can also book a trip there via Land Rover safari, going offroad through Crete's beautiful nature.
Archaeological Site of Eleftherna
Another great day trip from Rethymnon, just 25 kilometers south of the city is the mysterious archaeological site of Eleftherna.
Ancient Eleftherna is Rethymnon's most important archaeological site, although excavations are far from being completed.
Eleftherna is a Dorian settlement dating back to the 9th century BC which held a strategic position halfway between Knossos and Ancient Kydonia (modern Chania).
When visiting the site, it's a good idea to book an organized tour so as to better understand the ruins you'll be visiting. Also, it's a great idea to visit the nearby Museum of Eleftherna.
This is a rather small but very modern structure, where video reconstructions, holograms, and other technological tricks help you discover a bit more about the mysterious site and the people that inhabited the place until the end of the first Byzantine rule of Crete, around the year 800 AD.
Plakias Village and Beaches
The seaside village of Plakias is located a bit more than 30 kilometers from the modern town of Rethymnon and it's a great place not only for a day excursion but for a whole holiday as well.
The village is famous among the members of the international backpacking community as it hosts the southernmost hostel in Europe. There are two roads to reach Plakias from Rethymnon, and both of them go through two different spectacular gorges, Kotsifou and Kourtaliotiko.
If you're not keen on driving, you can take one of the several daily buses from the central bust station of Rethymnon.
Plakias is also the name of the main beach in the village, it is a wide semi-circled bay, with clear waters and a beautiful submarine landscape to explore.
As a matter of fact, there are several beautiful beaches along the coast of Plakias, all of them are well-known scuba diving centers on Crete. If you decide to spend a day at the beach here, make a point to stop for a few hours by the relaxing shore of Damnoni or the tranquil bay of Souda.
Where to Stay in Rethymnon
While accommodations in Rethymnon are affordable compared to many resort towns in Greece, prices can vary greatly between the high season and off-season. We've broken down where to stay in Rethymnon according to a few different budget ranges. Here is a general range of what we mean by each budget category:
Budget: A room in a hostel, usually $15-25 USD per night for a dorm bed or about $50 for a double.
Mid-range: Around $60-90
Luxury: Around $100 per night or more
Budget: For an adventurous take on budget accommodations, we recommend Camping Elizabeth. Located just three kilometers outside of Rethymnon, this camping ground has caravans, tents, and bungalows to rent! Each includes outdoor furniture and access to a fridge, which means you can keep your costs even more in check. There is an onsite taverna serving local dishes, and a bus stop is just three hundred meters away. A great way to stay close to nature and the beach while enjoying Rethymnon during the day. Check rates and availability here.
Mid-range: For a seafront hotel that is surprisingly affordable, we recommend Sea Front Old Town. The location is in the middle of the old town and right on the sea, with most rooms having scenic balconies showing off either the seafront or the old town. Since Rethymnon is so beautiful, you really can't go wrong with either view. It's a great bargain, too – check rates, reviews, photos, and availability here.
Luxury: For a true luxury experience in Rethymnon, we recommend the five-star Rimondi Boutique Hotel. The rooms are stunning (think Instagram-worthy), and the location can't be beaten since the Venetian Harbor is only a four-minute walk away. If you want an extra dose of relaxation, you can use the onsite Turkish bath and massage services. Check rates, reviews, photos, and availability here.
Still Looking? Read our full Guide to Rethymnon Hotels and Hostels
How to Get to Rethymnon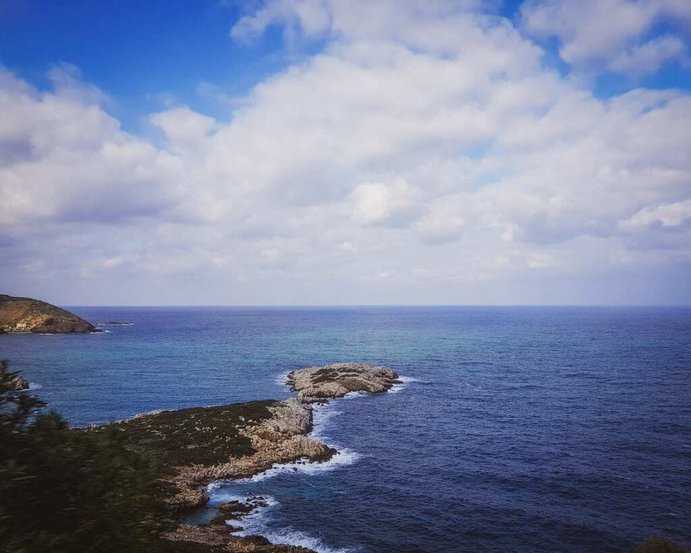 We have guides coming on how to get to Rethymnon from Chania and Heraklion utilizing the island's great intercity bus system.
If you choose to take a taxi, the rate is set and posted. Reconfirm the rate before you leave. If you are staying outside of the city, they may have you use the metered rate. Taxi drivers in Crete aren't too unscrupulous, but I have heard of tourists being charged double or triple during the very high season. Note what the rate should be on the rate list before you leave the airport, reconfirm with your driver, and you will need to pay in cash unless otherwise arranged.
You can also prearrange a private transfer. This is a great option for groups and families, especially families traveling with children.
Check prices & reviews for private transfers from Chania.
Crete Travel Resources
Most people who come to Rethymnon also explore other parts of this beautiful island. Here are additional Crete travel resources to help you with your trip.
We have some great travel resources to help you with your trip. First read our guide to planning a trip to Greece, which covers visas, budgets, vaccines, and much more. We also have a Balkan currency guide which explains how money works in Greece and local tipping customs.
Since you'll be in Rethymnon, check out our Instagram guide to Rethymnon next, our guide to things to do in Rethymnon, and the best Rethymnon hotels.
We also have Chania and Heraklion itinaries.
If you're still trying to work out where to go on the island, check out our guide to the best places to visit in Crete and our favorite Crete beaches.
If this will be one of your first trips to the Greek islands, check out our massive Greek Island hopping guide as well as our recommendations for where to go in Greece and when is the best time to visit.
We publish new content about the Balkans almost every day! For more information about traveling to Greece and the Balkans, bookmark our Greece and Balkan travel pages so you can find out what's new before your trip.
Don't Travel to Crete without Travel Insurance
Finally, make sure you always travel to Crete with a valid travel insurance policy. While Rethymnon is a very safe place to travel, you want to make sure you have your possessions covered if they're stolen and your medical bills covered if you get sick or injured.
For travel insurance, I use World Nomads. I've been a happy customer of theirs for almost three years, and I've never had an issue when making a claim. I'm happy to refer them to anyone I meet.
Gabi Ancarola is a translator and travel journalist living in Crete. She regularly writes about the island for several magazines about travel, gastronomy, and hospitality. She has published several travel guides about Greece and runs a local gastronomy tour in Chania. She loves cooking local dishes, taking photos, and driving on the mountain roads of Crete.